Gulet cruises have always been one of Turkey's defining attractions, captivating tourists with their blend of traditional charm and modern comfort. Originating from the southwestern coast of Turkey, gulet boats are wooden vessels that were traditionally used by local fishermen and sponge divers. Today, these vessels have been transformed into luxury yachts that offer a unique vacation experience, providing a serene escape from the hustle and bustle of city life.
An all-inclusive gulet cruise in Turkey offers you the chance to explore the stunning turquoise waters of the Aegean and Mediterranean seas. Whether you are cruising along the Bodrum Peninsula or the secluded bays of Antalya, these trips take you on a breathtaking journey through crystal-clear waters, secluded beaches, and historic towns. The gentle pace of the journey allows ample time to appreciate Turkey's vast natural and historical wealth.
All-inclusive gulet cruises provide an unrivaled travel experience, where every detail is taken care of. From your accommodation and meals to your onboard activities and excursions, all elements are included in your package. With everything arranged for you, all you have to do is sit back, relax, and immerse yourself in the beautiful landscapes that surround you.
In this article, we will guide you through everything you need to know about all-inclusive gulet cruises in Turkey. We'll take a deep dive into the all-inclusive concept, explore the different regions you can visit, share tips for booking your cruise, provide a sneak peek into a day on board, suggest packing tips, and even share important travel information for Turkey. So, let's embark on this fascinating journey and discover what makes gulet cruises in Turkey an unforgettable adventure.
An all-inclusive gulet cruise offers a unique and enriching way to explore Turkey's beautiful coastline, with the convenience of having accommodations, meals, and activities covered in one package. Make sure to choose a reputable provider and package that aligns with your preferences and needs.
Preparation is key for a memorable gulet cruise. Understand what a typical day on a gulet looks like, know what to pack, familiarize yourself with Turkish customs and travel requirements, and learn useful tips for booking your cruise and maximizing your onboard experience.
An all-inclusive gulet cruise in Turkey isn't just about the destinations you visit, but also about the tranquility of being at sea, connecting with fellow travelers, and immersing yourself in nature's rhythms. With the right preparations, your gulet cruise can be an unforgettable journey of discovery and relaxation.

KEY TAKEAWAYS
Understanding the All-Inclusive Gulet Cruise Concept
The all-inclusive gulet cruise is a concept designed to offer tourists a hassle-free, comprehensive vacation experience. What makes it so appealing is the fact that every detail of your vacation is meticulously planned and executed by the cruise provider. From accommodation and meals to onboard entertainment and off-boat excursions, every aspect is covered in your package. All you need to do is board the vessel and enjoy the remarkable journey.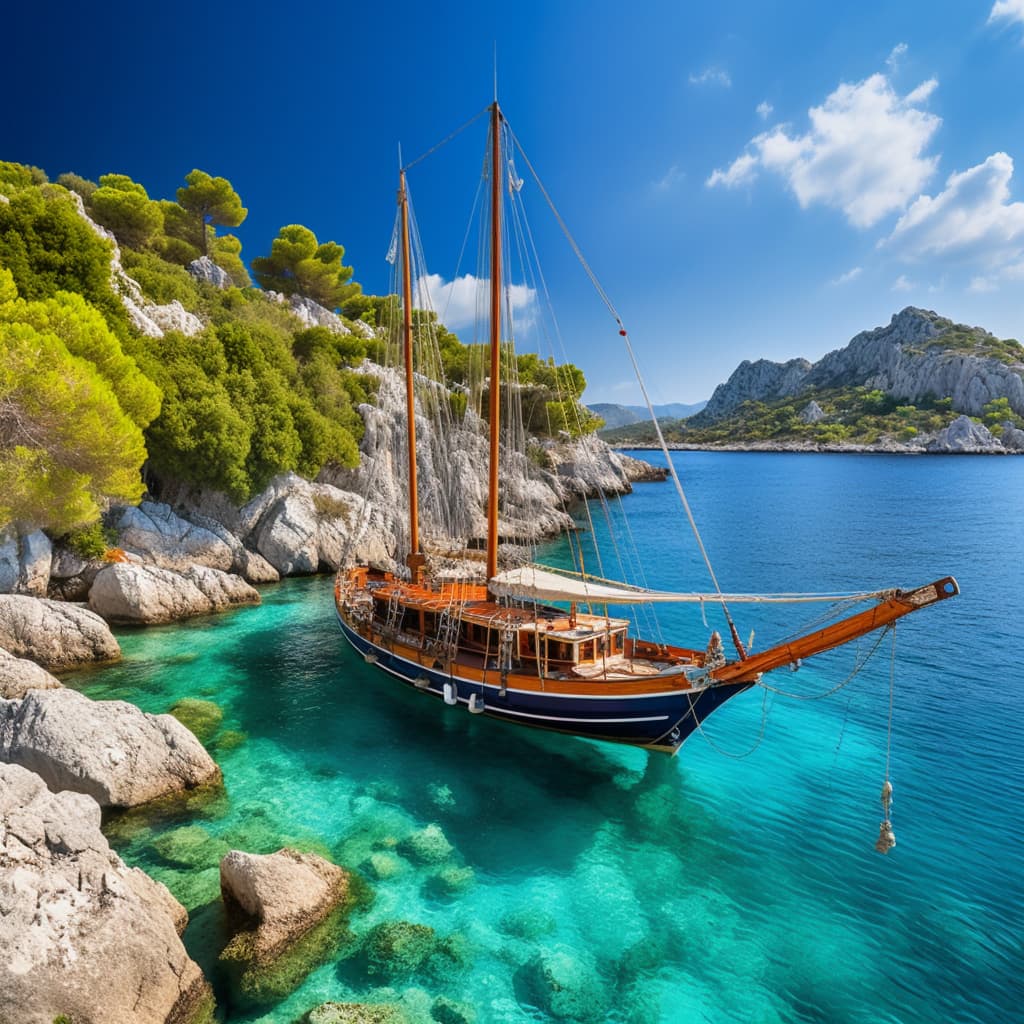 Firstly, let's discuss the accommodation. All-inclusive gulet cruises in Turkey offer you a comfortable and luxurious living space. The gulets typically range from 14 to 35 meters in length, accommodating between 6 to 18 guests. The number of cabins varies, but each one is furnished to provide a comfortable stay, equipped with en-suite bathrooms and air conditioning.
Another major aspect of the all-inclusive concept is the food. With a professional chef onboard, you will have the chance to sample a wide range of delicious Turkish and Mediterranean cuisine, all freshly prepared. Breakfast, lunch, dinner, and even afternoon tea or snacks are part of the package. The menu can often be customized according to the preferences and dietary requirements of the guests.
Drinks are another consideration. While some cruises offer an open bar, others might provide unlimited non-alcoholic beverages and charge extra for alcoholic drinks. It's important to check what's included in your package when booking.
Next, let's look at the onboard entertainment. Most gulet cruises provide a variety of recreational facilities like fishing gear, snorkeling equipment, and often more adventurous water sports such as windsurfing or jet skiing. This ensures you can have as much fun in the water as you do on the boat.
Excursions off the boat are another element that adds an extra dimension to the experience. From exploring ancient ruins to visiting local markets, or hiking in the natural parks, the cruises often include a variety of day trips in their itinerary. These guided tours are an excellent way to delve deeper into the local culture and history.
One of the most significant advantages of all-inclusive gulet cruises is the crew. These experienced professionals include the captain, chef, and sailors who are there to ensure your journey is smooth and enjoyable. Their local knowledge often enriches the cruise experience, offering insights that you might not find in guidebooks.
Despite all these advantages, it's crucial to mention that the concept might not suit everyone. Some may find the structured itinerary restrictive and would prefer more flexibility in their vacation. Others might prefer a more private experience, which although available in some exclusive packages, might come at a higher cost.
In summary, an all-inclusive gulet cruise in Turkey offers an exceptional vacation experience, combining comfort, adventure, and cultural exploration. It's about relishing the beautiful Turkish coastline, experiencing its vibrant culture, enjoying delectable cuisine, and creating memorable moments without worrying about any logistical details.
Exploring Different Regions in Turkey Through Gulet Cruises
Gulet cruises offer an incredible way to explore the diverse regions of Turkey. This section will cover three of the most popular areas: the Aegean region, the Mediterranean region, and the Turquoise Coast.
Aegean Region
This region is known for its crystal-clear waters, ancient ruins, and charming coastal towns. A gulet cruise in this area typically embarks from Bodrum or Marmaris.
Bodrum, a city known for its vibrant nightlife, houses the Bodrum Castle, which overlooks the beautiful marina. In contrast, Marmaris is a gateway to the ancient city of Ephesus, one of the best-preserved Roman cities in the world. These places can often be part of your excursion.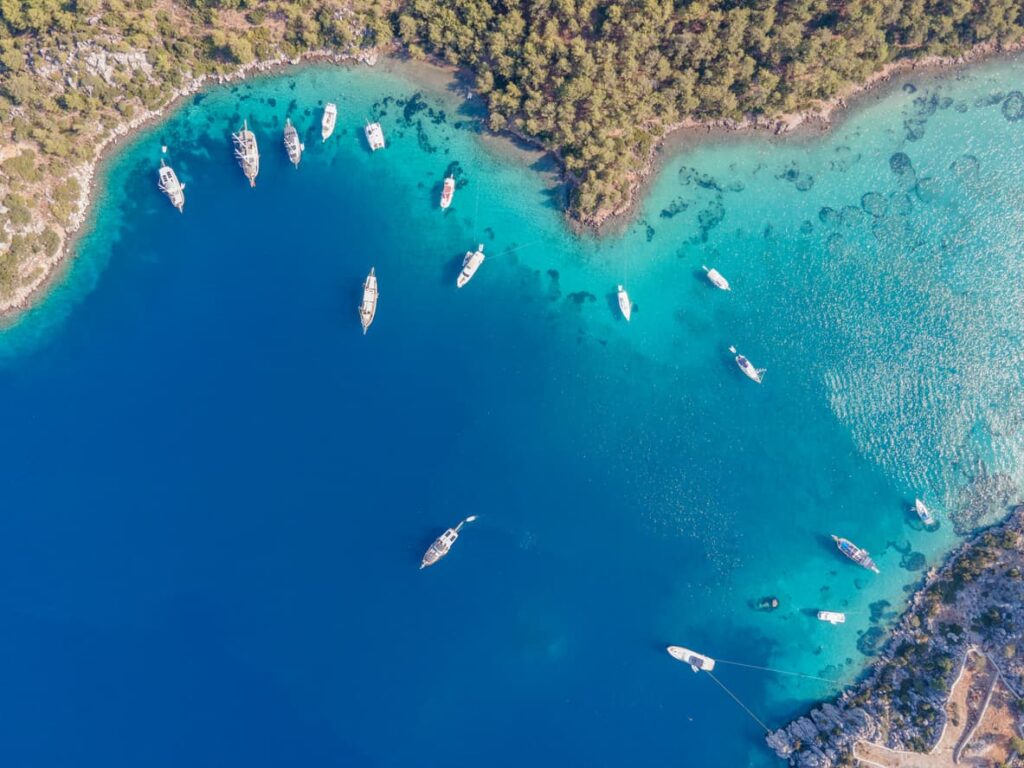 While sailing in the Aegean region, expect to see numerous islands, each with its unique charm. Explore secluded coves, dive into the azure sea, and savor the delectable local cuisine. The Aegean region is best visited from late spring to early fall when the weather is pleasant for cruising and swimming.
Mediterranean Region
The Mediterranean region is famed for its natural beauty, consisting of blue seas, sun-kissed beaches, and verdant mountain backdrops. Starting from the bustling harbor of Antalya, you sail along the stunning coastline, with stops at pristine beaches and small islands.
Antalya itself is a destination worth exploring, with its old town, castle, and lively markets. However, the real adventure begins when you set sail. One of the highlights is Kekova Island, where you can witness the Sunken City – ancient ruins submerged underwater due to earthquakes in the 2nd century AD.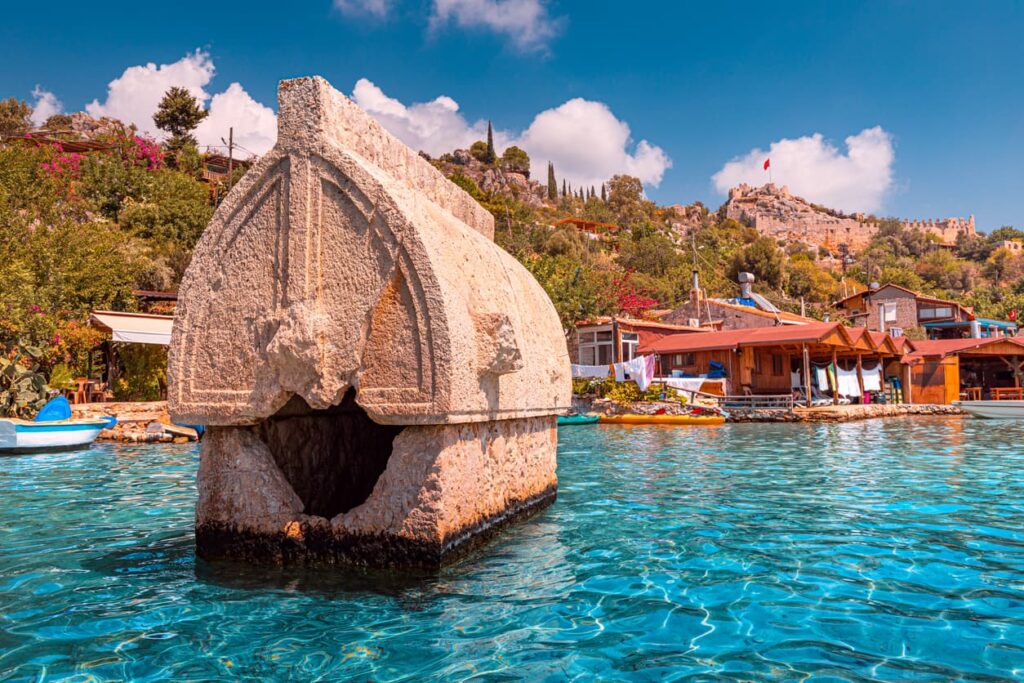 Another notable stop could be the town of Kas, known for its bohemian atmosphere, Lycian rock tombs, and vibrant markets. A gulet cruise in this region is an excellent opportunity to experience both the beach life and the rich history of the Mediterranean region.
Turquoise Coast
Also known as the Turkish Riviera, the Turquoise Coast stretches from the south of the Aegean region to the eastern part of the Mediterranean region. This region offers some of the most idyllic cruising routes. The area is a stunning mix of clear blue waters, sandy beaches, pine forests, and ancient ruins.
One of the main starting points for a gulet cruise here is the town of Fethiye, known for its beautiful natural harbor, rock tombs, and bustling bazaars. A popular route is sailing to the 12 Islands, each providing a unique blend of tranquility and charm.
Another highlight of cruising the Turquoise Coast is the famous Butterfly Valley, a nature reserve that is home to various butterfly species. It's a unique spot with a stunning beach and towering cliffs.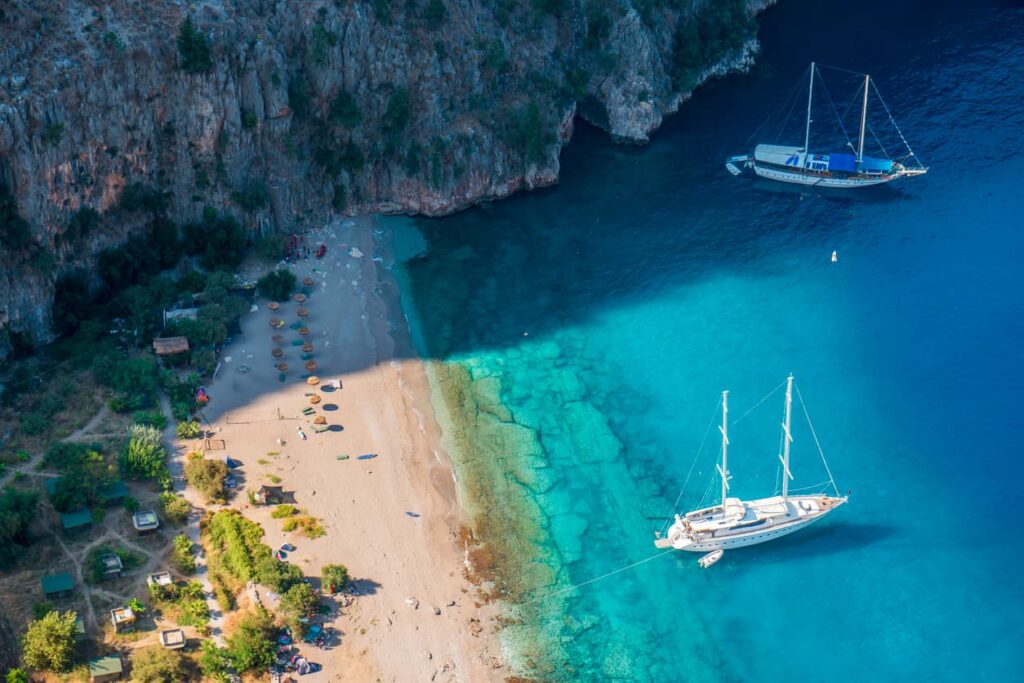 Then, there's the blue lagoon of Ölüdeniz, one of Turkey's most photographed spots. It's a paradise for snorkeling and paragliding, offering visitors an unforgettable experience.
Finally, there's the sunken city of Kekova, a fascinating archaeological site that can be viewed directly from the boat.
A trip along the Turquoise Coast is not just a cruise; it's a journey into the heart of Turkey's history, culture, and extraordinary natural beauty.
In summary, whether you're exploring the rich historical sites of the Aegean region, the captivating landscapes of the Mediterranean, or the breathtaking beauty of the Turquoise Coast, a gulet cruise in Turkey promises an adventure that you will cherish for a lifetime. Remember, each region offers different highlights and experiences, so choose the one that best suits your interests and preferences.
Essential Tips for Booking All-Inclusive Gulet Cruises in Turkey
Embarking on an all-inclusive gulet cruise in Turkey is an unforgettable experience. However, it's essential to consider some crucial factors while booking your trip. Here are a few tips to ensure that you select the best cruise for your needs.
Research Reputable Cruise Providers
The first step in booking your gulet cruise is to find a reliable and reputable cruise provider. Look for companies with good reviews, testimonials, and a robust online presence. Reputable providers often have transparent pricing, detailed information about their cruises, and a responsive customer service team. You can check the details in the listing, and if you need help, viravira.co's holiday experts are ready to assist you.
Understand What's Included
Ensure you know precisely what your all-inclusive package includes. This could vary significantly between companies. Generally, all-inclusive should cover your accommodation, meals, onboard activities, and excursions. However, it's crucial to verify whether other elements, such as airport transfers, drinks, or tips, are also included.
Get Clarity on the Itinerary
While some cruises stick to a fixed itinerary, others offer a degree of flexibility. Check the itinerary details to see what locations you'll be visiting, how much time you'll spend at each location, and what activities are available. If you prefer more flexibility in your daily schedule, look for cruises that allow guests to choose their activities.
Check the Boat Details
Different gulets offer varying levels of luxury. Some boats are more traditional, while others are akin to floating luxury hotels. Be sure to check the boat's details, including the size, layout, and amenities. This information is available on the gulet cruise listing pages.
Consider the Size of the Group
The number of passengers on board can significantly impact your cruising experience. Smaller boats tend to offer a more intimate and tranquil experience, while larger boats can provide a more social atmosphere. Choose a cruise that aligns with your preferences.
Ask About Meal Plans
All-inclusive gulet cruises generally provide all meals. However, it's worth asking about the type of cuisine served and whether dietary restrictions can be accommodated. Some cruises may offer traditional Turkish cuisine, while others might serve a broader range of Mediterranean or international dishes.
Look for Deals and Discounts
The price of gulet cruises can vary depending on several factors like the season, the cruise's length, and the boat's luxury level. Try to book your cruise well in advance to secure the best deals. Also, look out for any special offers, discounts, or last-minute deals. The gulet cruise price starts from 25€ per day per person.
Read the Cancellation Policy
While nobody books a holiday intending to cancel, unforeseen circumstances can occur. Ensure you understand the cruise provider's cancellation policy. Some companies might offer a full refund if you cancel by a specific date, while others may only offer partial refunds or credits for future bookings.
Be Aware of the Booking and Payment Process
Finally, understand the booking and payment process. Most cruise providers will require a deposit to secure your booking, with the balance due closer to the departure date. Be aware of the payment methods accepted and the timeline for payment.
In conclusion, choosing the right all-inclusive gulet cruise requires careful research and planning. Take the time to consider what's important to you and ask plenty of questions to ensure you select a cruise that meets your expectations. With thorough preparation, your Turkish gulet cruise can become an unforgettable journey filled with stunning landscapes, cultural treasures, and serene moments on the azure waters.
What to Expect on a Gulet Cruise: A Day on Board
A day on an all-inclusive gulet cruise in Turkey offers an exquisite blend of relaxation, adventure, gastronomy, and cultural exploration. To help you envision what it's like, here's a typical day on board:
Morning
Your day starts with the gentle lapping of waves against the hull and the soothing sounds of nature. You wake up in your comfortable cabin, refreshed and excited for the day ahead. You head to the deck, greeted by the mesmerizing view of the sun rising over the turquoise waters.
Soon, it's time for breakfast. The crew has prepared a sumptuous spread featuring an array of Turkish and international dishes. Fresh fruits, pastries, cheeses, olives, and traditional Turkish tea or coffee are just a few of the delights waiting for you.
After breakfast, the boat sets sail. You could watch the coastline change as you move from one enchanting location to another or simply find a comfortable spot on deck to read a book or sunbathe.
Afternoon
By lunchtime, the boat anchors at a scenic spot, often near a beach or an isolated cove. Now it's time to explore. You could dive into the azure waters for a swim or a snorkeling adventure. If the location permits, you might also visit local historical sites, markets, or natural parks as part of your excursion.
Back on board, a mouthwatering lunch awaits. The menu usually includes fresh salads, grilled fish or meat, and delightful local dishes prepared by the onboard chef. Post-lunch, you could relax with a refreshing drink in hand, enjoy the Mediterranean sun, or perhaps take a nap to recharge for the evening.
Evening
The boat sails again in the late afternoon, heading towards the next stunning location. This is the perfect time to engage in water sports or fishing, with the equipment provided by the cruise.
As the day begins to wind down, you're treated to a breathtaking sunset. The sky transforms into a canvas of vivid oranges, pinks, and purples — a spectacle best enjoyed with a cool drink and good company.
For dinner, a feast of Turkish culinary delights is prepared, often featuring a variety of meze (appetizers), a main course of local specialties like barbecue, and a sweet treat to end the meal. You dine under the stars, enveloped in the tranquility of the evening.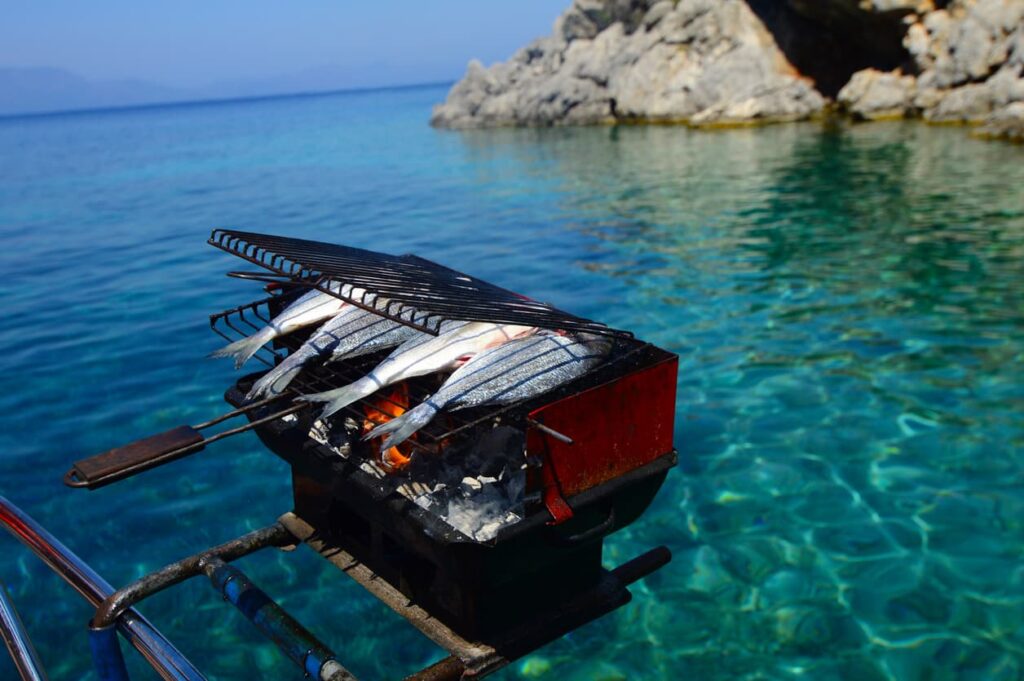 Night
After dinner, the rest of the evening is yours to spend as you wish. Some guests choose to socialize, enjoying music and conversation. Others may prefer a peaceful night, watching the stars, or indulging in a late-night swim.
Finally, as the night deepens, you retreat to your cabin, lulled to sleep by the rhythm of the gentle waves.
This is just a snapshot of a day on an all-inclusive gulet cruise. Each day brings new destinations, activities, and experiences, ensuring that no two days are the same. Regardless of the day's itinerary, a gulet cruise guarantees an atmosphere of relaxation and luxury, ensuring a holiday you will cherish for a lifetime.
Packing Tips for a Gulet Cruise
When packing for a gulet cruise in Turkey, it's essential to balance practicality with the activities you plan to undertake during the trip. Here's a list of essential items you should consider packing: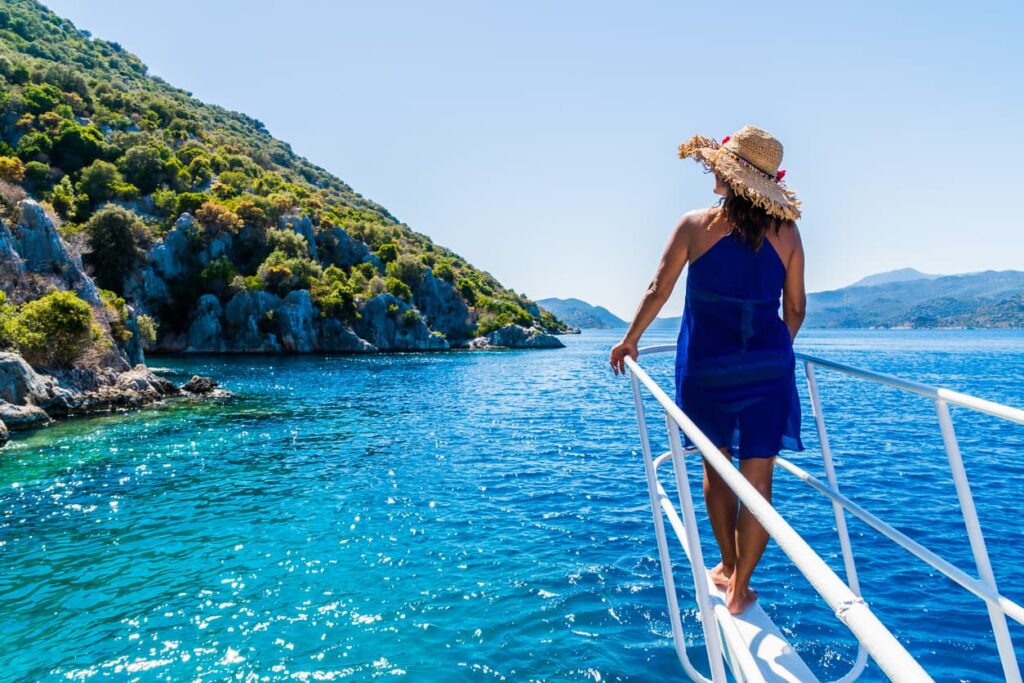 Clothing
Swimwear: Since you'll be spending a lot of time swimming or lounging by the water, bring multiple swimsuits or trunks.
Lightweight Clothing: Turkey can get hot, especially during summer. Pack lightweight, breathable clothing such as shorts, t-shirts, and sundresses. Also, a hat and sunglasses are crucial for sun protection.
Evening Wear: Although the atmosphere on a gulet is generally casual, you might want to dress up for dinner or an evening in town. A smart-casual dress or a lightweight shirt and trousers would suffice.
Footwear: Bring a pair of flip-flops for the boat and beach, as well as comfortable walking shoes for excursions.
Personal Items
Medications: If you require any specific medications, bring enough for the duration of the trip. It's also useful to pack a small first aid kit with essentials like band-aids, antiseptic cream, and pain relievers.
Waterproof Bag: This is helpful to keep your valuables safe and dry during water activities.
Electronics
Camera: You'll want to capture the breathtaking scenery, so don't forget your camera. A waterproof camera or GoPro is ideal for underwater shots.
Adapters: Turkey uses type F power sockets. If your devices use different plugs, bring an adapter.
Portable Charger: This can be handy for day trips when you might not have access to power outlets.
Entertainment and Miscellaneous
Books or Kindle: For those lazy afternoons on deck, a good book is a great companion.
Snorkeling Gear: Some gulets provide this, but if you're particular about the fit and quality, consider bringing your own.
Travel Documents: Don't forget your passport, any required visas, and travel insurance documents. Also, bring copies of these documents and keep them separate from the originals.
In conclusion, when packing for a gulet cruise, think lightweight, think multi-purpose, and prioritize items that will enhance your comfort and enjoyment of the trip. With these packing tips, you should be well-prepared for your all-inclusive gulet cruise adventure in Turkey.
Important Travel Tips for Turkey
Turkey is a vibrant and welcoming country with an abundance of cultural, historical, and natural treasures. To make the most of your trip, here are some important travel tips:
Be Respectful of the Culture
Turkey is a predominantly Muslim country, so respecting local customs and traditions is essential. While Turkey is quite liberal, particularly in tourist areas, it's recommended to dress modestly, especially when visiting religious sites. For women, it might be necessary to cover your head with a scarf when entering a mosque.
Learn Basic Turkish Phrases
While English is widely spoken in tourist areas, learning a few basic Turkish phrases can enhance your travel experience. Simple phrases like "Merhaba" (hello), "Teşekkür ederim" (thank you), and "Lütfen" (please) can go a long way in connecting with locals.
Try the Local Cuisine
Turkish cuisine is incredibly diverse and delicious. Make sure to try local specialties such as kebabs, mezes, and baklava. Don't forget to savor Turkish tea and coffee as well.
Understand the Currency
The local currency is the Turkish Lira (TRY). ATMs are widely available, and credit cards are generally accepted in larger cities and tourist areas. However, smaller establishments and local markets may prefer cash. You can use Forbes's currency converter for the latest currency rates.
| | |
| --- | --- |
| Parity | Currency Rate |
| USD/TRY | 26.1703 |
| EUR/TRY | 29.406 |
| GBP/TRY | 34.259 |
Currency Rates as of 16.07.2023
Travel Insurance
It's crucial to have travel insurance that covers any potential medical expenses, trip cancellation, lost luggage, or other unforeseen incidents. Be sure to understand what your policy covers before your trip.
Stay Hydrated and Protect Yourself from the Sun
Turkey's summer heat can be intense, especially in the coastal regions. Drink plenty of water, use high-SPF sunscreen, wear a hat, and try to avoid direct sunlight during peak hours.
Respect the Environment
Whether you're exploring ancient ruins or sailing on a gulet cruise, it's important to respect the environment. Avoid littering, respect wildlife, and adhere to any guidelines or rules provided by local authorities or tour operators.
Visiting Turkey is a fantastic experience filled with breathtaking landscapes, rich history, and warm hospitality. These tips should help ensure you have a safe, enjoyable, and memorable trip.
Conclusion
In closing, an all-inclusive gulet cruise in Turkey promises an exceptional adventure. The idyllic blend of crystal-clear waters, radiant sunshine, captivating landscapes, and historic gems make it a must-experience voyage. Daily a gulet unfolds like a beautifully crafted story — filled with exploration, relaxation, gastronomy, and picturesque vistas.
The allure of a gulet cruise extends beyond just the destinations. It's about the tranquility of being at sea, the bonds you form with fellow travelers, and the pleasure of immersing yourself in the rhythms of nature and the sea. A gulet cruise is a chance to disconnect from the hustle of daily life and truly savor the joys of slowing down. From sun-drenched decks to starlit dinners, each moment becomes a cherished memory.
As you prepare for this journey, remember the tips outlined in this guide. Understand the concept of an all-inclusive gulet cruise and research thoroughly to choose the right one for you. Get familiar with the regions you'll be visiting and plan accordingly. Ensure you pack wisely and respect the customs and practices of Turkish culture.
With the right preparation, your all-inclusive gulet cruise in Turkey can truly be an unforgettable journey. So get ready to set sail on a beautiful wooden gulet, explore the stunning coastlines of Turkey, and create memories that will last a lifetime. Here's to your upcoming adventure and the marvelous experiences that await!
You can continue learning about gulet cruises by reading our Unparalleled Journey: The Gulet Cruise in Turkey blog post.
FAQs
What is an all-inclusive gulet cruise?
An all-inclusive gulet cruise is a vacation package that includes accommodation on a traditional Turkish gulet (wooden yacht), meals, drinks, and often, various on-board and shore excursions. It offers a unique way to explore the coastlines and islands, allowing guests to enjoy the luxury of sailing and the beauty of the Turkish seascape.
What are the key destinations for gulet cruises in Turkey?
Key destinations for gulet cruises in Turkey often include Bodrum, Marmaris, Fethiye, and Antalya. These regions offer beautiful coastal views, historic sites, vibrant local culture, and water sports and relaxation opportunities.
How do I choose a reputable all-inclusive gulet cruise provider?
To choose a reputable gulet cruise provider, consider factors such as the company's reputation, customer reviews, years of operation, and the range of packages offered, from viravira.co's listing page.
What does a typical day on a gulet cruise in Turkey look like?
A typical day on a gulet cruise includes waking up to scenic views, enjoying freshly prepared meals, participating in water activities like swimming or snorkeling, and exploring different ports of call or remote coves. Evenings are spent dining under the stars, socializing, or simply relaxing on deck.
What should I pack for my gulet cruise?
Pack lightweight and breathable clothing, swimwear, sun protection items, comfortable footwear, necessary personal items, a camera, travel documents, and any prescribed medications. Also, consider packing a good book and your snorkeling gear if you prefer to use your own.
What are the travel requirements for Turkey?
Travel requirements for Turkey may include a valid passport, an appropriate visa (depending on your nationality), and possibly certain vaccinations. It's also recommended to have travel insurance covering medical expenses, trip cancellations, and lost luggage.
When is the best time to go on a gulet cruise in Turkey?
The best time to go on a gulet cruise in Turkey is between late April and early October when the weather and sea temperatures are comfortable. The peak season is July and August, but May, June, September, and early October offer pleasant conditions with fewer crowds.
What activities are available on an all-inclusive gulet cruise?
Activities on an all-inclusive gulet cruise can include swimming, snorkeling, sunbathing, water sports, fishing, hiking, sightseeing, and cultural tours, depending on the itinerary. Some cruises also offer yoga sessions, cooking classes, or special theme nights.
How can I get the best deal on a gulet cruise?
To get the best deal on a gulet cruise, book well in advance, especially for peak season cruises. Comparing prices from different providers, choosing shoulder season dates, and asking about any available discounts or package deals can also help you get a good deal.
What are some important safety considerations when on a gulet cruise?
Key safety considerations on a gulet cruise include adhering to safety instructions given by the crew, especially during sailing or water activities; ensuring the gulet is equipped with life jackets and other necessary safety equipment; being mindful of sun protection to prevent heat-related illnesses; and taking care of personal belongings. It's also crucial to have travel insurance that covers health issues and emergencies.