Introduction
A gulet is a traditional wooden sailing boat that is typically found in the Eastern Mediterranean region, particularly in Turkey, Greece, and Croatia. Gulets range in size from 14 to 35 meters and can accommodate 6 to 20 passengers, depending on the size of the boat. They are renowned for their classic design and are often equipped with modern amenities such as air conditioning, en suite bathrooms, and internet access. You can check out our gulet charter playlist post.
The history of gulets can be traced back to the early 20th century when they were used for fishing and transportation in the Mediterranean region. Over time, gulets evolved into luxury yachts that are now popular for vacation rentals. The design of gulets has remained largely unchanged, with the boats being built using traditional techniques and materials.
Renting a gulet is an excellent way to enjoy a summer vacation because it provides a unique opportunity to explore the stunning coastlines of the Mediterranean while enjoying the comfort and luxury of a private yacht. With a captain and crew to take care of all the details, guests can relax and enjoy the beautiful scenery, swim in crystal clear waters, and explore hidden coves and beaches that are only accessible by boat. Additionally, gulets offer a range of activities such as snorkeling, fishing, and water sports, making them an ideal choice for families and groups of friends looking for an unforgettable summer vacation.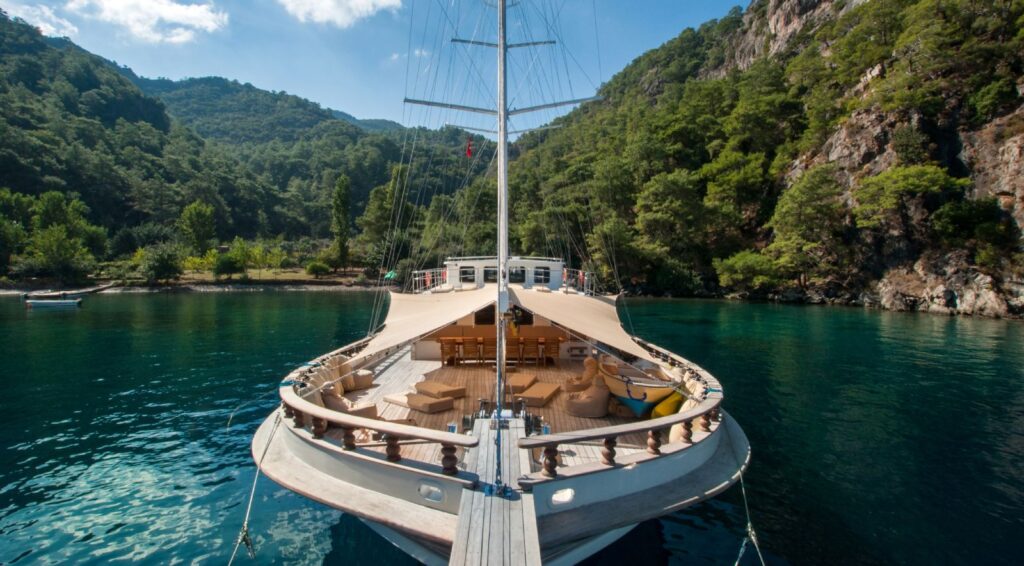 Reason #1:
Affordable Luxury Renting a gulet provides a luxurious vacation option at a more affordable price compared to other luxury options such as staying at a high-end hotel or resort. Gulets come equipped with various amenities, including air conditioning, en suite bathrooms, spacious deck areas for lounging, and comfortable cabins. Additionally, a private chef is often included in the rental cost, providing guests with delicious and fresh meals. Overall, renting a gulet provides a luxurious vacation experience without breaking the bank.
Reason #2:
Privacy and Freedom Renting a private gulet offers the ultimate privacy and freedom while on vacation. Guests have the freedom to customize their itinerary and activities according to their preferences, as well as to choose the destinations they want to explore. Additionally, guests have the privacy of their own yacht, allowing them to relax and unwind without the crowds often found in hotels or resorts. This level of privacy and freedom is especially appealing for families, couples, or groups of friends looking for a unique and personalized vacation experience.
Reason #3:
Scenic Beauty One of the greatest advantages of renting a gulet is the opportunity to explore stunning coastal destinations and view picturesque landscapes and seascapes from the comfort of the yacht. Guests can explore hidden coves and beaches, witness breathtaking sunsets, and even spot wildlife such as dolphins and sea turtles. Renting a gulet provides a unique perspective on the natural beauty of the Mediterranean, offering unforgettable memories and stunning photo opportunities.
Reason #4:
A Unique Experience Sailing on a traditional gulet provides a unique and authentic experience of the local culture and history of the Eastern Mediterranean region. Guests can learn about the history of the region and its traditional sailing techniques, as well as discover local customs and traditions. Additionally, renting a gulet allows guests to immerse themselves in the local lifestyle and cuisine, creating a more meaningful and memorable vacation experience.
Reason #5:
Bonding with Family and Friends Renting a gulet offers the opportunity to bond with family and friends in a unique and memorable way. Guests can share experiences such as swimming, snorkeling, and exploring together, creating memories that will last a lifetime. Additionally, gulets provide ample space for group activities such as games, movie nights, and even karaoke. Renting a gulet offers a chance to strengthen relationships and create lasting connections.
Reason #6:
Wellness and Relaxation Renting a gulet provides an ideal opportunity for wellness and relaxation, with the benefits of fresh sea air, sunshine, and the calming sound of the waves. Some gulets even offer optional wellness services and activities such as yoga, massage, and meditation. Guests can relax and unwind while being surrounded by the natural beauty of the Mediterranean, making it an ideal vacation option for those seeking rest and rejuvenation.
Reason #7:
Adventure and Fun Renting a gulet offers a range of adventurous and fun activities both on board and on shore. Water sports such as kayaking, water skiing, and paddleboarding are often available on board, and guests can explore local destinations through activities such as hiking, biking, or visiting cultural landmarks. Additionally, many destinations along the Mediterranean offer exciting nightlife and entertainment options for those seeking a more lively vacation experience.
Reason #8:
Fresh and Delicious Food Renting a gulet often includes the services of a private chef who can prepare delicious and fresh meals using local ingredients and traditional Mediterranean cuisine. Guests can customize menus to meet their dietary needs and preferences, providing a personalized culinary experience. Additionally, many gulets offer the option of enjoying meals on deck, providing a stunning and unique dining experience with breathtaking views of the Mediterranean.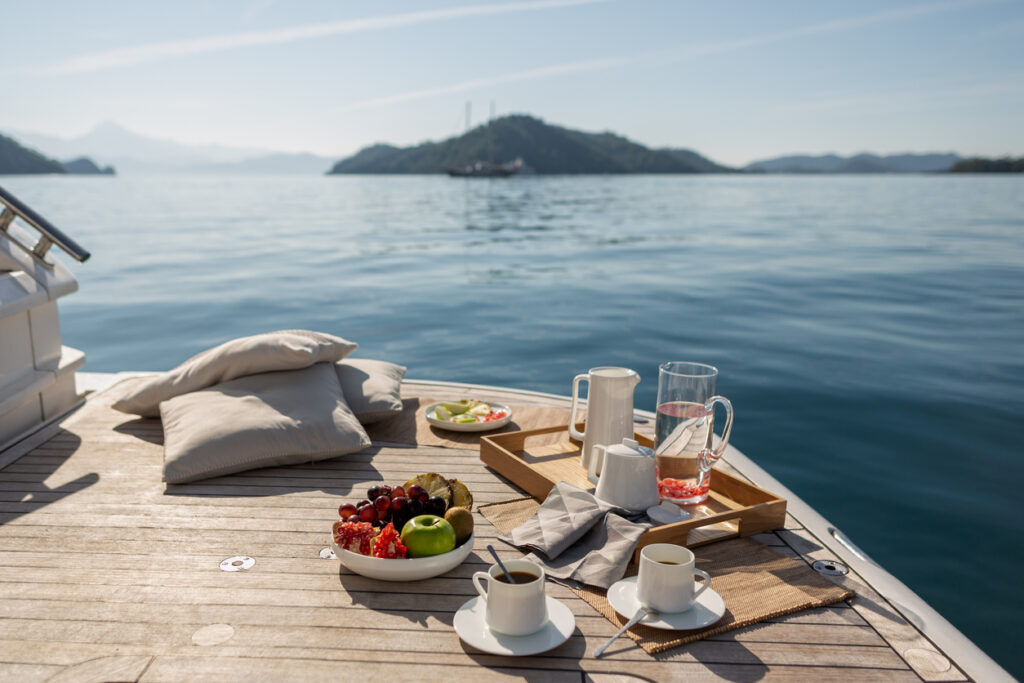 Reason #9:
Professional and Attentive Crew Renting a gulet provides guests with a professional and attentive crew who take care of their every need while on board. The crew includes a captain, chef, and housekeeping staff, all of whom are knowledgeable and experienced in providing a safe and comfortable vacation experience. The captain is responsible for navigating the yacht and ensuring the safety of all guests while on board. The chef prepares delicious and fresh meals, often using local ingredients and traditional Mediterranean cuisine. The housekeeping staff keeps the cabins and common areas clean and tidy, ensuring a comfortable and relaxing vacation experience. Having a professional and attentive crew is essential for a stress-free and enjoyable vacation experience.
Reason #10:
Environmentally-Friendly and Sustainable Gulets are designed and operated with sustainability in mind, making them an eco-friendly vacation option. Many gulets use renewable energy sources such as solar panels and wind turbines to power the yacht, reducing their carbon footprint. Additionally, many gulets have systems in place to reduce waste and conserve water, such as using biodegradable cleaning products and implementing water-saving measures. Choosing an eco-friendly vacation option such as renting a gulet helps to reduce the environmental impact of tourism, preserving the natural beauty of the Mediterranean for future generations to enjoy. It also helps to support sustainable tourism practices that benefit local communities and economies. When planning gulet charter vacation, it's important to consider the impact on the environment and choose eco-friendly options whenever possible. Renting a gulet provides a sustainable and enjoyable vacation experience that benefits both the environment and the local community.
FAQs
What is the difference between a gulet and a yacht?
Gulets are traditionally designed Turkish sailing vessels with a characteristic wooden hull and sails. Yachts, on the other hand, are often made of fiberglass or steel and can come in a variety of shapes and sizes.
How long does a typical gulet rental last?
The length of a gulet rental can vary depending on the rental company and the preferences of the guests. Rentals can range from a few days to a few weeks.
What destinations are popular for gulet rentals?
Popular destinations for gulet rentals include the Turkish Riviera, Greek Islands, Croatia, and Italy. The Mediterranean and Aegean seas offer many beautiful coastal destinations for gulet vacations.
What activities are available on board a gulet?
Many gulets offer a range of activities on board, including swimming, snorkeling, fishing, and sunbathing. Some gulets also offer water sports such as water skiing, jet skiing, and paddleboarding.