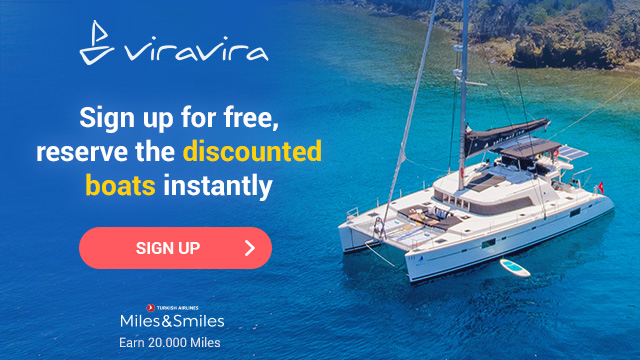 Gulets are the traditional handmade and broad-beamed wooden sailing vessels, crafted from wood by master craftsmen in Turkey that were originally used for fishing and sponge-diving along the Mediterranean coasts. Due to a design that prioritizes comfort overall with a large rounded stern that allows spacious areas of seating and lounging, this vessel has become a popular choice for longer sea-voyages and coastal trips for pleasure. It is now known as the ultimate component of the famous sailing holiday, taken along the Aegean and Mediterranean coasts of Turkey.
By chartering a gulet in Bodrum, Marmaris, Fethiye or Gocek, you will have the chance to enjoy the classical sailing holiday which will take you along the picturesque shorelines of the country. Below, discover some of the most popular routes for which gulets have been specially designed!
Fethiye – Marmaris
The Fethiye – Marmaris sailing route is a two-way voyage that encompasses many different coves and islands along the way. It is one of the most popular sailing routes in the region and you will be able to enjoy a wide variety of sports and activities such as diving, snorkeling, trekking and windsurfing. On this classic and much-loved route, you will be witness to stunning scenes of nature, virgin coasts, incredible sunrises and sunsets, groves of olive trees and dazzlingly crystal clear waters. If you wish, you can also stay overnight in some of these beautiful coves where you will enjoy the serenity of seclusion and the healing and refreshing powers of nature. The scent of pine trees and thyme, the mountain breeze and the faint sounds of the goats onshore – this will be all that there is around you. What's more, on this famous route, you will be able to stop by the ancient city of Kaunos and the striking rock tombs of the Carians.
Marmaris – Datca – Marmaris
The quaint, beautiful and relatively untouched Datca peninsula stretches from Marmaris to the Aegean Sea. This particular route will often vary according to weather and wind conditions. Beginning from Marmaris and heading all the way to Hisaronu, this route will take you to idyllic spots such as Ciftlik Cove, Bozukkale (Ancient Loryma), Kocaada, the Bencik and Kargi Coves, Datca, Kizilada, Bozburun, Kadirga, Kumlubuk and the ancient city of Knidos. On this route, you will be able to relax and refresh in the aquarium-like turquoise waters, visit magical historical sites, and witness lands and nature that have been host to countless civilizations and cultures over thousands of years.
Bodrum – Gokova – Bodrum
Representing the origin of the sailing holiday tradition, the Bodrum – Gokova route is the classic and most preferred route by both local and foreign holidayers. Moving through pristine turquoise waters, lush nature and an overall harmony of blue and green, this route truly offers an experience of a lifetime. A few of the spots along the way are Orak Island, Kargi, Yaliciftlik, Longoz, Cokertme Cove and the English Harbour.
For more information about renting a gulet, visit viravira.co or contact us at  +90 850 433 90 70.
Choose the most suitable boat for you among 12.000 boats in 49 countries and 1040 destinations, plan your dream boat vacation now!

Click to rent a boat: viravira.co