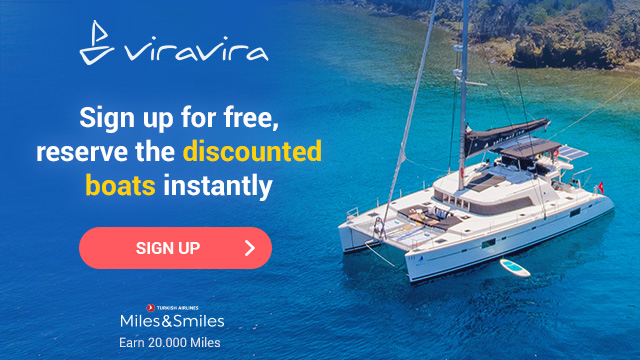 How to Rent a Boat?
All-inclusive yacht charter options are typically only available for hourly or cabin chartered boats. Nevertheless, it is sometimes possible to find an all-inclusive service with some gulets. It should be noted, however, that with this rental option often the meals will all be fairly similar.
What is Required to Rent a Boat?
It is obligatory for the boat owner to upload the boat's insurance policy and, if he/she is not the legal owner of the boat, the lease agreement stating that he has the right to operate.
When renting a boat, an identity document, a Short Range Radio Operator's License, and an Amateur Maritime License are required if you want to be the captain of the boat you are renting.
What are the Points to Be Considered in Boat Rentals?
A few of the points you should pay attention to when renting a boat are: The condition of the boat, insurance, rental period, return rules and time, tariffs and additional fees…
What Do All-Inclusive Boat Rentals Include?
All-inclusive boat rental is an option that covers all costs when paying for the rental service of a boat or yacht. This usually includes costs such as crew services, yacht maintenance, cleaning, gas, up-to-date navigation maps or equipment. Also, in some cases, meals, drinks, water sports equipment or other extra services may be included. The all-inclusive boat rental service is considered an easy and convenient option, especially for those who will experience yachting for the first time, as all costs are included, so there are no costs to worry about during the rental period. In addition, the presence of the crew during the rental period helps you with the use of the boat or yacht and ensures a safe journey.
Can I Rent an Hourly Boat?
To rent a boat, you must first search for a boat rental company and choose a suitable boat. By choosing viravira.co, you can benefit from advantages such as easy booking, secure transactions and customized cruise options. Then choose the one that suits you best among hundreds of listed boats and enjoy your holiday. In addition, the rental fee is usually determined on an hourly, daily or weekly basis.
Meal Plan for the Hourly Yacht Charter Option
With hourly yacht charters, the meal plan will consist of a fixed menu. Before you rent the boat, your captain and the boat owner will offer you a variety of menu options. You can select the one that best suits your tastes and needs, as well as your budget. For instance, you can choose from meat, chicken, fish or vegetarian options. With hourly rentals, alcoholic beverages will also be included in your fixed menu and price. Nevertheless, just to be sure and avoid any problems later on, it is always advised to clarify this in advance.
What Does Cabin Charter Boat Mean?
A cabin charter boat means that a boat or yacht provides services as a rental of only a certain number of cabins.Cabin charter boats are generally considered a more suitable option for those with yachting experience.
Meal Plan for the Cabin Charter Option
Cabin chartered yachts will also have a fixed menu. As all of the main meals and snacks will be included in this set menu, it will not be possible to later select a menu. In some cabin chartered yachts, it is also not permitted to bring food and drink from outside. This should be discussed and clarified upfront to avoid any problems during the sailing holiday, and it is important to adhere to the agreed-upon deal of the yacht charter. Generally in this option, the fixed menu will not include alcoholic beverages. This is an important factor to consider before deciding on renting a boat so that you can plan your budget accordingly.
In summary, with cabin charter and hourly yacht charter options everything is included in the overall price. This way you will pay a fee to cover all the main expenses and very few extra expenses will be incurred throughout your holiday.
How to rent a boat without skipper?
The listing owner, who wants to rent his/her boat without skipper should mark the related option. The renter who rents a boat without skipper must have the relevant license to use the boat. viravira.co does not check licenses.
After the boat rental process is completed, you can use the boat between the dates you choose. However, do not forget that you are responsible person to use the boat during the boat charter without a skipper. Therefore, you should make a good plan before using the boat and always prioritize safety.
Can I rent a private boat?
The opportunity to rent private boats is offered by boat rental companies or boat owners. Private boat rental fee; rental period may vary depending on factors such as boat type and size. For detailed information, contact us via our website.
Choose the most suitable boat for you among 12.000 boats in 49 countries and 1040 destinations, plan your dream boat vacation now!

Click to rent a boat: viravira.co