Introduction
In the winter months, when the weather is cold and gloomy, we long more than ever for the glaring sun, the open ocean and long leisurely summer days. In the midst of daydreaming, why not also plan ahead and book next summer's holiday with plenty of time to spare? Opt for something different this year and take a sailing tour through the most beautiful waters of the Mediterranean! In this post, we will share with you some of the most pristine beaches of Turkey with the clearest, calmest and most clean waters that you definitely have to visit during your sailing holiday.
Turkey is a beautiful country with a vast coastline that boasts some of the most breathtaking beaches in the world. From crystal clear waters to soft white sands, Turkey has it all. In this article, we'll take a look at the top 5 most clearly beaches in Turkey that are sure to take your breath away. Whether you're looking for a romantic getaway, a family vacation, or a solo adventure, these beaches offer something for everyone. So, grab your sunscreen and let's dive in sea!
1. Kaputas Beach / Kalkan
The stunning Kaputas Beach with its truly unique landscape and bright, glowing turquoise shoreline attracts visitors from all over the globe. Situated between the Kas and Kalkan districts of Antalya, Kaputas Beach is also known as the "Mouth of the Canyon" as it lies beneath a deep drop as surrounding cliffs and forests meet the coast. The enchantingly bright turquoise hue of the water derives from natural underwater springs that mix with natural freshwater from the mountains. We highly advise you to add this as a stop on your sailing holiday, and those that want to approach from land can reach it from the 187 stairs that descend the canyon. This canyon beach is a first-degree protected site and is truly a dazzling paradise.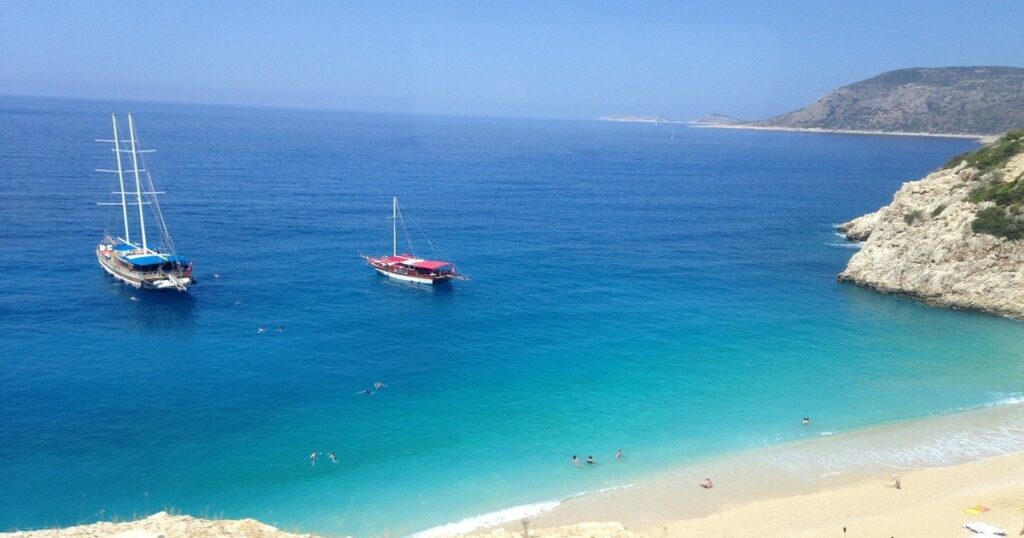 2. Cirali Beach / Antalya
Cirali Beach is situated on the Turkish coast, south of Antalya, near the ancient city of Olympos and Chimaera – the eternal flames of a rocky mountain above the village. This is truly a magical site and a favorite for backpackers for its lush greenery and subtropical climate. The area is home to the protected Caretta Caretta sea turtles, the legendary and mythological flame of the mountain, and Lycian ruins and is definitely not a site to miss!
3. Ovabuku / Datca
Datca, one of the many gorgeous holiday spots of Turkey, is home to the stunning Ovabuk Beach. Boasting a unique blend of blue and green, Ovabuku has a vast stretch of shoreline as well as an abundant forest of beautiful olive trees. Due to season-wide popularity, this beach offers a plethora of activities like water sports such as diving, water-skiing, snorkeling, diving and hiking. Reachable by both land and the sea, those who come here are in for a treat. If you plan to have a yacht vacation, be sure to add Ovabuk to your route.
Amos is a small cove situated within Marmaris district of Mugla province. Amos, one of the ancient cities of Caria, not only has a great view but also is home to many ancient sites. After a 10-15 minute long climb, you can reach the top of Amos to witness the famed Hellenistic theatre, temples and walls. Besides its historical sites, Amos also manages to impress the visitors with its clean sea. You should add Amos Beach to your sailing route and experience history, magnificent view and the sea.
5. Patara Beach / Kas
Located between Kas and Fethiye, Patara Beach is the birthplace of Saint Nikolaus, also known as Santa Claus. Looking like a desert with its immense size, Patara is the longest beach of Turkey. Harboring a hidden forest behind and being an egglaying place of Caretta Caretta sea turtles, Patara is a protected natural zone. Patara is a must-see place for sailing holidays. You can also enjoy various watersports there.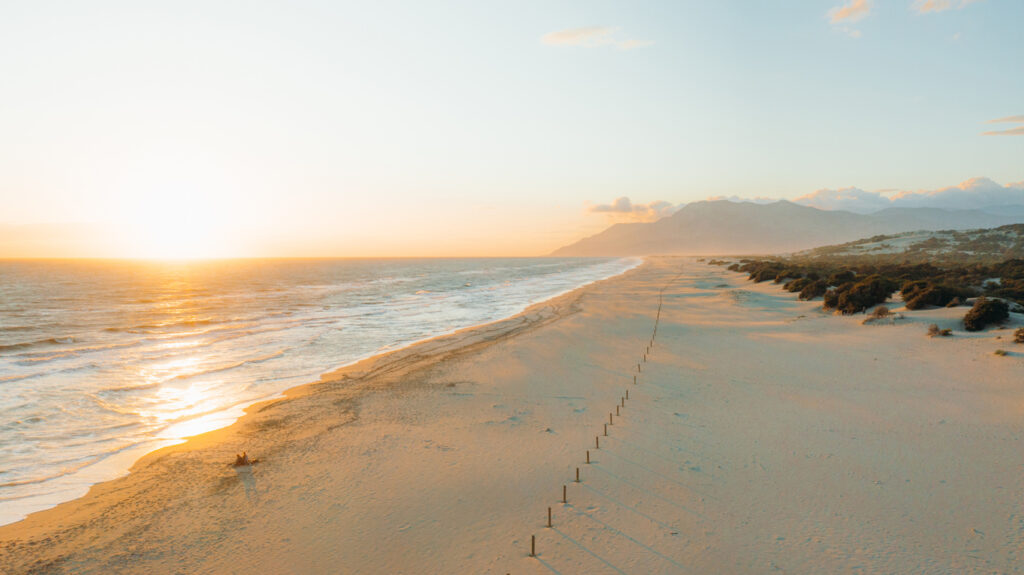 By adding the beaches mentioned above to your route, you can see both amazing places and have a unique holiday experience.
To rent a yacht and plan your own sailing holiday, you can visit viravira.co and make your choice or you can call us on +90 850 433 90 70 and let us assist you.