Looking for a unique and unforgettable vacation experience? Look no further than sailing holidays in Turkey on a Turkish gulet or luxury yacht. With its stunning coastline, crystal-clear bays, and world-renowned destinations like Gocek, Turkey is the perfect destination for those seeking a luxurious and exclusive holiday on luxury gulets.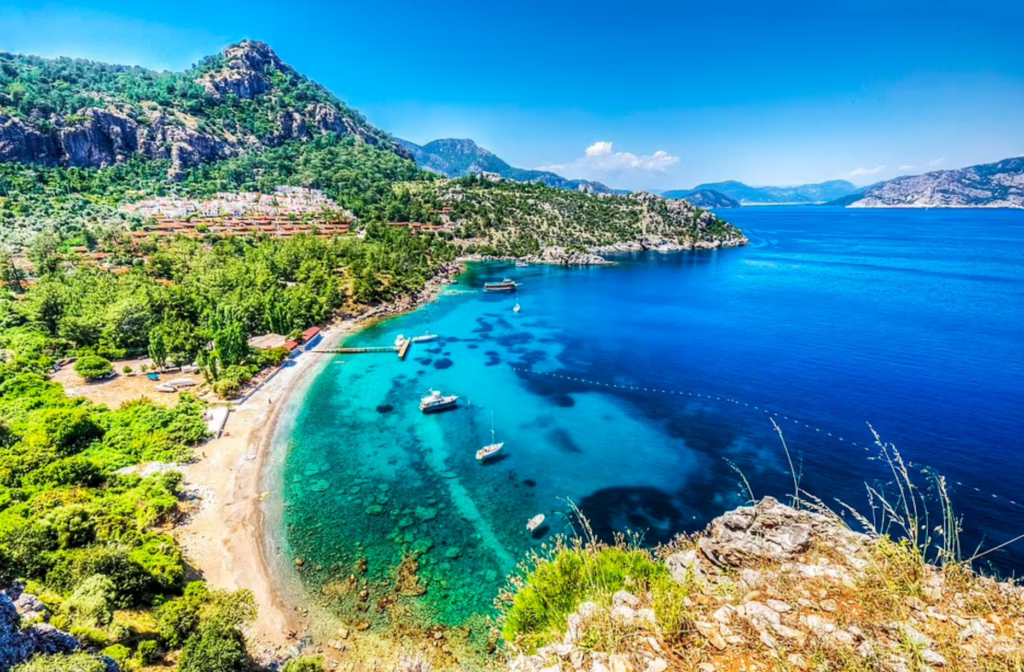 Yacht Charter Turkey offers something for everyone, regardless of budget or experience level. Whether you're an experienced sailor or a first-time boater, you'll find plenty of options to suit your needs. Luxury yachts and sailing yachts are available for those seeking a more lavish experience while sailing holidays on luxurious gulets are perfect for those who want to explore the stunning Turkish Riviera in style. And with international airports located at both ends of the Turkish Riviera, getting here is easy and convenient.
So why wait? Book your luxury yacht charter in Turkey today and discover all that this beautiful country has to offer. From secluded bays to bustling ports, there's no better way to explore the stunning Turkish coastline than from the deck of your own private boat hire. Enjoy unforgettable sailing holidays with your loved ones and explore the charming country of Turkey.
Yacht Chartering in Turkey: Turkey offers an array of yacht chartering options from bareboat, crewed, and skippered to flotilla sailing. With international airports at both ends of the Turkish Riviera, accessing these services is convenient and easy.
Best Times and Locations: The prime time for yacht charters in Turkey is from April to October, with July and August being the peak season. Top destinations include Bodrum, Marmaris, Fethiye, and Gocek, each offering unique attractions.
Bareboat vs Crewed Charters: While bareboat charters are ideal for experienced sailors who prefer privacy, crewed charters offer a luxurious experience with a professional crew to take care of sailing and other amenities. The selection between the two depends on personal preferences and sailing skills.

KEY TAKEAWAYS
Best Times to Charter a Yacht in Turkey
The best time to charter a yacht in Turkey ranges from April to October due to the pleasant weather and calm seas, providing an optimal sailing experience and the opportunity to explore Turkey's stunning coastline and cultural offerings. The peak season is July and August when tourist demand and prices are high due to the bustling atmosphere. Alternatively, the months of May, June, September, and October constitute the low season, which offers equally pleasant weather, less crowd, and potentially more competitive prices for yacht charters.
April to October: The Best Time for Yacht Charters
Turkey is a beautiful country with plenty of things to see and do, making it an excellent destination for sailing holidays. The best time to go on a boat hire or Turkey yacht charter is from April to October when the weather is warm, and the seas are calm. During this time, you can enjoy the stunning coastline, explore hidden bays and coves, and soak up the sun while relaxing on your yacht. And if you have time, don't forget to visit Istanbul, a bustling city that offers a unique blend of culture and history.
July and August: High Season for Yacht Charters
July and August are the busiest months for charter yachts in Turkey. During these months, you can expect large crowds of tourists and higher prices due to high demand. However, if you don't mind the crowds and want to experience the vibrant atmosphere of Turkey during peak season, then July and August could be perfect for you.
May, June, September, and October: Low Season with Good Weather
If you are planning sailing holidays and looking for a boat hire on the Turkish coast, May, June, September, or October could be the perfect time to go. These months offer pleasant weather conditions without being too hot or too cold, making it ideal for a yacht charter trip. You can also enjoy fewer crowds and tourists compared to peak season while still experiencing all that Turkey has to offer.
Winter Months: Not Recommended for Yacht Charters
Winter months are not recommended for boat charters in Turkey due to cold weather conditions and rough seas. From November through March/April (depending on location), winter brings cold winds that make sailing uncomfortable at best – dangerous at worst. It's best to avoid these months altogether if you're planning a yacht charter trip in Turkey.
Choosing the Right Yacht Charter and Boat Rental Options in Turkey:
Types of Yacht Charters
There are different types of yacht charters available, including bareboat, crewed, skippered, or flotilla sailing. For those looking for a unique experience, the Turkish Gulet charter is a great option to explore the sea and islands along the Lycian coast.
Bareboat charters are ideal for experienced sailors who want to captain their own sailing yacht and enjoy private sailing holidays. These charters are also suitable for those who prefer to sail on a catamaran or sailboat.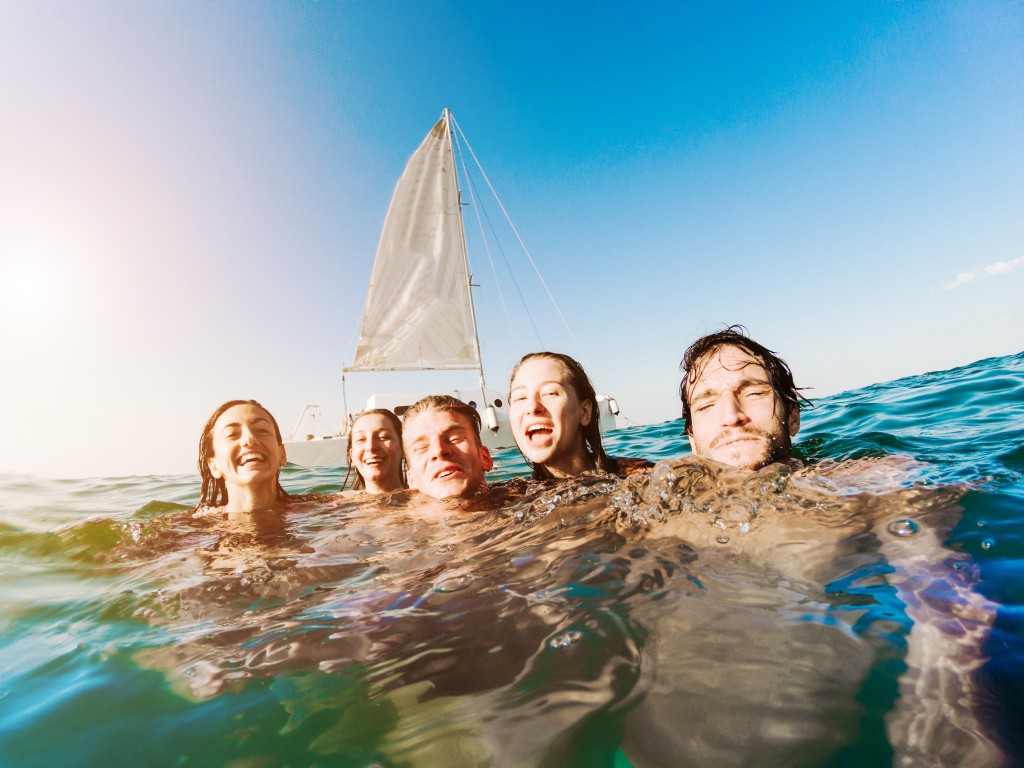 Crewed charters offer a more luxurious experience with the addition of a professional crew onboard, whether you prefer a luxury yacht, motor yacht, private yacht, or sailing yacht.
Skippered charters provide a professional skipper to navigate the waters while guests relax and enjoy the sailing holidays on a luxury yacht or boat, especially in Turkey sailing.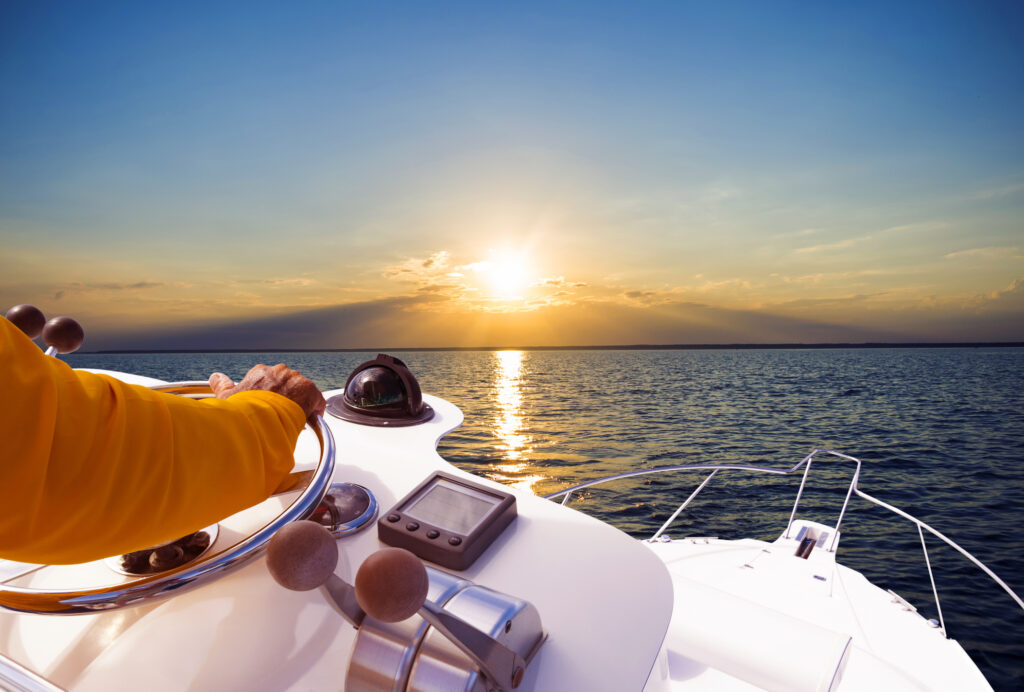 Flotilla sailing is a great option for those who prefer to enjoy a yacht charter vacation in a group with other yachts and participate in organized activities. Whether you choose a charter yacht or a luxury yacht charter, flotilla sailing is the perfect way to experience the thrill of sailing while enjoying the company of like-minded individuals.
Popular Boat Rental Options
Turkey's beautiful coastline offers some excellent options.
Gulets are traditional Turkish wooden yachts that offer luxury amenities such as air conditioning, en-suite bathrooms, and spacious decks. They are perfect for groups of charter guests looking for an authentic Turkish experience while sailing the sea along the beautiful coast.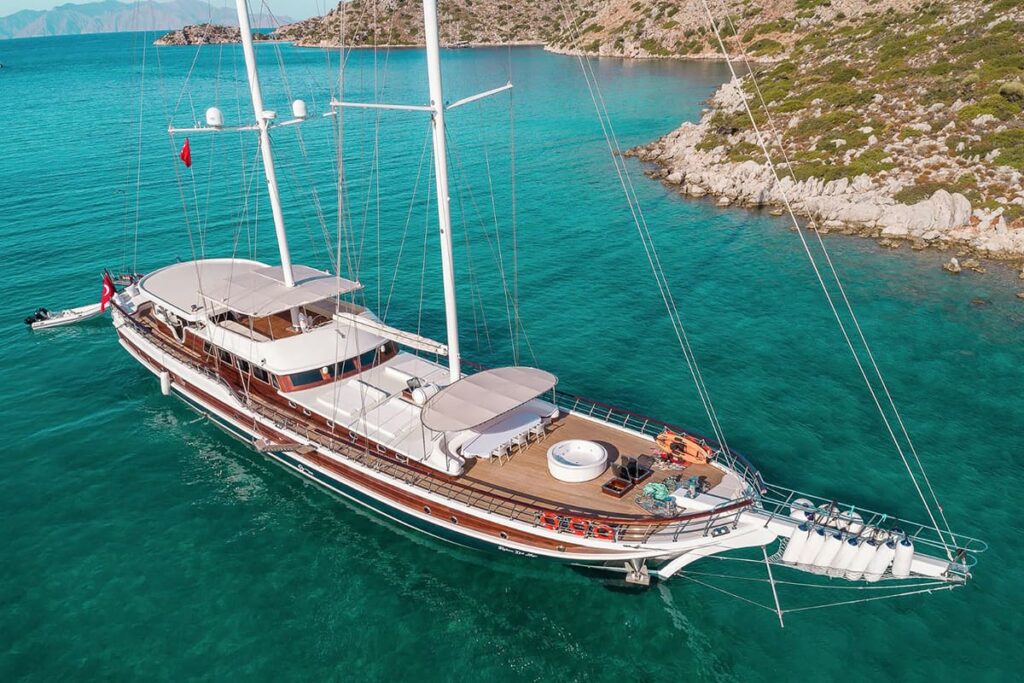 Catamarans are ideal for families or groups looking for more space and stability on their yacht charter vacation. They are perfect for bareboat charter, providing two hulls that offer greater stability on the water and more living space onboard a luxury yacht charter.
Motor yachts, most of the time available for charter with captain and crew, provide speed and comfort while exploring the beautiful sea of the Turkish Riviera. Although they can be more expensive than other options, they offer a luxurious way to spend your day on the water.
Top Yacht Charter Destinations in Turkey
Turkey has many beautiful destinations along its coastline that are popular among yacht charter enthusiasts. Whether you're on a boat or spending the day exploring, there's no shortage of breathtaking scenery to take in.
Some of these top destinations include:
Bodrum: Known as the "St Tropez" of Turkey, Bodrum offers crystal-clear waters and picturesque bays perfect for a day trip. Alternatively, you can opt for a bareboat charter to explore the stunning surroundings at your own pace.
Fethiye: Located on the Turquoise Coast, Fethiye is known for its stunning beaches, ancient ruins, and opportunities for a yacht charter. Spend a day exploring the coastline on your terms.
Marmaris: A bustling port town with plenty of restaurants, bars, and shops. Perfect for a day trip or yacht charter.
Gocek: A peaceful marina town with a laid-back atmosphere, perfect for those looking to escape the crowds and enjoy boat rental and yacht hire options.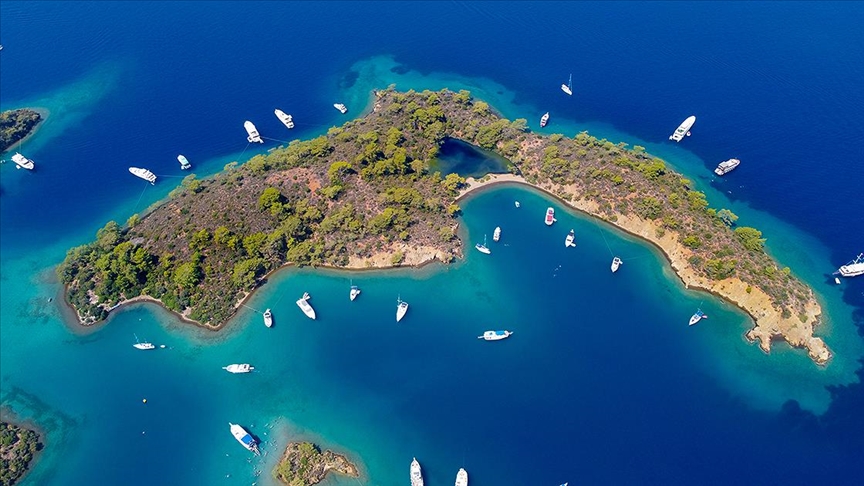 Packing List
When packing for your sailing holiday, it's important to consider the itinerary and what activities you will be doing on board or during shore excursions. Here are some items that should be on your packing list: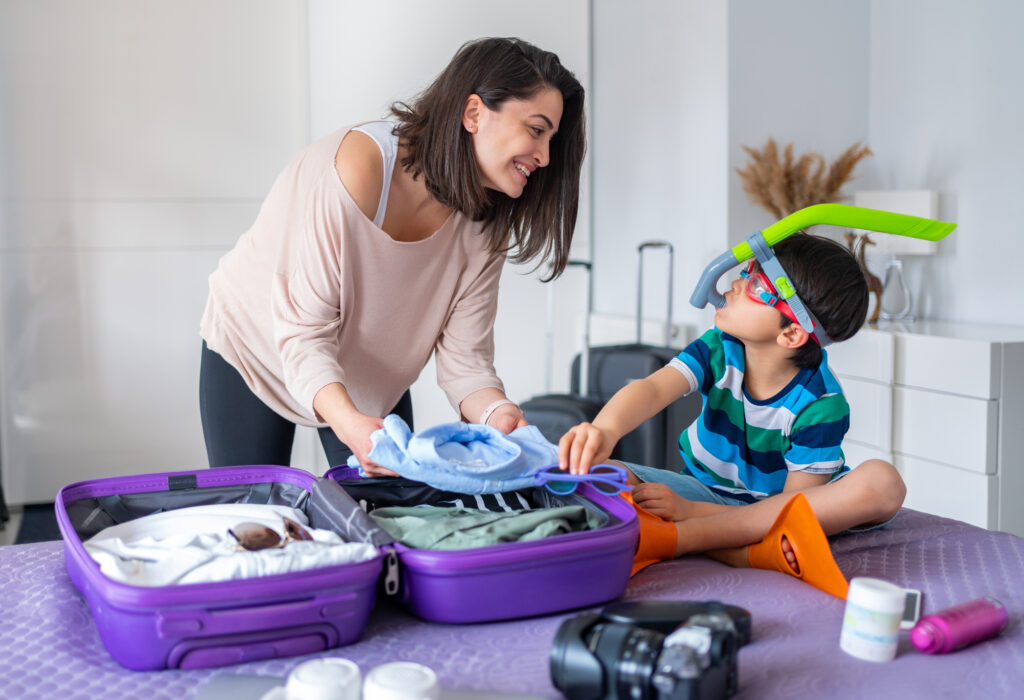 Sunscreen: If you plan to go on a yacht charter in Turkey, don't forget to bring sunscreen with at least SPF 30+ as the sun can be intense.
Sunglasses: Protect your eyes from harmful UV rays during your sailing holidays by bringing polarized sunglasses.
Hats/caps/swimwear/towels/comfortable shoes/light clothing/waterproof bags/snorkeling gear
Comfortable shoes: Whether you're on a boat or exploring different destinations, comfortable shoes are a must-have.
Waterproof bags: Keep your important belongings dry by packing them in waterproof bags.
Snorkeling gear: With plenty of bays and beaches along the Aegean and Lycian coasts, snorkeling is must-try activity.
Bareboat or Crewed Yacht Charter: Which is Right for You?
A yacht charter in Turkey is a great way to explore the stunning coastline and crystal-clear waters of the Mediterranean. One of the most important decisions you'll make when planning your yacht charter vacation is whether to opt for a bareboat or crewed yacht charter.
Bareboat Charters
Bareboat charters are perfect for experienced sailors who want to take charge of their sailing adventures. With a bareboat charter, you'll be responsible for navigating the yacht and managing all aspects of sailing, including anchoring and mooring. This means that you should have some experience with sailing and navigation before booking a bareboat charter.
One advantage of bareboat charters is that they offer more privacy than crewed charters. You can enjoy your vacation with just your family or friends on board without any interference from crew members. Bareboat charters tend to be less expensive than crewed ones since there's no need to pay for an experienced captain and crew.
If you're considering a bareboat charter, it's important to choose the right type of yacht for your needs. Sailing yachts are ideal if you want a more hands-on sailing experience, while motor yachts are better suited if you prefer a more relaxed pace.
Crewed Charters
Crewed charters are perfect for those who want to sit back, relax, and let someone else take care of everything. With a crewed charter, an experienced captain and crew will manage all aspects of sailing so that you can focus on enjoying your vacation.
If you're searching for a fancy way to explore the Turkish coast, then a luxury Gulet charter might be just what you need! One of the best things about these types of charters is that they offer a crewed service where you'll be treated like royalty. You won't have to worry about preparing your meals or sleeping in uncomfortable quarters. Instead, you'll be pampered with delicious chef-prepared meals and enjoy a comfortable stay in spacious cabins. These luxurious amenities will make your yacht charter experience unforgettable!
Tips for a Successful Yacht Charter and Sailing Holiday in Turkey:
In conclusion, yacht chartering in Turkey can be an unforgettable experience if you follow these tips.
Choose the right time to visit according to your preferences and weather conditions.
Select the best yacht charter and boat rental options that suit your budget and needs.
Create an itinerary that includes must-visit locations such as Bodrum, Marmaris, and Fethiye.
Decide whether you want a bareboat or crewed yacht charter based on your sailing skills and preferences. Finally, consider the types of yachts available for charters in Turkey such as motor yachts, gulets, catamarans, and sailboats.
To make the most out of your yacht chartering holiday in Turkey, we recommend you check our yacht charter Turkey guide. Don't hesitate to ask questions to viravira.co team before making any reservations.
FAQs
Do I need a sailing license to rent a bareboat yacht in Turkey?
Yes, according to Turkish maritime law, you need an ICC (International Certificate of Competence) or equivalent certification to rent a bareboat yacht in Turkey.
Can I bring my food and drinks onboard during a yacht charter?
Yes! Most yacht charters allow guests to bring their food and drinks onboard without additional charges.
What should I pack for my sailing holiday in Turkey?
We recommend packing light clothes suitable for warm weather conditions such as swimsuits, shorts/t-shirts/sandals/flip-flops/sunscreen/hats/sunglasses/towels/medications. If you're planning a yacht charter, these items will come in handy on your trip.
What are the best places to visit during a yacht charter in Turkey?
Some of the must-visit locations during a yacht charter in Turkey include Bodrum, Marmaris, Fethiye, Gocek, Kekova, and Kas. Each destination has its unique attractions such as ancient ruins, turquoise waters, secluded bays, and vibrant nightlife.
What is the difference between a motor yacht and a sailboat?
A motor yacht is powered by engines while a sailboat relies on wind power to move. Motor yachts are usually faster and more comfortable but consume more fuel than sailboats. Sailboats provide a more authentic sailing experience but require some sailing skills from the crew. If you're looking for a more independent experience, you might want to consider a bareboat charter.
Can I customize my itinerary during a yacht charter in Turkey?
Yes! You can customize your yacht charter itinerary by talking with your captain.