Introduction
Welcome to the world of gulet charters in Turkey! If you're looking for a luxurious all-inclusive sailing experience like no other, then look no further. Gulet charters offer an enchanting blend of comfort, style, and adventure as you cruise along the breathtaking turquoise coast of Turkey. A gulet is a traditional wooden sailing yacht that boasts spacious decks, elegant cabins, and modern amenities, making it the perfect vessel for a truly memorable vacation. Whether you're a seasoned sailor or a first-time cruiser, a gulet charter in Turkey promises an unforgettable journey, where you can immerse yourself in the stunning natural beauty of the Mediterranean, indulge in exquisite cuisine, and relax in style as you explore the hidden gems of this fascinating region. Get ready to set sail on an extraordinary adventure and create cherished memories that will last a lifetime.
Understanding Luxurious Gulets
Gulets are traditional wooden sailing yachts that originated in Turkey and have become popular as luxurious charter options. These stunning vessels are typically made of pine or oak, handcrafted by skilled craftsmen using traditional techniques that have been passed down through generations. Gulets are known for their distinctive design, with a wide beam, spacious decks, and a raised aft, creating a unique profile that is both elegant and functional.
What sets gulets apart as luxury yachts are their exquisite features and amenities. Gulets are meticulously designed and equipped to provide a high level of comfort and style to their guests. They typically feature multiple cabins with en-suite bathrooms, air conditioning, and stylish interiors adorned with beautiful woodwork and luxurious furnishings. The decks are designed for relaxation and entertainment, with ample seating areas, sunbeds, and often a dining area where guests can enjoy delicious meals prepared by an onboard chef.
Gulets come in various types and sizes to cater to different group sizes and preferences. From classic gulets with traditional features to modern gulets with contemporary designs, there is a wide range of options available for charter. Gulets can accommodate small groups of 6-8 guests or larger groups of up to 20 or more, making them suitable for intimate family vacations or larger gatherings such as weddings or corporate events.
In summary, gulets are unique luxury yachts with their origins in Turkey, known for their exquisite craftsmanship, elegant design, and exceptional amenities. They offer a truly unique and luxurious sailing experience, and with various types and sizes available, there is a perfect gulet charter option for every type of traveler.
Chartering a Luxury Gulet in Turkey
When it comes to chartering a luxury gulet in Turkey, you'll be spoiled for choice with numerous stunning destinations along the picturesque Turkish coastline. Some of the popular gulet charter destinations in Turkey include the Aegean and Mediterranean regions, such as Bodrum, Marmaris, Fethiye, and Gocek, known for their crystal-clear turquoise waters, secluded coves, and pristine beaches. These areas offer a perfect blend of natural beauty, rich history, and vibrant culture, making them ideal for a luxurious sailing experience aboard a gulet.
Choosing the right gulet for your charter requires careful consideration of various factors, such as the size of your group, budget, preferred itinerary, and desired amenities. Gulets come in different sizes, ranging from small gulets suitable for intimate gatherings to larger gulets that can accommodate larger groups. It's important to research and compares different gulet options to ensure you find the perfect fit for your needs and preferences.
The booking process for a skippered gulet charter in Turkey usually involves contacting a reputable gulet charter agency or broker who can assist you in finding the right gulet and making the necessary arrangements. You'll need to provide information such as your travel dates, group size, and specific requirements. Once you've selected a gulet, you may be required to sign a charter agreement and provide a deposit to secure your booking. It's also important to familiarize yourself with the necessary paperwork, such as passports, visas (if required), and any other relevant documents for international travel to Turkey.
In conclusion, chartering a luxury gulet in Turkey offers a unique and unforgettable sailing experience. By choosing the right destination, gulet, and following the booking process and paperwork requirements, you can embark on a luxurious adventure exploring the stunning coastline of Turkey aboard a beautifully crafted traditional sailing yacht.
Luxury Amenities on Board
Luxury gulets are renowned for their top-notch amenities and services that elevate the charter experience to unparalleled levels of comfort and indulgence. These floating sanctuaries offer a plethora of luxurious features to ensure guests enjoy a truly unforgettable vacation.
The cabins on luxury gulets are elegantly designed and lavishly appointed, providing a haven of relaxation and privacy. They often feature en-suite bathrooms, plush beds, air conditioning, and modern amenities, ensuring a comfortable stay for guests. The lounges and dining areas on board are equally opulent, with stylish interiors, ample seating, and panoramic views of the stunning surroundings. Many gulets also boast spacious outdoor dining areas where guests can savor delectable meals prepared by an onboard chef using fresh local ingredients.
Recreational activities abound on luxury gulets, with a variety of water toys and equipment available for guests to enjoy. From snorkeling and paddleboarding to jet skiing and fishing, there are endless opportunities for fun and adventure on the water. Additionally, some luxury gulets also feature spa facilities, including hot tubs, saunas, and massage rooms, providing a serene oasis for relaxation and rejuvenation.
With all these lavish amenities and services, luxury gulets offer a truly indulgent experience for guests seeking the ultimate in comfort and luxury while exploring the beautiful Turkish coastline. Whether you're lounging in opulent cabins, dining in style, engaging in exciting water activities, or pampering yourself at the onboard spa, a luxury gulet charter promises an extraordinary and unforgettable journey.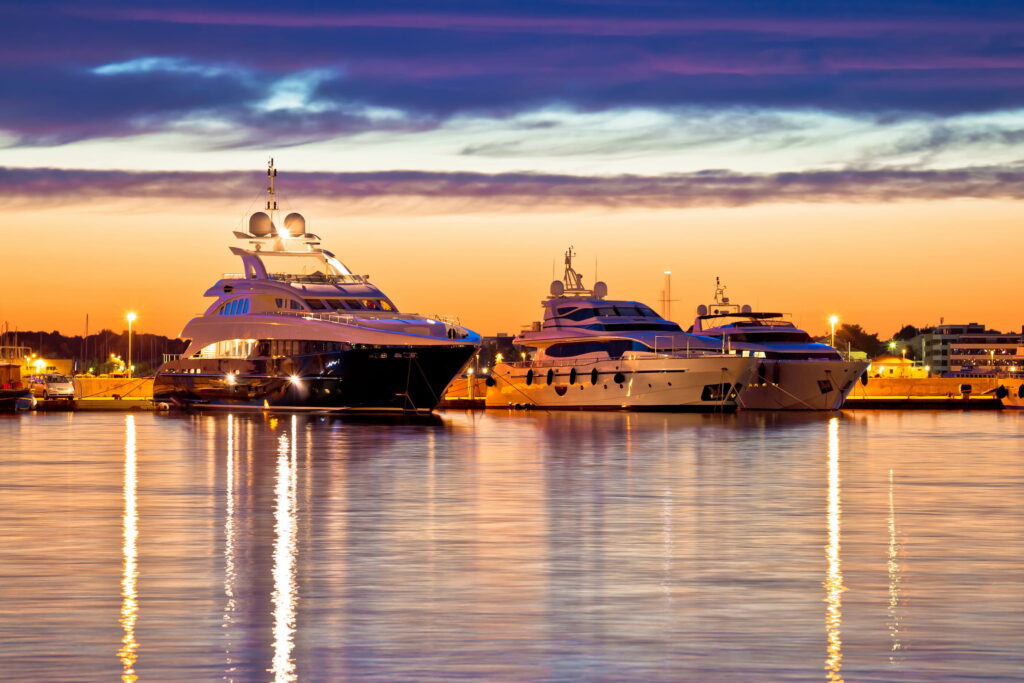 The Crew and Hospitality
The experienced crew on a luxury gulet plays a pivotal role in ensuring a seamless and unforgettable charter experience for guests. The crew members are typically well-trained professionals who are knowledgeable about sailing, safety protocols, and hospitality.
The crew on a luxury gulet usually includes a captain, a chef, deckhands, and sometimes additional service staff. The captain is responsible for navigating the yacht, planning the itinerary, and ensuring the safety of all passengers on board. The chef is skilled in creating culinary delights, and preparing delicious meals that cater to the preferences and dietary requirements of the guests. The deckhands assist with various tasks, such as mooring, handling water toys, and maintaining the cleanliness and maintenance of the yacht. Additional service staff, if available, may provide personalized services such as bartending, housekeeping, and guest assistance.
One of the highlights of a luxury gulet charter is the impeccable hospitality and personalized service provided by the crew. The crew goes above and beyond to ensure that guests have a memorable experience, catering to their needs and preferences with warmth and professionalism. From welcoming guests on board with a friendly smile to attending to their requests throughout the charter, the crew creates a welcoming and comfortable environment, making guests feel pampered and well taken care of.
In conclusion, the experienced crew on a luxury gulet plays a crucial role in providing a seamless and exceptional charter experience. Their expertise, hospitality, and personalized service ensure that guests can relax, unwind, and indulge in the luxury and comfort of a gulet charter along the beautiful Turkish coastline.
Exploring the Turkish Coastline
The Turkish coastline is a treasure trove of breathtaking destinations that are perfect for exploring during a gulet charter. From pristine beaches to stunning landscapes and historic sites, there is something for everyone to discover along this picturesque coastline.
One must-visit destination along the Turkish coast is the Turquoise Coast, known for its crystal-clear waters and idyllic coves. This region is home to stunning beaches such as Oludeniz, Kaputas, and Patara, where guests can relax on powdery sands and swim in azure waters.
The ancient city of Bodrum is another must-visit destination, with its rich history and vibrant culture. Guests can explore the Bodrum Castle, the ancient ruins of the Mausoleum of Halicarnassus, and the Bodrum Amphitheater, which offer a glimpse into the region's rich past.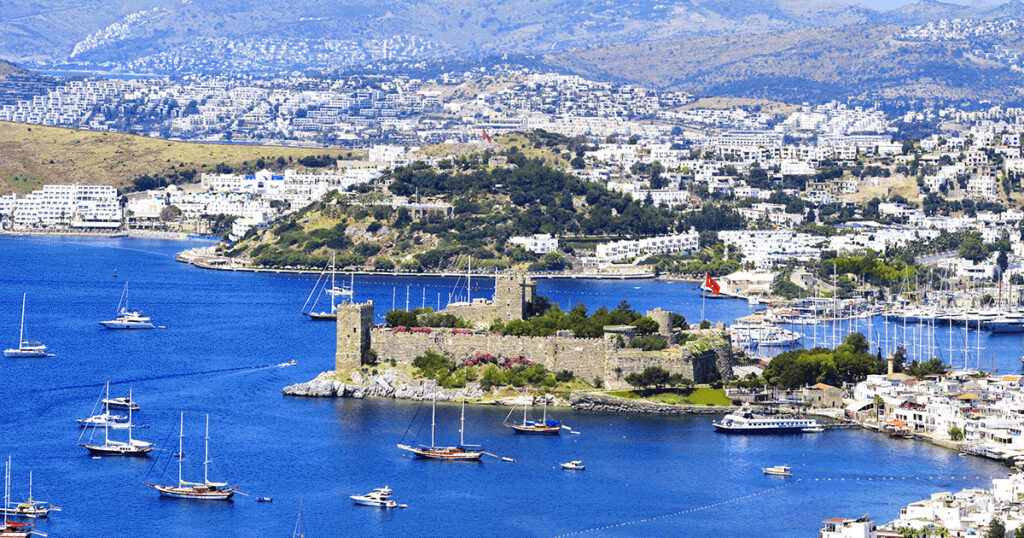 The Lycian Coast is also a popular destination for gulet charters, with its dramatic cliffs, hidden coves, and ancient Lycian tombs carved into the rock faces. The Blue Cave in Kekova, with its turquoise waters and underwater ruins, is a unique and awe-inspiring destination to explore during a gulet charter.
For nature lovers, the Datca Peninsula offers stunning landscapes of rolling hills, pine forests, and pristine beaches. Guests can also visit the ancient city of Knidos, known for its well-preserved ruins and panoramic views of the sea.
Other notable destinations along the Turkish coastline include Gocek, Marmaris, and Kas, each offering their own unique charm and attractions to explore during a gulet charter.
In conclusion, the Turkish coastline is a treasure trove of breathtaking destinations that offer stunning landscapes, pristine beaches, and historic sites to explore during a gulet charter. From the Turquoise Coast to the Lycian Coast, there are numerous must-visit places that promise a memorable and enriching experience for travelers seeking to explore the beauty of Turkey's coastal regions.
Nightlife and Entertainment
While a luxury gulet charter in Turkey offers a serene and secluded experience, it also provides ample opportunities for nightlife and entertainment on board. Many luxury gulets are equipped with onboard bars, lounges, and entertainment systems that cater to the interests and preferences of guests.
Onboard bars provide a perfect setting for socializing and enjoying cocktails or refreshing beverages while taking in the stunning views of the Turkish coastline. Luxurious lounges offer comfortable seating areas where guests can relax, unwind, and socialize with fellow travelers, creating a cozy and inviting ambiance.
Entertainment systems on luxury gulets typically include state-of-the-art audio and visual equipment, allowing guests to enjoy music, movies, or other forms of entertainment during their charter. Some gulets also offer outdoor cinema setups, where guests can enjoy movie nights under the stars, creating a unique and memorable experience.
Additionally, the clear skies and minimal light pollution while sailing on a gulet provide ideal conditions for stargazing. Guests can marvel at the constellations, planets, and shooting stars while enjoying the tranquility of the sea.
Apart from stargazing and movie nights, there are various other onboard activities that can add to the entertainment during a gulet charter. Some luxury gulets offer water toys such as paddleboards, snorkeling gear, and kayaks, providing opportunities for water-based activities and adventure. Guests can also indulge in spa treatments, fitness sessions, or simply relax and soak in the sun on spacious decks.
In conclusion, a luxury gulet charter in Turkey offers a perfect blend of relaxation, seclusion, and entertainment on board. With onboard bars, lounges, entertainment systems, stargazing, movie nights, and other onboard activities, guests can enjoy a well-rounded and memorable experience while cruising along the stunning Turkish coastline.
Cultural Experiences
A gulet charter in Turkey provides unique opportunities for cultural experiences that allow guests to immerse themselves in the rich history, traditions, and local culture of this fascinating country. Along the Turkish coastline, there are numerous historical sites, local villages, and markets that offer insights into the rich heritage of the region.
Visiting historical sites such as ancient ruins, ancient cities, and UNESCO World Heritage sites can be a highlight of a gulet charter. Turkey is home to numerous historical treasures, including the ancient city of Ephesus, the ancient ruins of Hierapolis and Aphrodisias, and the stunning Pamukkale terraces, among others. Exploring these sites offers a glimpse into the ancient civilizations that once thrived in this region, providing a unique cultural experience.
Interacting with local villages and markets also offers a chance to experience the local culture and traditions. Guests can visit local villages along the coastline, meet with the locals, and learn about their way of life, customs, and traditions. Visiting local markets allows guests to immerse themselves in the vibrant atmosphere, taste local cuisine, and shop for authentic local products, such as spices, textiles, and handicrafts.
Moreover, some gulets offer opportunities for cultural activities on board, such as traditional Turkish music and dance performances, cooking classes to learn about Turkish cuisine, and language lessons to familiarize with basic Turkish phrases, adding a unique cultural element to the charter experience.
In conclusion, a gulet charter in Turkey offers rich opportunities for cultural experiences, including visits to historical sites, local villages, and markets, as well as interacting with the local culture and traditions. It allows guests to deepen their understanding of the rich heritage and traditions of Turkey, making the charter experience even more enriching and memorable.
Eco-Friendly Practices
As sustainability and responsible tourism become increasingly important, many luxury gulets in Turkey are adopting eco-friendly practices to minimize their environmental impact and promote sustainable tourism. These initiatives aim to preserve the pristine beauty of the Turkish coastline and protect the fragile marine ecosystems.
One of the key eco-friendly practices adopted by luxury gulets is waste management. Gulets often have well-designed waste management systems on board, including proper waste separation, recycling, and disposal practices, to minimize the impact on the environment. Some gulets also use sustainable materials and products, such as biodegradable cleaning products and eco-friendly toiletries, to reduce their environmental footprint.
Conservation efforts are also a priority for many luxury gulets. Some gulets participate in conservation programs to protect marine life, such as supporting sea turtle conservation efforts, promoting responsible fishing practices, and adhering to strict guidelines for wildlife encounters. Some gulets also emphasize energy efficiency by using eco-friendly technologies, such as solar panels and energy-efficient appliances, to reduce their carbon footprint.
By chartering a luxury gulet in Turkey that adopts eco-friendly practices, guests can enjoy a responsible and eco-conscious charter experience. It allows them to contribute to the preservation of the natural environment and support sustainable tourism practices, ensuring that future generations can continue to enjoy the beauty of the Turkish coastline.
In conclusion, many luxury gulets in Turkey are embracing eco-friendly practices, including waste management, conservation efforts, and sustainable initiatives. By choosing a gulet that prioritizes environmental sustainability, guests can enjoy a responsible and eco-conscious charter experience while appreciating the breathtaking beauty of the Turkish coastline.
Check out the top 10 most luxurious gulets in Turkey!
FAQs
How can I book a luxury gulet charter in Turkey?
You can book a luxury gulet charter in Turkey through reputable yacht charter companies or through a charter broker who specializes in gulet charters. They can assist you with selecting the right gulet, itinerary, and other details.
What amenities can I expect on a luxury gulet?
Luxury gulets often come equipped with amenities such as en-suite cabins, air conditioning, spacious lounges, dining areas, recreational equipment, spa facilities, and professional crew to cater to your needs.
How is the food on board a luxury gulet?
The food on board a luxury gulet is often of gourmet quality, featuring fresh local ingredients, regional specialties, and international cuisines. Menus can be customized to suit individual preferences, and professional chefs are usually available to cater to dietary requirements.