You may have planned a wonderful boat trip with your family and friends to relieve all the tiredness of the season and completed all the preparations for your yacht. It is very important for you to make a list of things to take with you for your boat trip, where you will enjoy the sea, sand, and sun to the fullest. This allows you to spend more comfortable time on the boat and avoid panic in the event of an emergency. So, what are the must-haves for a boat vacation?
Items to Pack in Your Suitcase
Before you go on a boat trip, you can start by preparing a list of things to take with you. First and foremost, make sure that you just bring what you truly need while packing your bag for the boat trip. Because the unnecessary items you carry with you on such trips become a burden after a while, creating the need for extra storage space in your environment. You can determine the list of things to be taken while going on a sea vacation according to the climatic conditions of the route you will take, and the duration and conditions of your vacation.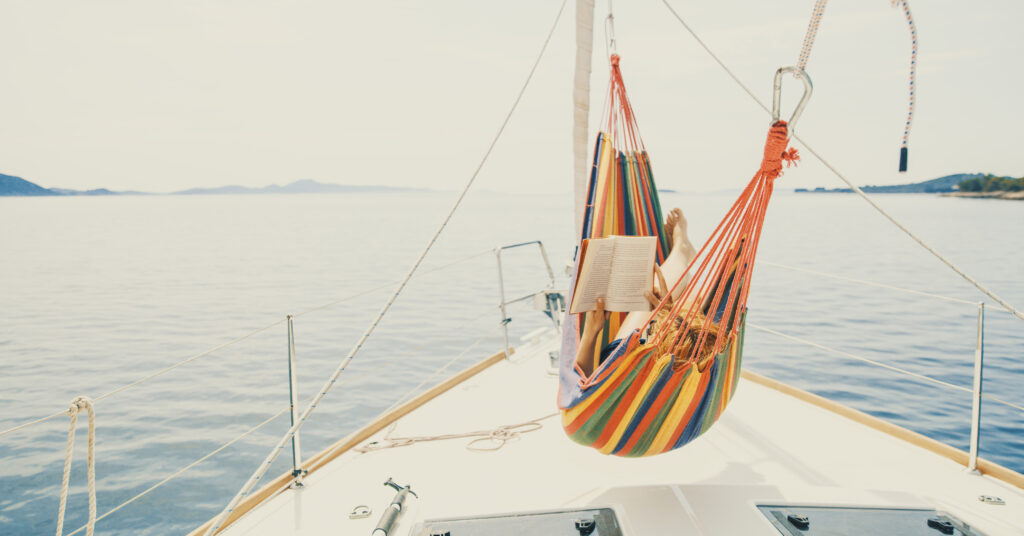 Suitcase Choice
You can start the boat trip preparation by choosing your suitcase. The most important thing to consider while choosing a suitcase is to remember that you are in a boat environment. For this reason, you should go for the smallest size options possible when choosing your suitcase. If possible, you can use bags that do not take up much space on the boat and can easily fit anywhere. Sports bags are among the most ideal choices with their soft structure and large capacity.
Comfortable Clothes and Slippers
Many people who will take a vacation on a boat will seek an answer for the question; "What to wear on a boat trip?". While preparing the suitcase list, choosing clothes is the most important item. By choosing clothes suitable for the boat trip concept, you can both have a pleasant time on the sea and experience comfort to the fullest. First of all, remember to choose comfortable clothes for the boat trip. Don't forget to pack oversize shorts, t-shirts, trousers, and shirts in your bag. On the other hand, for elegant dinners, do not forget to pack clothes to be worn on the yacht in your suitcase. In addition, eye-catching sandals and accessories are among the options that can match yacht party outfits.
Hat and Sunglasses
One of the fastest answers to the question "What to wear at sea?" is "hats and sunglasses". It is so important to have quality hats and sunglasses in the boat where you will be exposed to UV rays intensely. Be sure to pack wide-brimmed straw hats and sunglasses with UV protection filters. In addition, by taking a high-factor sunscreen with you, it is possible to both protect yourself from the harmful rays of the sun and get a tan.
Swimwear and Towel Selection
One of the must-haves of a yacht trip is swimsuits and towels. While selecting towels, you can turn to light-textured loincloth-style models rather than heavy-textured products. The choice of swimwear should be made with the same caution as the choice of towels. You can change your swimsuit when necessary by taking at least 2-3 swimsuits and bikinis of different models with you. In addition, remember to put comfortable and rubber-soled slippers that you will wear with your swimsuit in your bag.
Items You Can Purchase in Bulk for Your Boat
There are some items that you should take with you to have a pleasant time on the yacht trip. Food products to prepare meals, LED light sources to illuminate the boat, a tarpaulin to protect from the sun, and inverter devices to generate electrical energy are some of the products you may need on your boat vacation. You can also add the map of the region and the names of the bays you can visit the list of marine supplies, and you can have the chance to see the locations of your dreams during your trip.
Meal Plan for Enjoyable Meals on the Boat
Perhaps the most unforgettable moments of boat trips are the delicious meals and conversations with your loved ones. Many yacht enthusiasts want to shop according to the question "What to eat on the boat?". You can create your meal plan accordingly by doing research on the foods to be made while going to the sea. First of all, you can determine your meals and design practical menus according to them. You can add products such as fresh vegetables and fruits, meat and delicatessen products, cheese, snacks, tea, coffee and cold soft drinks to your list. If you wish, you can include starters with olive oil in your food menu while going to the sea.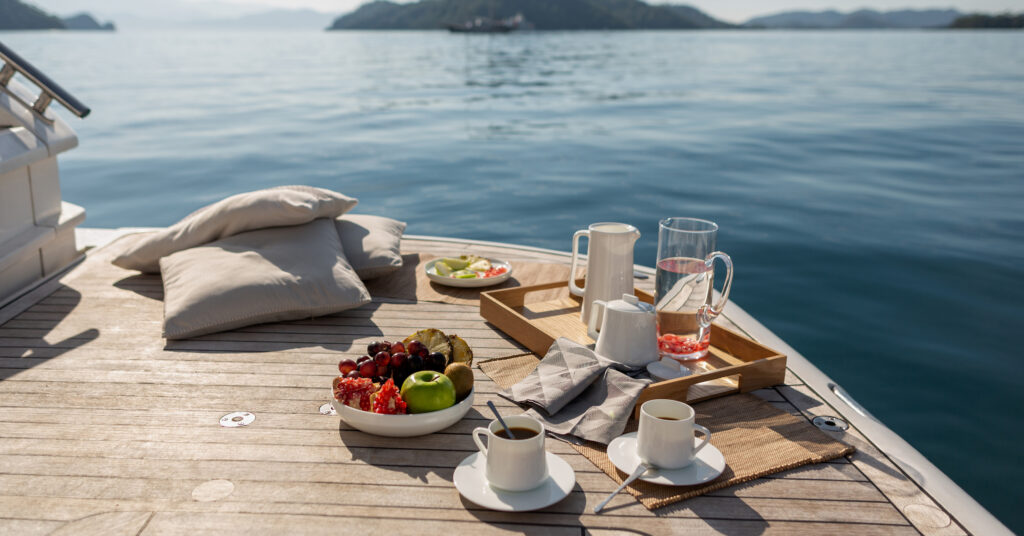 Don't Forget Your First Aid Kit
Sometimes undesirable situations may occur during the yacht trip. In order to be prepared for such situations, you should definitely take basic first aid supplies with you. In the basic first aid kit, you can carry a gauze bandage, allergy creams, band-aids, fly-repellent, and anti-nausea medicine. Thus, you can also provide a solution to the problem "What is good for nausea on the boat?" with the necessary medicine. On the other hand, if you are wondering, "What should be done against getting a sunstroke?" you can compress the head and chest of the person who has sunstroke with a wet cloth.
Don't Forget Fun Games
You can take your snorkel and fin set with you to have fun on the boat and closely examine the underwater life in the deep blue. Brain puzzles such as Monopoly, Taboo, and card games can provide hours of entertainment with your friends. You can also prepare a list of different genres of music before the yacht cruise, dance on the boat, and have exciting moments with your loved ones.
On-Boat Water Needs
Since you will be under the sun all day on the boat, one of your most important needs is water. You can calculate the daily 1.5 lt water requirement for each person onboard and store the water on the boat for the duration of your vacation. In addition, remember to take extra water on the boat for food and necessities such as tea and coffee.
viravira.co for a Pleasant Boat Vacation
For a perfect boat vacation, all you need to do is search the bays you can visit on your route and create a list of items. You can complete your preparations for your boat trip, which will relieve you of the tiredness of the whole year, and you can rent your boat through viravira.co and experience unique moments with your loved ones accompanied by wonderful views.