Introduction
Gulet charter Turkey is a popular way to explore the stunning coastline and islands of Turkey. A gulet is a traditional wooden boat that offers a unique blend of modern amenities and traditional charm, making it an ideal vessel for leisurely cruises along the Aegean and Mediterranean coasts.
If you're considering a gulet charter vacation, there are several things you should know to ensure a smooth and enjoyable experience. First, it's important to choose the right time to book your gulet charter, as weather conditions and peak seasons can have a significant impact on availability, prices, and crowds. Additionally, you'll want to research and compare charter companies to find a reputable and reliable provider that offers the amenities and services you need.
Other factors to consider include the itinerary and activities, the amenities available on the gulet, and cancellation policies. With proper planning and preparation, a gulet charter vacation can be an unforgettable experience that allows you to immerse yourself in the beauty and culture of Turkey.
Traditional two or three-masted wooden yachts, called gulets, are the most popular and authentic way to sail the stunning coasts of Southern Turkey. These traditional wooden sailing vessels are usually built in the coastal towns of Bodrum and Bozburun, but are seen all along the Mediterranean coasts. People from all over the world charter gulets to explore the Mediterranean and Aegean regions for leisurely, tranquil and fun-filled holidays! Read on to discover more about this traditional vessel.
The Structure and Build of the Authentic Gulet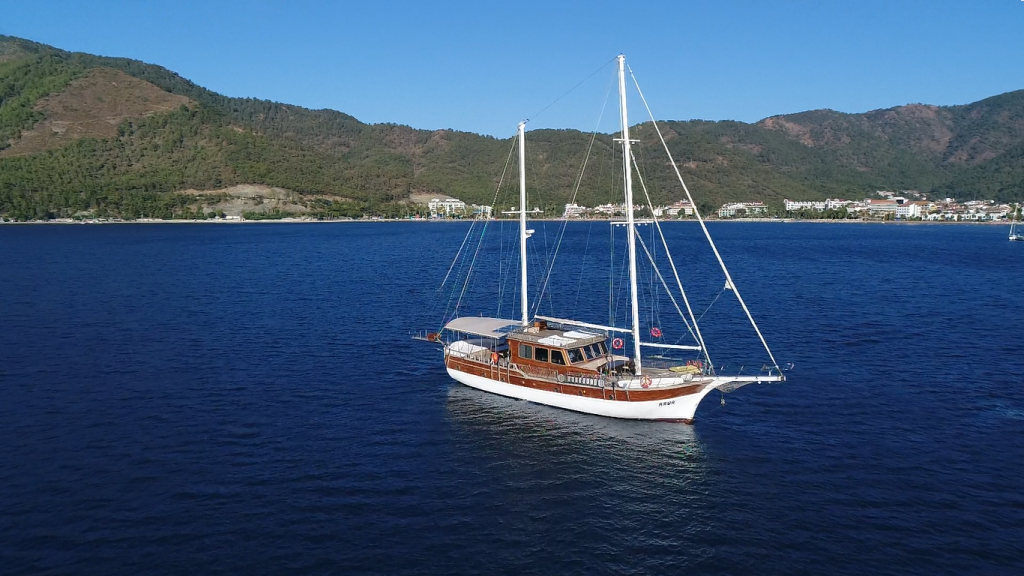 Wooden gulets provide remarkably wide and breezy living spaces due to their inner structure. The average size of a gulet is from 20 to 30 meters long and cabins range from 4-8. This boat type is ideal for hosting big groups of families or friends on longer sailing holidays, with plenty of space on board. On the front of the gulet, the deck is organized into a large and spacious tanning area, and guests who prefer can even sleep out on deck underneath the stars! On the rear side of the gulet will be a large dining area where guests will gather for all meals, tea times and game nights. Due to the availability of a wide range of sizes and standards, gulets are an ideal option for both smaller and larger groups.
Gulet Cruise Services
The overall price of a gulet charter will generally include a range of services, but if you prefer certain extras, these can also be added for an additional fee. The rental fee will usually already include the fees of the captain and crew, the cook, the transit log, the fuel, and the final cleaning service. If for any reason any of these services are not in the overall price, this will be specified by the boat owner in advance. If you are interested in additionals like watersports such as canoes, windsurfing, water-skiing, or jet skis, make sure to speak with the boat owner in advance to learn more about availability and possible additional costs.
The Best Locations for a Gulet Cruise on the Turkish Riviera
The Turkish Riviera, also known as the Turquoise Coast, is a stunning stretch of coastline that runs along the southern coast of Turkey. With its crystal-clear waters, secluded coves, and ancient ruins, it's no wonder that the area is a popular destination for gulet cruises. Here are some of the best locations to explore on a gulet cruise on the Turkish Riviera:
Overall, the Turkish Riviera is a paradise for those who love the sun, sea, and sand. Whether you're looking to relax on a secluded beach or explore ancient ruins, a gulet cruise is an ideal way to experience the beauty and culture of this stunning region.
Gulet Cruise Prices
Gulets come in an assortment of different sizes and standards, and prices will hence vary accordingly. In general, you should consider a gulet cruise to cost you roughly about the same that you would spend on a luxury hotel. In various locations around Turkey such as Gocek, Fethiye, Marmaris, and Bodrum, you will be able to charter a gulet at prices starting from € 80 per person per day. On the Turkish coast, you can generally get great deals for this type of boat when sailing with a larger group.
Gulet Cruise Safety
Rental gulets are equipped with radar systems, navigation appliances, lifebuoys & life rafts, dinghy-powered boats, and pointing devices to ensure the passengers' safety during a blue cruise. If you are planning to go on a yacht vacation with your children and/or pets, you might also want to request safety nets from the boat owner before you embark.
Why not enjoy a truly tranquil and authentic sailing holiday along the Turquoise coasts this summer by chartering a gulet. With viravira.co, planning a yacht vacation is easier now than ever! Rent directly from boat owners in the locations of your choice.
Choose from hundreds of different sizes and standards of gulets according to your preference and book with completely secure payment methods. If you want to learn more check out our the benefits of booking a private gulet charter post.