Athens, a city woven in history and adorned with ancient grandeur, holds a unique allure for enthusiasts of the sea. Nestled in the heart of Greece, Athens offers an exciting gateway to the stunning Aegean Sea, making it a prime location for yacht chartering. The city's coastal charm, complemented by picturesque landscapes, tranquil islands, and azure waters, creates an unmatched yachting experience.
Yachting plays a significant role in Greece's tourism sector. It opens a vista of exploration, where one can discover secluded beaches, visit remote islands, or simply enjoy the captivating views from the water. For tourists, chartering a yacht in Athens is not just a leisure activity; it's a chance to experience the city's rich culture and scenic beauty from a new perspective.
Whether it's embarking on a sun-soaked voyage to the Cyclades or enjoying the serene sunsets of the Saronic Gulf, a yacht charter in Athens provides a memorable journey for all. This guide offers detailed insights into the world of yacht chartering in Athens, covering various aspects from choosing the right yacht, to understanding cost considerations, to planning your perfect itinerary. So gear up and set sail on an exciting nautical adventure in Athens.
Chartering a Yacht in Athens: This experience offers a unique opportunity to explore Greece's rich history, sun-soaked beaches, and vibrant islands. Several charter options are available, including bareboat, skippered, and crewed yachts, which cater to varying levels of sailing expertise and desired comfort levels.
Preparation and Regulations: Thorough preparation, understanding cost considerations, and respecting local regulations and etiquette are crucial for a successful yacht charter experience. This includes planning the itinerary, packing appropriately, understanding the check-in procedure, and adhering to safety and environmental guidelines.
Exploring Local Destinations: The Saronic Gulf Islands, Cyclades Islands, Cape Sounion, Corinth Canal, and Delos are must-visit destinations when chartering a yacht in Athens. These offer a blend of historical sites, beautiful landscapes, vibrant island life, and stunning beaches that enhance the overall sailing experience.

KEY TAKEAWAYS
Different Types of Yacht Charters in Athens
In the vibrant yacht charter industry of Athens, various charter options cater to different sailing preferences, levels of experience, and desired comfort. Three primary types of yacht charters are prevalent: bareboat charter, skippered charter, and crewed charter.
Bareboat Charter
For the more seasoned sailors who crave independence and have the required certifications, a bareboat charter is an excellent choice. When you opt for a bareboat charter, you rent a yacht without any crew or skipper, giving you complete control of the vessel. It's akin to renting a car, where you are responsible for navigation, anchoring, and other boat-handling aspects. Bareboat chartering in Athens can be an exhilarating experience as it provides the freedom to explore the Aegean Sea's secluded gems at your own pace. Yachts available for bareboat charter include sailing yachts, motor yachts, and catamarans.
Skippered Charter
If you possess some sailing experience but aren't fully confident to navigate the Greek waters on your own, a skippered charter is an ideal option. In this setup, you hire a professional skipper along with the yacht. The skipper takes care of the navigational and technical aspects of sailing, allowing you to relax and enjoy the voyage. Additionally, the local skippers in Athens possess a wealth of knowledge about the region's best destinations, hidden spots, and cultural nuances, thereby enriching your charter experience. Skippered charters are also available across sailing yachts and catamarans. The cost of the skipper is around €150 – 180€ per day. You can check the detail page of listings for extras pricing.
Crewed Charter
For those seeking a fully serviced and luxury sailing experience, crewed charters are the way to go. A crewed yacht comes with a dedicated crew that usually includes a skipper, a chef, and additional crew members based on the yacht's size and guest requirements. The crew takes care of everything – from sailing, cooking, and serving, to cleaning – allowing you to relish the journey in pure relaxation. The crewed charter is typically chosen for larger motor yachts or luxury catamarans.
Choosing the right type of yacht charter in Athens depends on your sailing skills, the level of comfort you desire, and the kind of experience you seek. Regardless of the type you choose, the warm Greek hospitality and stunning landscapes of Athens will ensure an unforgettable voyage.
How to Choose a Yacht for Charter in Athens
Selecting the right yacht for your charter adventure in Athens involves several factors. From the size and type of the yacht to the comfort level, cost, and the kind of experience you seek, everything plays a crucial role. Here are some considerations that will help you make an informed decision.
1. Identify Your Requirements
Before you begin your search, clearly identify your needs. How many people will be on board? Do you prefer leisurely sailing or speedy voyages? Are you planning a family trip, a romantic getaway, or a voyage with friends? Answering these questions will help outline your primary requirements.
2. Choose the Type of Yacht
There are different types of yachts to choose from – motor yachts, sailing yachts, catamarans, and luxury yachts, each offering a unique sailing experience.
Motor Yachts: Ideal for those seeking speed and luxury, motor yachts provide a smooth sailing experience even in rougher sea conditions. These yachts often come with several amenities for comfort and entertainment.
Sailing Yachts: For those who enjoy the classic sailing experience, sailing yachts are a perfect choice. They offer a more intimate connection with the sea and are environmentally friendly.
Catamarans: With their dual-hull design, catamarans offer stability, space, and speed. They are excellent for larger groups and families with children.
Luxury Yachts: If you're seeking an opulent sailing experience, luxury yachts provide high-end amenities, exquisite interior design, and a dedicated crew.
3. Consider the Size
The size of the yacht is primarily dictated by the number of people in your group and your budget. While a larger yacht provides more space and comfort, it also comes with a higher price tag.
4. Evaluate the Amenities
The amenities you desire on your yacht depend on your personal preferences. Some people may want a yacht equipped with the latest technology, while others might prioritize a spacious deck area or comfortable sleeping quarters. Luxury yachts often come with an array of amenities like jacuzzis, entertainment systems, and a variety of water sports equipment.
5. Determine the Cost
Price plays a significant role in the selection process. Consider the charter cost, the expense of the crew (if any), provisioning costs, fuel, harbor fees, and any additional extras. Keep in mind that while cost is a vital factor, the cheapest option may not always provide the best experience.
6. Inspect the Yacht
Before finalizing your choice, inspect the yacht, either personally or through a trusted representative. Ensure it is in good condition, the equipment functions correctly, and it matches the description provided by the charter company.
7. Read Reviews and Seek Recommendations
Check reviews and ratings of the charter company and the specific yacht you're interested in. Previous charterers' experiences can offer valuable insights. Additionally, you can seek recommendations from friends, family, or forums who have chartered yachts in Athens before.
8. Assess the Charter Company
Lastly, the reputation and professionalism of the yacht charter company matter. Ensure they have the necessary licenses, provide good customer service, and have contingency plans in place.
Remember, the key to a successful yacht charter in Athens is choosing a vessel that aligns with your requirements, preferences, and budget. Happy sailing!
Cost Considerations for Yacht Charter in Athens
Chartering a yacht in Athens can be a memorable experience. However, it is essential to understand the various costs involved to plan your budget effectively. The expenses can be broadly categorized into fixed and variable costs.
Fixed Costs
The primary fixed cost is the charter fee, which varies depending on the type, size, and age of the yacht, as well as the charter duration. A motor yacht typically costs more than a sailing yacht, and a luxury yacht comes with a higher price tag due to its amenities and services. The cost of renting a yacht in Athens starts from €1,600 for a week.
Variable Costs
Apart from the charter fee, several variable costs need to be considered.
Crew Fees: If you opt for a crewed or a skippered charter, the crew's wages are added to the charter cost. For crewed yachts, the costs for a chef, stewardess, or other additional crew members must also be considered.
APA (Advance Provisioning Allowance): APA covers the costs of fuel, food, beverages, and other provisions for the trip. It is typically calculated as a percentage of the charter fee, usually around 20-30%.
Harbour and Marina Fees: Depending on your itinerary, you may need to pay for mooring in different marinas. The fees vary based on the size of the yacht and the specific marina's charges.
Gratuities: It's customary to tip the crew at the end of the charter. The amount is at your discretion, but a typical tip is 10-20% of the charter fee.
Insurance: Charter companies usually require a refundable security deposit that covers any accidental damage. Alternatively, you can opt for charter insurance, which minimizes your financial liability.
Cost-Saving Strategies
There are a few strategies to make your yacht charter more cost-effective.
Off-Peak Chartering: Prices can be significantly lower during the shoulder season (spring and fall) compared to the peak summer months.
Early Booking: Many charter companies offer discounts for early booking. Check viravira.co campaign page to learn about discount offers.
Last-Minute Deals: If your dates are flexible, last-minute deals can be an excellent way to save money. However, availability and choice may be limited.
Sharing Costs: If you're comfortable with it, sharing the charter with another family or friends can help split the costs.
Understanding the cost structure of yacht chartering in Athens will help you plan your budget effectively and avoid any unexpected expenses. Remember, while cost is an important factor, it shouldn't compromise the quality of your experience.
Top Destinations to Visit When Chartering a Yacht in Athens
Chartering a yacht in Athens opens up a world of breathtaking destinations. From historical sites to hidden bays, and vibrant islands, the choices are virtually endless. Here are some of the top destinations you shouldn't miss.
1. Saronic Gulf Islands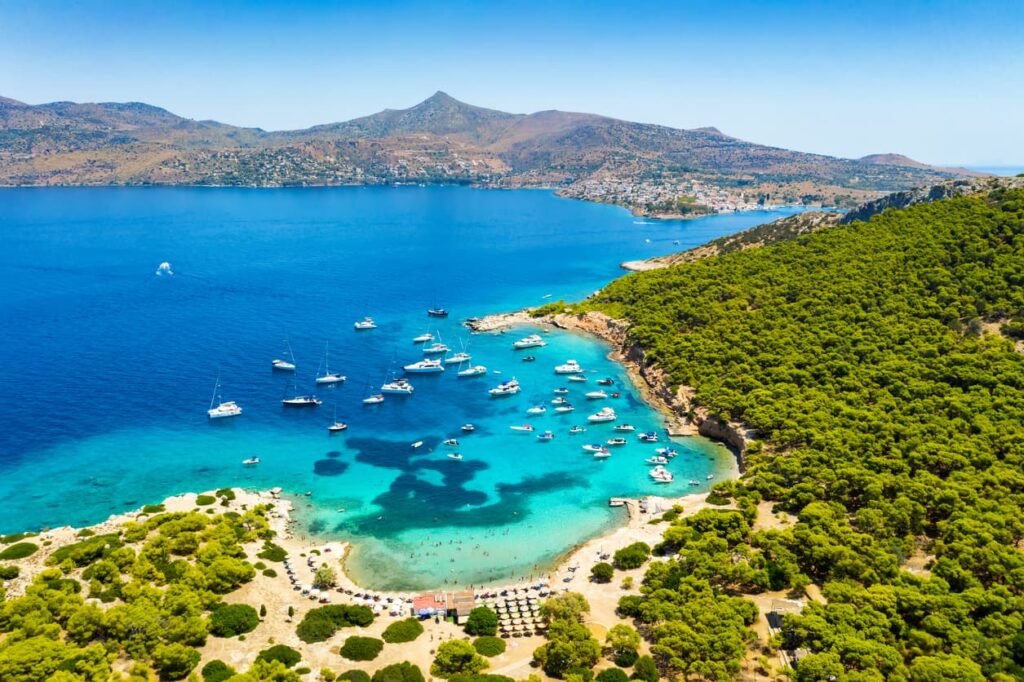 Just off the coast of Athens, the Saronic Gulf Islands are ideal for shorter yacht charters. These islands offer a delightful mix of beautiful landscapes, ancient history, and lively towns.
Aegina: Famous for its Temple of Aphaia, Aegina offers historical sites and stunning beaches. Don't forget to try the local pistachios, considered the best in Greece.
Poros: With its beautiful pine forests, Poros offers scenic beauty and tranquil beaches. The island's charming main town is perfect for leisurely exploration.
Hydra: Known for its elegant stone mansions and vehicle-free streets, Hydra is a gem of the Saronic Gulf. Its vibrant art scene and beautiful hiking paths make it a must-visit.
Spetses: The island of Spetses charms visitors with its traditional architecture, beautiful beaches, and the historic site of Bouboulina's Museum.
2. Cyclades Islands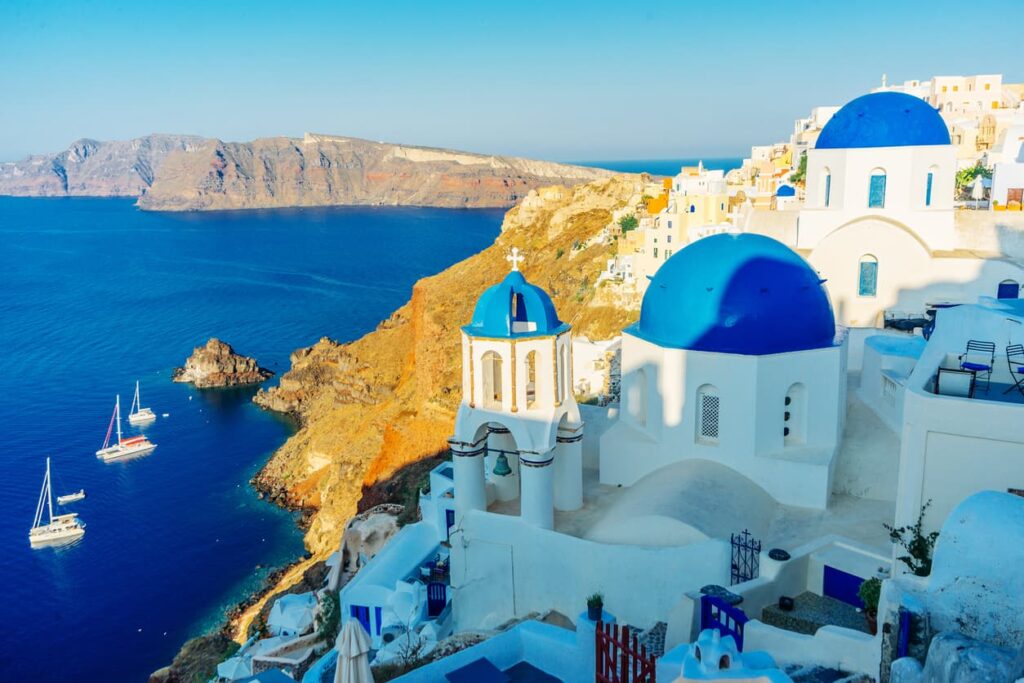 The Cyclades are a group of islands in the Aegean Sea known for their white-washed buildings, blue-domed churches, and beautiful beaches. A yacht charter to the Cyclades often includes:
Mykonos: Known worldwide for its golden beaches and lively nightlife, Mykonos is a place of contrasts, equally offering tranquil spots and bustling tourist areas.
Santorini: Famous for its stunning sunsets, white-washed houses, and unique beaches, Santorini is a romantic destination that offers a unique sailing experience.
Paros: With beautiful sandy beaches, traditional villages, and vibrant nightlife, Paros is a must-visit destination for yacht charters.
Naxos: The largest island of the Cyclades, Naxos, offers stunning landscapes, ancient ruins, and beautiful beaches.
3. Cape Sounion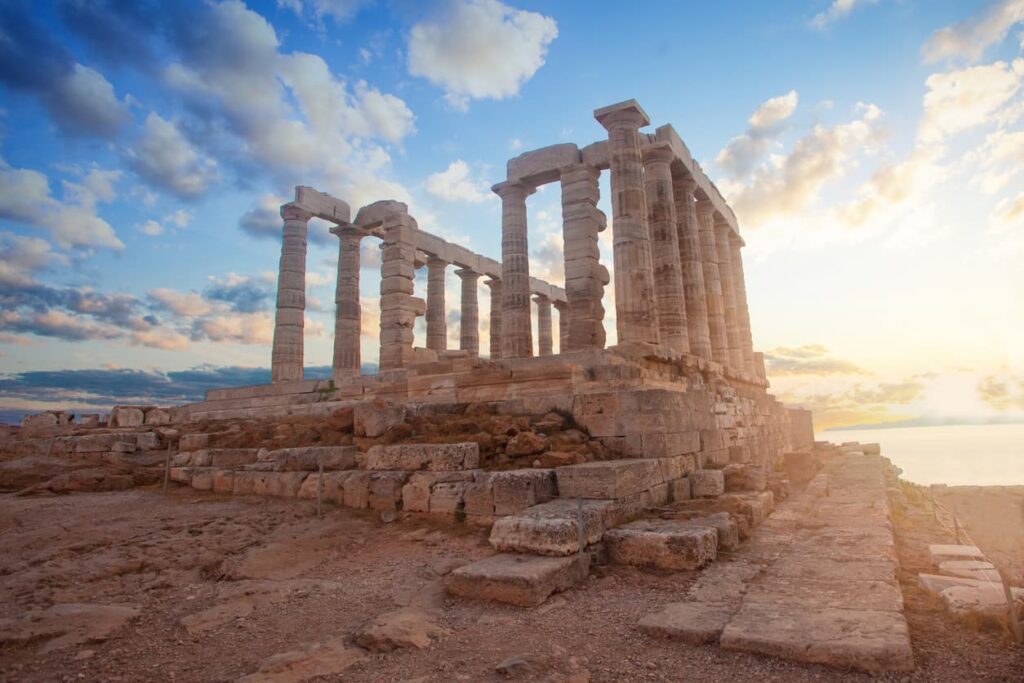 Located at the southernmost tip of the Attica peninsula, Cape Sounion is home to the ancient Temple of Poseidon. Watching the sunset from this historic site is an experience you shouldn't miss.
4. Corinth Canal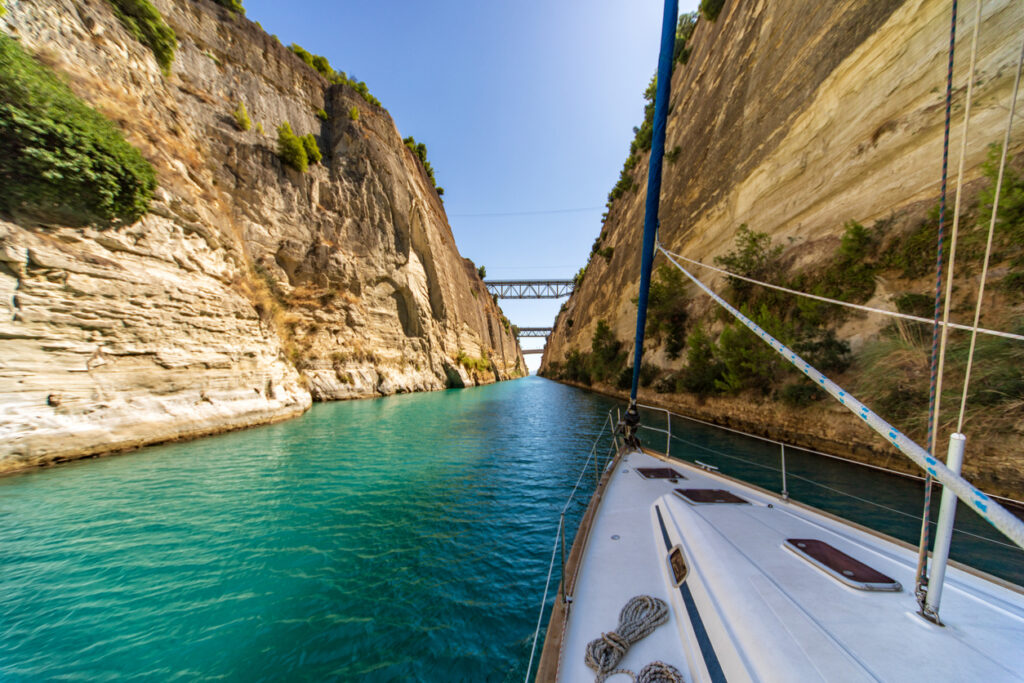 A marvel of engineering, the Corinth Canal connects the Gulf of Corinth with the Saronic Gulf. Passing through this narrow canal is a unique experience and offers a great photo opportunity.
5. Delos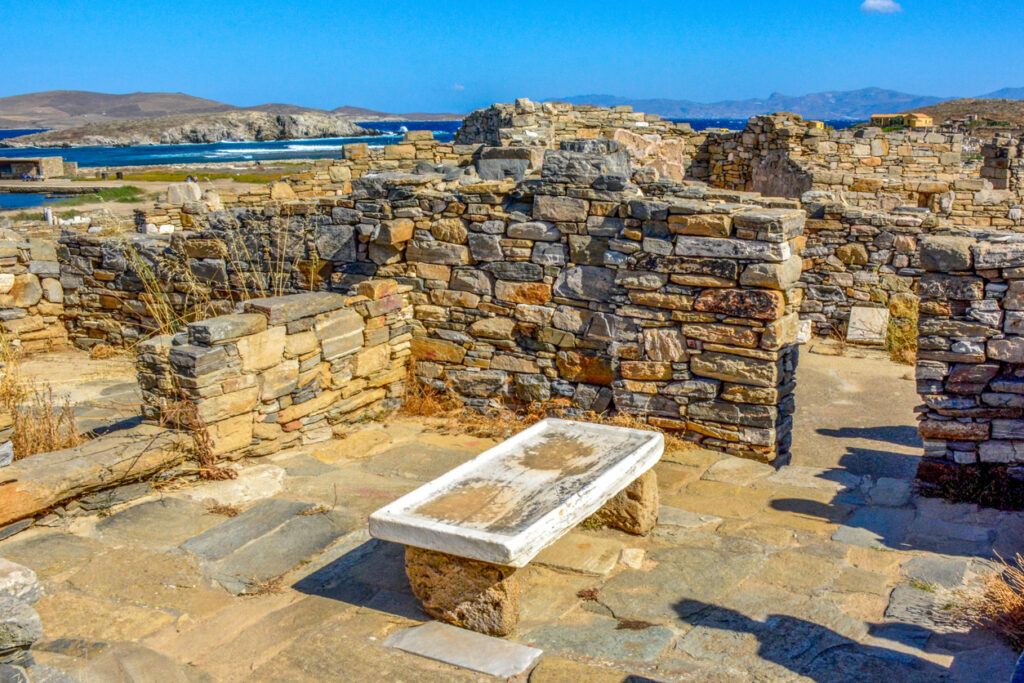 If you're interested in ancient history, make a stop at Delos, the mythological birthplace of Apollo and Artemis. The archaeological site here is a UNESCO World Heritage site and offers a unique insight into ancient Greek civilization.
When planning your itinerary, consider factors such as the duration of your charter, your interests, and the sailing distances between destinations. A well-planned itinerary will ensure you get the most out of your yacht charter in Athens. Happy sailing!
Regulations and Etiquette for Yacht Charter in Athens
Chartering a yacht in Athens, like any other maritime activity, is governed by certain regulations and etiquette rules to ensure a safe, respectful, and enjoyable experience for everyone.
1. Valid Documents
Charterers are required to carry valid identification documents. If you're chartering a bareboat, you should also possess a valid International Certificate of Competence (ICC) or equivalent certification proving your sailing skills.
2. Safety Regulations
The captain or skipper is responsible for the safety of the vessel and the crew. Always adhere to safety rules and instructions provided by the charter company and the crew. Remember, life jackets are mandatory for children and recommended for adults while underway.
3. Navigation Rules
If you're chartering a bareboat, you need to follow international navigation rules, respect other vessels' rights of way, and avoid environmentally protected areas.
4. Anchoring and Mooring
You're generally free to anchor in any safe spot, but it's crucial to respect marine protected areas and maintain a safe distance from swimmers. When mooring in marinas, ensure you do not obstruct other boats.
5. Respect for the Environment
Practicing green yachting is essential. Avoid throwing any waste overboard, especially plastic. Respect the marine life and refrain from disturbing the natural habitats.
6. Noise Levels
Sound carries over water, so it's important to control noise levels, particularly in crowded anchorages or quiet bays, to not disturb others.
7. Tipping
Tipping the crew is customary at the end of the charter if their service met or exceeded your expectations. A typical gratuity ranges from 10% to 20% of the charter fee.
Remember, following regulations and practicing good etiquette ensures a smooth and enjoyable yacht charter experience in Athens.
How to Prepare for a Yacht Charter in Athens
Thorough preparation is critical to a successful and enjoyable yacht charter in Athens. Here are some tips to help you prepare.
1. Plan Your Itinerary
Identify the islands and places you want to visit, considering sailing distances and weather conditions. You may need to be flexible as weather can affect your sailing plans.
2. Pack Smart
Pack light, comfortable clothes, swimwear, a light jacket for cooler evenings, and sturdy shoes for walking around towns and ruins. Don't forget your sunblock, sunglasses, and hat for sun protection.
3. Food and Beverages
Discuss your meal preferences with the charter company in advance if you've opted for a crewed charter. If you're going on a bareboat charter, plan your meals and make a shopping list for provisions.
4. Medical Needs
Bring necessary medications and a basic first aid kit. If anyone in your group has specific medical conditions, inform the charter company in advance.
5. Documents
Ensure you have all the necessary documents, including passports, sailing licenses for bareboat charters, and travel insurance papers.
6. Learn Basic Sailing Terms
Knowing basic sailing terminology can enhance your charter experience, particularly for bareboat charters.
7. Check-in Procedure
Understand the check-in procedure, which typically includes a briefing about the yacht's equipment and safety procedures.
With careful preparation, your yacht charter in Athens will be a memorable experience that you'll cherish for a lifetime.
Conclusion
Chartering a yacht in Athens provides an unparalleled opportunity to explore Greece's rich history, sun-soaked beaches, and vibrant islands. Whether you opt for a luxury crewed charter or prefer the freedom of a bareboat charter, the experience promises to be memorable.
Careful planning is essential, taking into consideration your budget, preferred destinations, and the type of yacht suitable for your needs. Understanding the costs involved can help avoid any surprises and ensure a smooth sailing experience.
Remember to respect the regulations and good etiquette while on the water to preserve the marine environment and ensure a harmonious experience for everyone.
Athens, with its vibrant culture, stunning landscapes, and fantastic sailing conditions, offers an inviting platform for the sailing adventure of a lifetime. So, set your sails and embark on a unique journey of discovery and relaxation.
As you sail across the azure waters, take the time to immerse yourself in the moment, let the wind guide your journey, and create memories that you'll cherish forever. Happy Sailing!
FAQs
What types of yacht charters are available in Athens?
There are several types of yacht charters available in Athens, including bareboat, skippered, and crewed yacht charters. Bareboat charters are ideal for experienced sailors, skippered charters for those who want a local guide, and crewed charters for a luxury experience.
How can I choose the best yacht for charter in Athens?
Choosing the best yacht for charter in Athens depends on various factors like your budget, the number of people in your party, your sailing experience, and personal preferences. Take into account the yacht's size, type (sailing or motor yacht), age, amenities, and reputation of the charter company.
What are the cost considerations when chartering a yacht in Athens?
Cost considerations when chartering a yacht in Athens include the charter fee, crew fees, Advance Provisioning Allowance (APA), harbor and marina fees, gratuities, and insurance. Strategies for cost-saving include off-peak chartering, early booking, last-minute deals, and sharing costs with other parties.
What are some recommended destinations to visit when chartering a yacht in Athens?
Recommended destinations when chartering a yacht in Athens include the Saronic Gulf Islands (Aegina, Poros, Hydra, and Spetses), the Cyclades Islands (Mykonos, Santorini, Paros, and Naxos), Cape Sounion, the Corinth Canal, and Delos.
What regulations and etiquette should I be aware of when chartering a yacht in Athens?
When chartering a yacht in Athens, you should be aware of regulations and etiquette such as carrying valid documents, following safety and navigation rules, respecting anchoring and mooring rules, maintaining low noise levels, tipping the crew, and practicing green yachting.
How can I prepare for a yacht charter in Athens?
To prepare for a yacht charter in Athens, plan your itinerary, pack appropriate clothing and essentials, handle food and beverage arrangements, take care of medical needs, ensure all necessary documents are ready, learn basic sailing terms, and understand the check-in procedure.
What experiences have other enthusiasts had with yacht charters in Athens?
Many yacht charter enthusiasts have had memorable experiences in Athens, exploring beautiful islands, experiencing Greek culture, and enjoying the relaxing environment. They commend the professional charter companies, well-maintained yachts, and helpful crew members, and often recommend the experience to others.