Introduction
Turkey is renowned for its stunning coastline and crystal-clear waters, attracting visitors from all over the world to its beautiful Blue Flag beaches. These beaches have been awarded for their environmental, safety, and cleanliness standards, ensuring a great beach experience. Here are four Blue Flag beaches in Turkey that you should definitely add to your itinerary.
Aquarium Bay, Karaburun: Located in the Izmir province, Aquarium Bay is a hidden gem that offers crystal-clear waters and a beautiful natural setting. It's a perfect spot for snorkeling and scuba diving, with a variety of marine life to explore.
Kaputas Beach: Situated between Kas and Kalkan, Kaputas Beach is a secluded and picturesque cove with crystal-clear turquoise waters and soft golden sand. It's a great spot for swimming, sunbathing, and relaxing, with stunning views of the surrounding cliffs.
Butterfly Valley: Located near Fethiye, Butterfly Valley is a beautiful and secluded beach that can only be reached by boat or a 45-minute hike. Surrounded by steep cliffs and lush vegetation, this beach is a nature lover's paradise.
Patara Beach: With its soft golden sand, calm waters, and surrounding dunes, Patara Beach is one of the most beautiful beaches in Turkey. Located in the town of Kas, it's a great spot for a peaceful beach day, sunbathing, and swimming.
As is commonly known, the Blue Flag is an award granted to certain beaches and marinas that meet a specific criteria outlined by the Foundation for Environmental Education (FEE), which operates in 44 countries. Turkey boasts an extraordinary number of blue flag awards, with 457 beaches that meet the criteria.
Surrounded by sea on three sides and with stunning coastlines known as the Turkish Riviera or Turquoise coast, Turkey ranks 3rd among countries with the most blue flags in the world. Make the most of your sailing vacation by visiting these pristine and awe-inspiring beaches, each of which stun visitors with their sparkling blue waters and verdant nature. Below we have listed some of the most visited 4 blue flag beaches in the country. Make sure to add them to your route!
Aquarium Bay, Karaburun
Aquarium Bay is located in the Iskele neighborhood of İncirlikoy and is a public beach that attracts tons of visitors every year. Although the length of the sandy beach here is only 30 meters, the lush green grounds behind the beach are also open for guests to explore. As is evident from the name, in the crystal clear aquarium-like waters of this bay you will be able to swim among colorful fish as you dive up to 10-15 meters.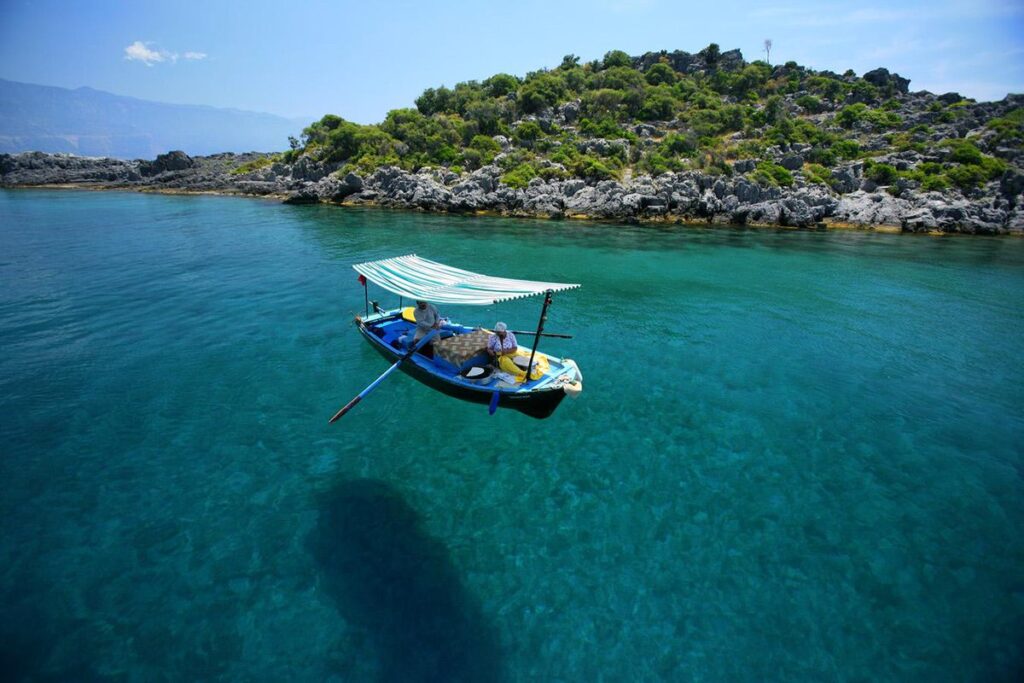 Kaputas Beach
This stunning spot is a canyon-mouth beach located between two mountains in the middle of the Antalya Kas and Kalkan regions. Due to both the geographical position and the underground spring waters which flow into the sea, the waters here have a uniquely vibrant and luminescent shade of turquoise. The beach is accessible both by the land and sea and visitors approaching by land can reach the beach by parking their vehicles on the side of the cliff, and descending 187 stairs that lead them to the shore. Yacht vacationers who approach from the open water can also enjoy this true wonder of nature. Kaputas Beach is among one of the most heavenly beauties of our country and should definitely be included in your sailing route.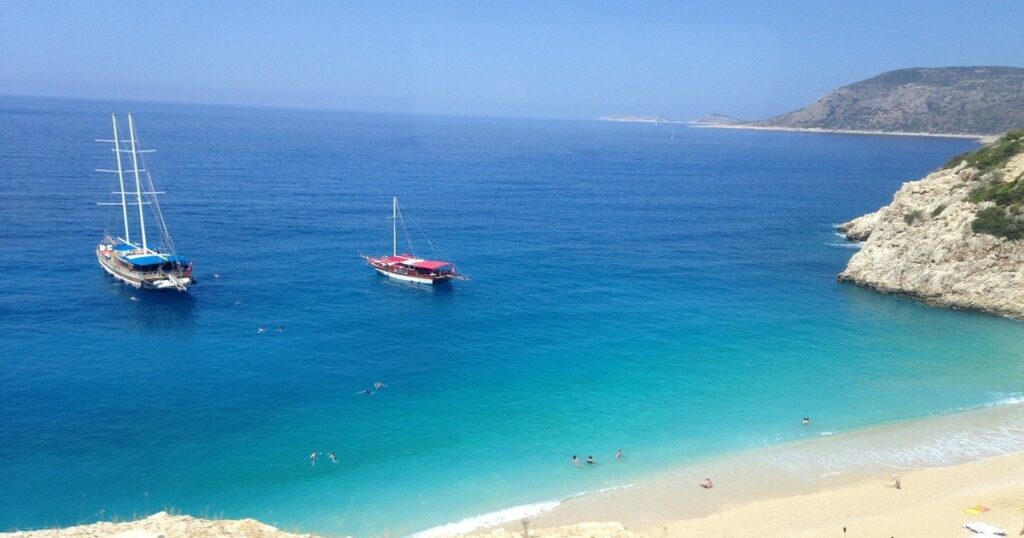 Butterfly Valley
At Mugla's Fethiye county, located in between two soaking 350 meter high cliffs, this lush and verdant valley is almost completely isolated from the surrounding nature, preserving a unique and interesting ecosystem that is home to over 80 butterfly species. This valley is among some of the only regions in the world that are home to the Jersey Tiger Butterfly species and has been declared as one of the 100 Mountains to be protected by the World Heritage Trust. The valley was declared as a first-degree SIT area in 1995. Among the blue-flagged beaches of Turkey, the pristine and stunning beach of Butterfly Valley is one of the most preferred areas by yacht vacationers during the summer months. Don't miss this gorgeous spot!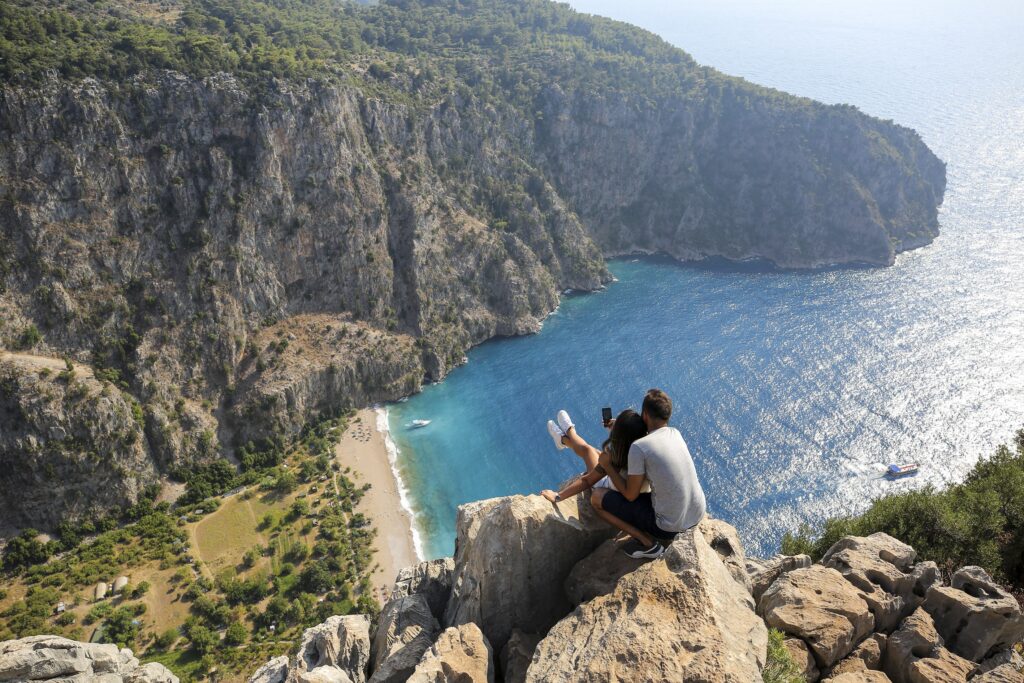 Patara Beach
Located in Antalya's Kas region, Patara Beach takes its name from the nearby Ancient City of Patara and is one of the most stunning and unique beaches in the world, stretching on for 12 km. Patara is a particularly suitable region for windsurfing with its clean and windy sea. Caretta Caretta sea turtles also come to lay their eggs in the region during their breeding season of the year. For this reason, you may often encounter Caretta Caretta eggs when walking around and you should always be cautious about where you explore and sit.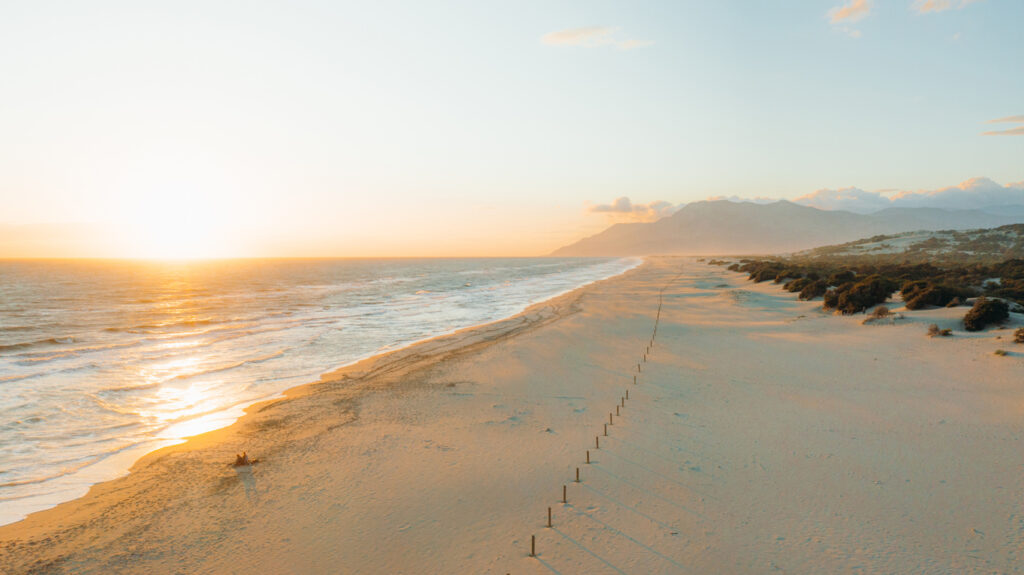 To explore the above-mentioned blue flag beaches and to choose the best option between gulet, motor yacht, sailboat and catamarans, you can visit viravira.co or get in touch with our experienced holiday experts on +90 850 433 9 070.
FAQs
What is a Blue Flag beach?
A Blue Flag beach is a beach that meets strict environmental, safety, and cleanliness standards set by the Foundation for Environmental Education. These beaches are recognized globally for their water quality, environmental management, and safety measures.
Are all beaches in Turkey Blue Flag certified?
No, not all beaches in Turkey are Blue Flag certified. However, Turkey has a large number of Blue Flag beaches, which are recognized for their high standards of cleanliness, safety, and environmental management.
Are there any restrictions on visiting Blue Flag beaches in Turkey?
There may be restrictions on certain Blue Flag beaches, depending on their location and the time of year. For example, some beaches may have limited access during nesting season for sea turtles. It's always best to check with local authorities or tour operators before visiting.
Can I bring my own food and drinks to Blue Flag beaches in Turkey?
Yes, you can usually bring your own food and drinks to Blue Flag beaches in Turkey, but it's always best to check with local authorities or tour operators beforehand. Some beaches may have restrictions on glass bottles and alcohol.
What activities are available on Blue Flag beaches in Turkey?
Most Blue Flag beaches in Turkey offer a range of water sports, such as snorkeling, scuba diving, jet skiing, and parasailing. Some beaches may also have beach volleyball courts, paddle boats, and other amenities.