Introduction
Bodrum, Turkey is a stunning destination for yacht charters, and there are many reasons why it's the perfect location for your next sailing adventure. The Aegean coast of Bodrum is known for its natural beauty, with crystal clear waters, hidden coves, and pristine beaches. Alongside this, the region's rich cultural heritage, luxury amenities, and delicious cuisine make it an ideal location for those seeking an exclusive and memorable yacht charter experience.
Are you in search of a luxurious sailing experience that offers stunning natural beauty, rich cultural heritage, and top-notch amenities? Look no further than Bodrum, a coastal town in southwestern Turkey that has become a popular destination for yacht charters. In this article, we'll explore five reasons why Bodrum is the perfect place for your next yacht charter.
1. Rich Cultural Heritage
Bodrum, located on the Aegean coast of Turkey, has a rich cultural heritage that dates back to ancient times. The city was known as Halicarnassus in ancient times and was home to one of the Seven Wonders of the Ancient World, the Mausoleum at Halicarnassus. This ancient city was also the birthplace of the historian Herodotus, who is considered the father of history.
Bodrum's location on the coast of the Aegean Sea has made it an important city throughout history. The city was an important center of trade and commerce, and it was also a strategic location for military defense. Over the years, Bodrum has been ruled by various empires, including the Persians, the Greeks, the Romans, and the Ottomans. This rich history has left a lasting impact on the city, and there are many cultural sites to explore.
One of the things that makes Bodrum so unique is its blend of cultures. The city has been influenced by various civilizations throughout history, including the ancient Greeks, Persians, and Ottomans. This blend of cultures has led to a diverse and vibrant community, making Bodrum a hub of art and architecture. The city is home to many galleries, museums, and studios, where you can discover a range of contemporary and traditional art.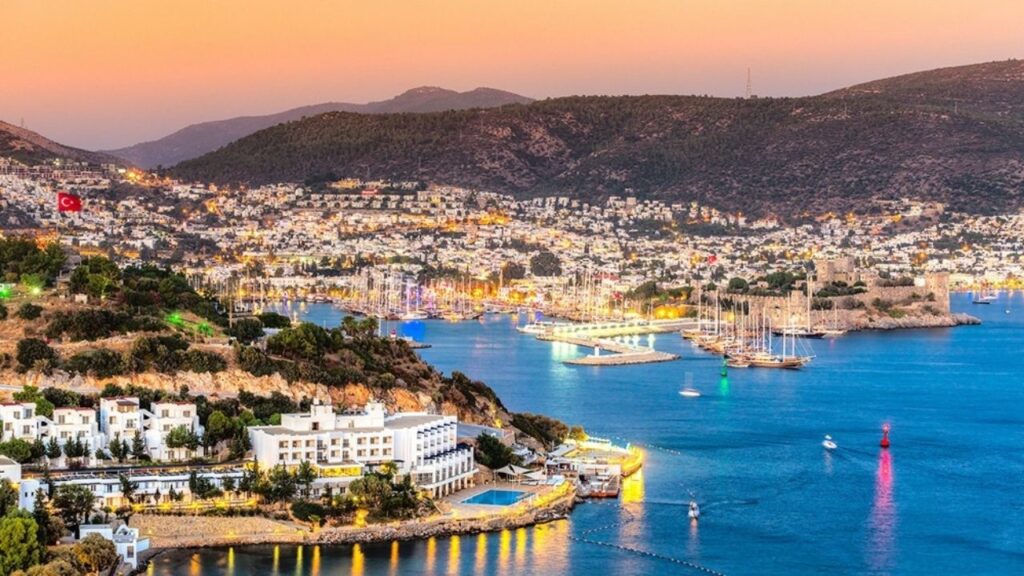 2. Beautiful Beaches and Scenery
Bodrum's coastline is renowned for its natural beauty, with crystal-clear waters that are perfect for swimming and water activities. The coastline is dotted with coves, bays, and beaches, each offering a unique experience for visitors. The scenery of the coast is breathtaking, with rugged cliffs, turquoise waters, and lush greenery that provide a stunning backdrop for sailing.
One of the most popular beaches in Bodrum is the Blue Lagoon, located on the western coast of the peninsula. The lagoon is a sheltered bay with calm waters and white sand, making it the perfect spot for swimming and sunbathing. Another popular beach is Paradise Bay, located on the southern coast of Bodrum. This secluded bay is surrounded by cliffs and provides a tranquil and peaceful setting for visitors.
3. Exclusive Yacht Charter Experience
Bodrum, a stunning coastal city in Turkey, is the perfect destination for an exclusive yacht charter experience. Whether you are looking for a private yacht charter, a skippered or not skippered yacht charter, or a luxury yacht charter, Bodrum has options to suit your needs and preferences.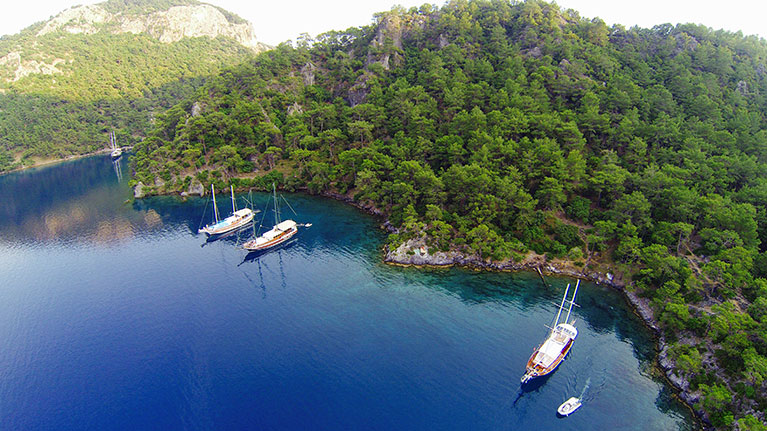 A private yacht charter allows for a truly exclusive and personalized sailing experience. With a private yacht charter, you have the freedom to customize your itinerary, choose your own activities, and enjoy the privacy and luxury of your own yacht. Whether you want to sail with your family, friends, or partner, a private yacht charter in Bodrum offers the perfect opportunity for an intimate and unforgettable sailing experience.
For those who prefer to sit back and relax, a skippered yacht charter may be the ideal option. With a professional skipper at the helm, you can simply enjoy the scenery and the experience of being on the water. The skipper can also provide guidance on the best sailing routes and destinations, ensuring that you make the most of your time on the water.
If you are looking for the ultimate in luxury and indulgence, a luxury yacht charter in Bodrum is the way to go. With a range of luxurious amenities and services available, including gourmet catering, spa treatments, and private butlers, a luxury yacht charter provides an unparalleled sailing experience. Enjoy the stunning coastline of Bodrum while sipping on champagne and indulging in the ultimate relaxation.
4. Vibrant Nightlife
Bodrum's vibrant nightlife is one of the key attractions of this beautiful coastal town. From rooftop bars to beach clubs, Bodrum has a range of options to choose from.
One of the most popular spots for nightlife in Bodrum is Bar Street, a pedestrian street lined with bars and clubs. Here, you can dance the night away at open-air clubs or enjoy a drink at a rooftop bar while taking in the stunning views of Bodrum Castle.
If you're looking for a more relaxed atmosphere, head to one of Bodrum's beach clubs. These clubs offer a combination of music, drinks, and sun loungers, making for a perfect day-to-night experience. The beach clubs in Bodrum are known for their parties that continue until the early hours of the morning.
In short, Bodrum is the perfect destination for those seeking a unique and luxurious sailing experience. With its beautiful coastline, rich culture, and high-end amenities, it's no surprise that Bodrum is becoming an increasingly popular choice for yacht charters.
Frequently Asked Questions
Can you hire a boat in Bodrum?
Yes, you can hire a boat, also known as a yacht charter, in Bodrum. There are many reputable companies that offer a variety of options, including private and skippered yachts, luxury yachts, and more.
What are the best beaches to visit in Bodrum?
Bodrum is home to many beautiful beaches, but some of the best ones to visit include the Blue Lagoon, Paradise Bay, and Camel Beach. These beaches offer crystal-clear waters and picturesque surroundings, perfect for swimming, sunbathing, and other water activities.
What types of yachts are available for charter in Bodrum?
Yacht charter companies in Bodrum offer various options for yacht rental, including luxury, skippered or not skippered, motor, and sailing yachts, catering to different needs and preferences. Luxury yachts offer ultimate comfort, while skippered or not skippered yachts provide flexibility to explore the coastline. Motor yachts are suitable for long-distance travel, and sailing yachts offer a traditional and eco-friendly experience. Bodrum has a yacht charter to meet all preferences.
What water activities are available in Bodrum?
Bodrum offers a variety of water activities for visitors to enjoy during their yacht charter. Snorkeling and diving are popular options for those who want to explore the crystal-clear waters and discover the rich marine life. Fishing is also a common pastime, with the opportunity to catch a variety of fish species. For those who prefer a more relaxed activity, swimming and sunbathing in the calm bays and secluded coves are also great options. Additionally, there are opportunities for water sports such as jet skiing, water skiing, and wakeboarding, which are sure to provide a thrilling experience for adventure-seekers.
What are the advantages of choosing Bodrum for a yacht charter?
Bodrum offers many advantages for those looking for a yacht charter experience. Firstly, the beautiful coastline and crystal clear waters make for a stunning sailing experience. Secondly, Bodrum has a rich cultural heritage, with many historical sites and museums to explore. Thirdly, a range of water activities such as snorkeling, diving, and fishing are available for those looking for adventure. Fourthly, there are numerous luxurious amenities available, including high-end restaurants, spas, and beach clubs. Finally, Bodrum has a vibrant nightlife scene, with many bars and clubs to enjoy after a day of sailing. All these factors make Bodrum an ideal choice for those seeking a unique and luxurious yacht charter experience.
What are some recommended restaurants in Bodrum?
Zuma Bodrum: a popular international chain restaurant that serves Japanese cuisine with a Mediterranean twist
Bodrum Balıkçısı: a seafood restaurant located in the heart of Bodrum that offers a variety of fresh seafood dishes
Kocadon: a family-run restaurant that serves traditional Turkish cuisine in a charming courtyard setting
Meyhane Bodrum: a traditional Turkish meyhane that serves a variety of meze dishes and local wines
Miam: a fine dining restaurant that offers Mediterranean and Aegean cuisine with a modern twist
Limoncello: an Italian restaurant that serves homemade pasta and pizzas, as well as seafood and meat dishes
El Vino: a wine bar and restaurant that offers a wide selection of Turkish and international wines, as well as tapas-style dishes.

What are some popular nightclubs and bars in Bodrum?
Nightclubs:
Halikarnas Club: A large, open-air nightclub that has been a Bodrum institution for over 40 years.
Catamaran Club: A popular nightclub located on a boat in the Bodrum marina.
Mandarin Club: A high-end nightclub with a VIP section and a rooftop terrace with stunning views of Bodrum.
Billionaire Club: A glamorous nightclub with a luxurious interior and a beachfront location.
Bars:
The White House: A popular bar located in Bodrum's old town with a terrace overlooking the sea.
Kule Bar: A trendy rooftop bar with panoramic views of Bodrum and a menu featuring signature cocktails.
Mojito Beach Club: A beachfront bar and restaurant that serves delicious cocktails and Mediterranean cuisine.
Marina Yacht Club: A stylish bar located in the Bodrum marina that is popular among locals and tourists alike.