Dreaming of a boat rental adventure in Turkey? With its crystal-clear waters, secluded bays, sandy beaches, and rich cultural heritage, it's no wonder why Turkey is becoming a popular destination for sailing experiences. But before you set sail, it's crucial to choose the right yacht that suits your needs and budget. A gulet, sailboat, or catamaran would be perfect for exploring the Turkish coastline and the turquoise coast.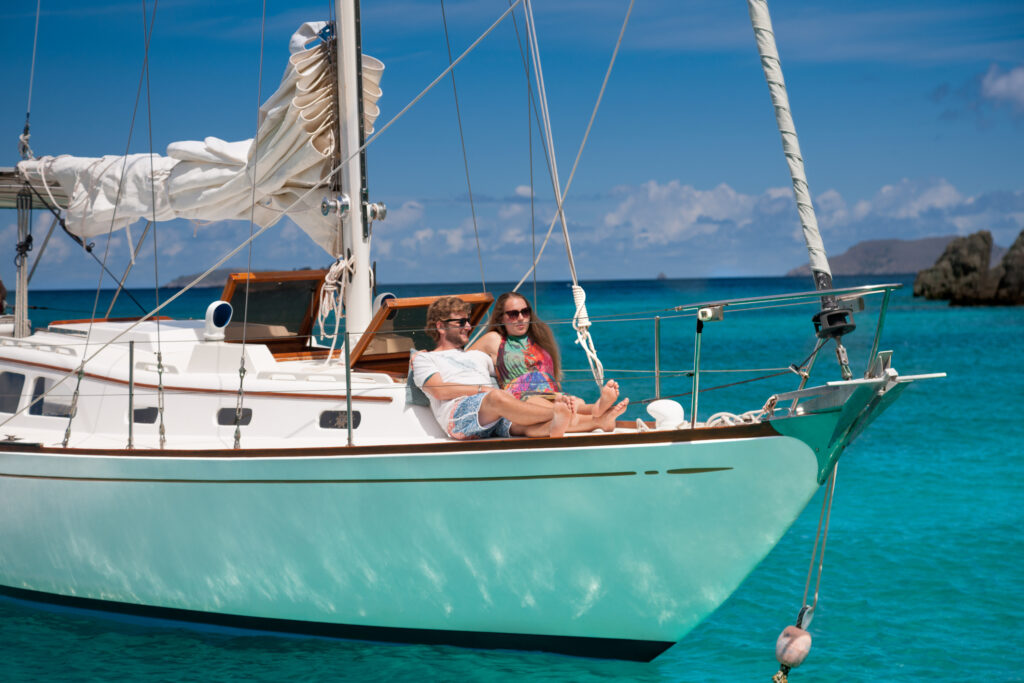 Whether you're looking for a luxury yacht, a catamaran, or a private yacht charter with spacious cabins and crew to cruise around the turquoise waters of Gocek, selecting the perfect vessel can make or break your trip. That's why we've created this yacht hire guide to help you make an informed decision when choosing a yacht for your boat rental.
In this guide, we'll cover everything from catamarans to gulets and 3-day blue cruise tours. We'll also provide tips on how to make the most of your sailing experience in Turkey and what to expect during your journey along the beautiful Turkish coastline. Whether you're looking for a sailboat or other types of boats, the bareboat charter is a great option to explore this stunning destination. So sit back, relax, and get ready to embark on an unforgettable adventure aboard your chosen yacht!
If you would like to get deeper knowledge do not hesitate to check our yacht charter Turkey guide.
Choosing the right yacht for a sailing holiday in Turkey requires considering safety features, desired amenities, the size of your group, and your budget. Different types of yachts, such as sailboats, motor yachts, and gulets, cater to various needs and preferences.
Yachts come with their unique advantages: sailboats are environmentally friendly and quieter, motor yachts offer speed and luxury, while gulets provide a crewed and traditional experience. The choice should align with your group's size, comfort level, and budget.
The Turkish coastline, with destinations like Bodrum, Marmaris, and Fethiye, offers beautiful sailing routes. Depending on the duration of your trip, different routes can be selected for a memorable experience. Opting for a reputable yacht charter company can ensure safety and a well-planned itinerary.

KEY TAKEAWAYS
Factors to Consider When Choosing a Family-Friendly Yacht for a Boat Rental in Turkey
Safety Features to Look Out For
Safety should be your top priority while sailing on a sailboat, catamaran, or during a cruise. Many factors can affect sailing conditions, and you want to ensure that you have all the necessary security features on board, especially if you are a skipper. Here are some key features to look out for:
Life jackets: Make sure there are enough life jackets on board that fit properly for the sailing conditions, cruise, and sailing experience.
Emergency equipment: Before setting sail on a cruise or yacht charter, consider the sailing conditions and your sailing experience. Ensure that the yacht has proper emergency equipment such as an emergency radio, flares, and fire extinguishers.
Childproofing: If you're going on a cruise or boat rental vacation with young children, ensure that any dangerous areas or items are secured or removed to ensure a safe sailing experience. It's also important to check if the crew has a proper certificate.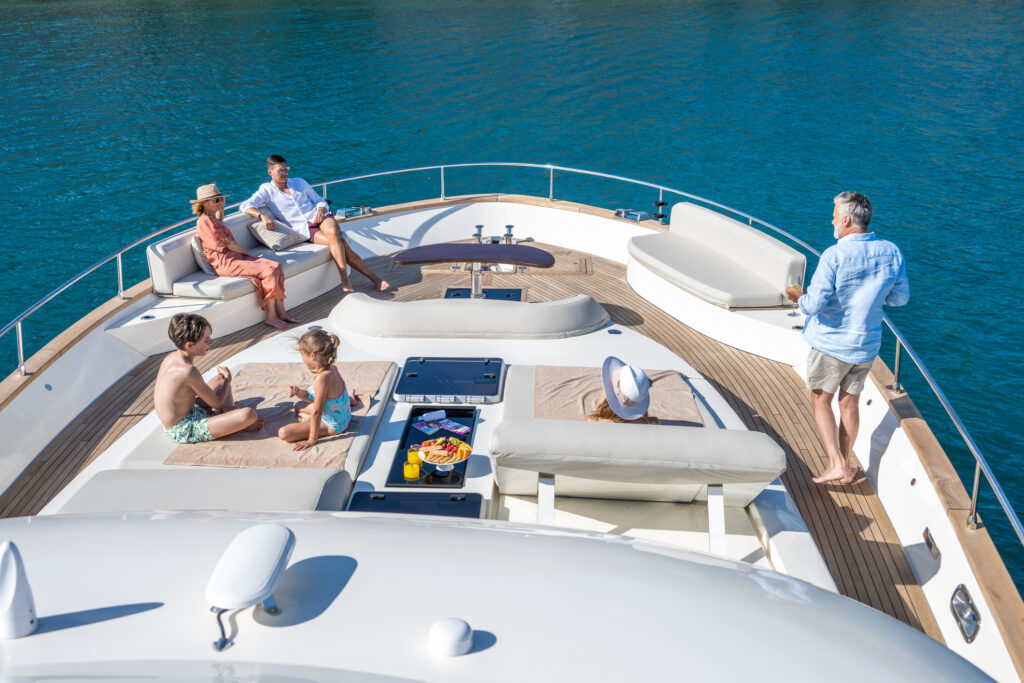 Amenities That Can Make Your Family's Sailing Holiday More Enjoyable
While safety is crucial when selecting a family-friendly yacht for your private yacht charter in Turkey, amenities can also make a big difference in your overall experience. Some amenities you may want to consider include cruise options, yacht hire services, the availability of a skipper, and the possibility of exploring nearby destinations.
Air conditioning: This is especially important if you're going on a cruise or yacht charter in Turkey during the summer months when temperatures can soar and you want to have a comfortable sailing experience.
Entertainment systems: Look for boats and yachts with TVs, DVD players, and music systems to enhance your cruising or sailing experience and make your boat rental vacation more enjoyable.
Water sports equipment: If your family enjoys water activities like snorkeling or paddleboarding, consider renting a boat or yacht with these amenities included for an unforgettable boat rental experience or cruise.
Tips on Selecting the Right Size and Type of Yacht
Choosing the right size and type of yacht or boat is essential when planning your family sailing experience in Turkey. Here are some tips to help you make the best decision:
Consider your group size for an unforgettable sailing holiday experience in Turkey: Hire a boat that comfortably accommodates everyone in your group.
Think about sleeping arrangements on your boat experience in Turkey: Ensure that there are enough cabins and beds for everyone on board.
Choose the right type of boat: Catamarans are generally more stable than monohulls, making them an excellent option if anyone in your group is prone to seasickness. This will enhance your experience while sailing in Turkey.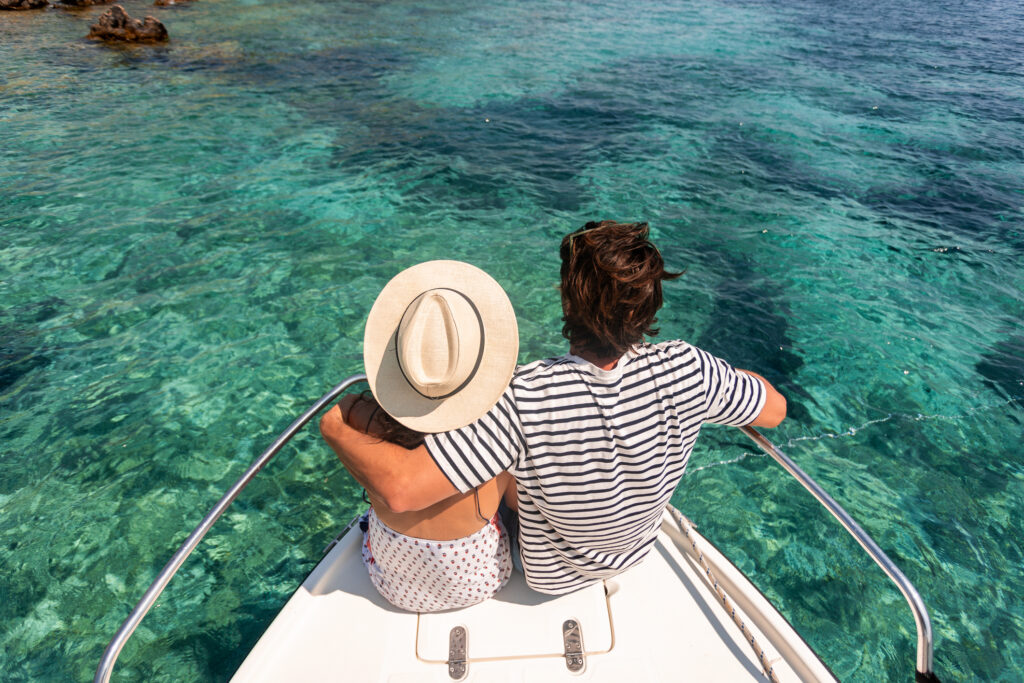 Types of Yachts Available for Charter: Which One is Right for You?
Different types of yachts are available
There are various types of yachts available for charter, including sailboats, motor yachts, and gulets. Sailboats are powered by the wind and can be a great option for those looking for a more traditional sailing experience. Motor yachts, on the other hand, are powered by engines and offer a faster and more luxurious way to travel. If you're planning a yacht charter in Turkey, both sailboats and catamarans are excellent options to explore the beautiful Turkish islands. Gulets are a type of yacht made of wood and equipped with a crew to cater to your requirements during your boat rental vacation in Turkey.
Pros and cons of each type of yacht
If you are looking for a bareboat charter, sailboats have a number of advantages, such as being environmentally friendly and offering a quieter yacht charter experience. They also tend to be less expensive than motor yachts. However, they may not be as comfortable or spacious as their motorized counterparts.
Motor yachts, also known as boats, offer numerous benefits such as speed, luxury amenities, and ample space both indoors and outdoors, providing an unforgettable experience. They also tend to be more stable in rough waters. However, they can be expensive to operate and maintain.
Gulets, which are wooden yachts with a skipper and crew to attend to your needs, are a suitable option for those seeking a yacht hire holiday in Turkey.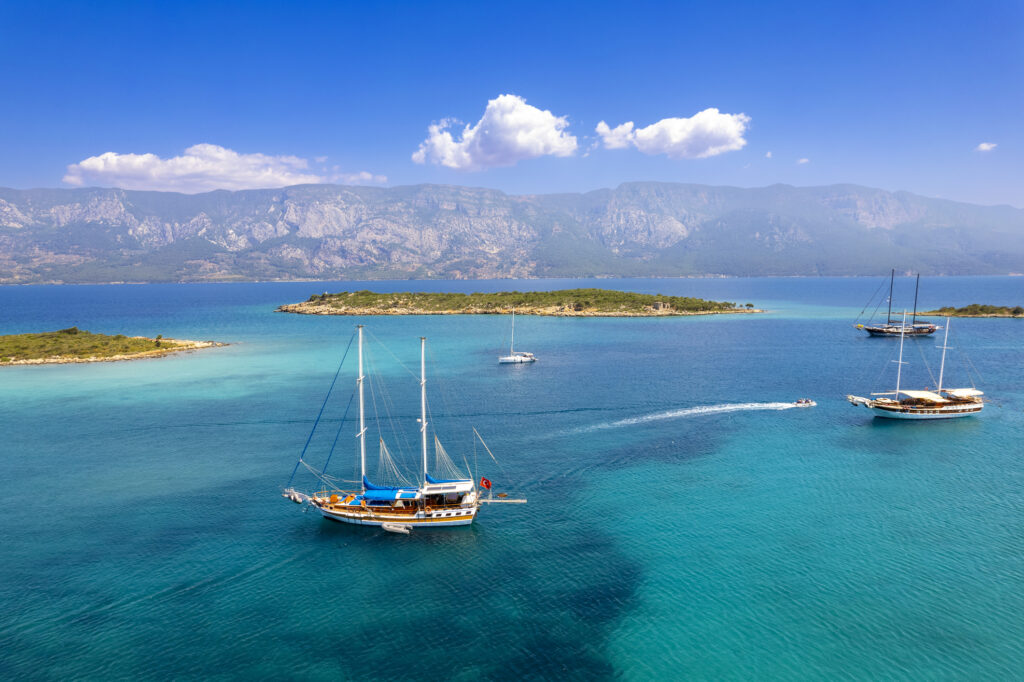 Factors that can help you decide which type of yacht is best suited for your needs
When choosing the right boat for your sailing experience in Turkey, there are several factors to consider. These include:
The size of your group: If you're looking for a unique boat experience with a large group or family, a larger yacht with multiple cabins may be necessary.
Your budget: Experience shows that sailboats tend to be less expensive than motor yachts.
Your desired level of comfort and experience: Motor yachts offer a more luxurious experience and amenities than sailboats.
The length of your boat trip: If you're planning an extended experience, a motor yacht may provide greater comfort over long periods.
You can learn more by reading the basics of yacht chartering in Turkey guide.
Best Routes and Destinations for Yacht Vacation in Turkey
Top destinations along the Turkish coast, including Bodrum, Marmaris, and Fethiye
The Turkish coastline offers some of the best places for sailing holidays in the world. With its turquoise waters, secluded bays, beautiful beaches, and ancient ruins, it's no wonder that it's a popular destination among sailors. Among the top destinations along the Turkish coast are Bodrum, Marmaris, and Fethiye, perfect for boat enthusiasts.
Bodrum is a bustling port town that offers a mix of history and modernity. It's home to one of the Seven Wonders of the Ancient World – The Mausoleum at Halicarnassus. Aside from historical sites, Bodrum also has plenty of shopping opportunities and nightlife options. If you're looking for an unforgettable experience, hop on a boat and explore the beautiful coastline.
Marmaris is another popular place due to its stunning natural beauty. It's surrounded by pine-clad hills and has a picturesque harbor that is perfect for relaxing after a day of sailing. Visitors can experience the fresh seafood caught daily at the many restaurants in Marmaris.
Fethiye offers an unforgettable route on the Turquoise Coast with its stunning blue lagoon and ancient ruins such as Lycian rock tombs carved into cliffsides. It's an excellent starting point to experience nearby islands like Butterfly Valley or Gemiler Island.
Recommended routes based on different durations and interests
There are several recommended routes depending on how long you're planning to sail and your interests. For those looking for a unique experience, we recommend taking a 3-day Blue Cruise from Bodrum to Gokova Bay. This route will allow you to experience crystal clear waters where you can swim in secluded bays before dining on freshly caught fish at night.
For those who have more time to spare, we recommend taking a 7-day yacht charter vacation from Fethiye to Kekova.
Making the Right Choice for Your Sailing Holiday in Turkey
In conclusion, choosing the right yacht for your blue cruise in Turkey is crucial to ensure a memorable and enjoyable experience. When making your decision, consider factors such as the size of your group, budget, and preferred amenities. Knowing about the different types of yachts available for charter can also help you make an informed choice.
Researching the best routes and destinations for a luxury yacht charter in Turkey can enhance your overall experience. With its stunning coastline and rich cultural heritage, Turkey is a place that has plenty to offer sailors of all levels.
To make the most out of your sailing adventure in Turkey, we recommend booking with a reputable yacht charter company that prioritizes customer satisfaction. Don't hesitate to ask questions and seek recommendations from viravira.co travel experts. Do not forget to check our Costs of a Yacht Charter guide to learn about the pricing dynamics.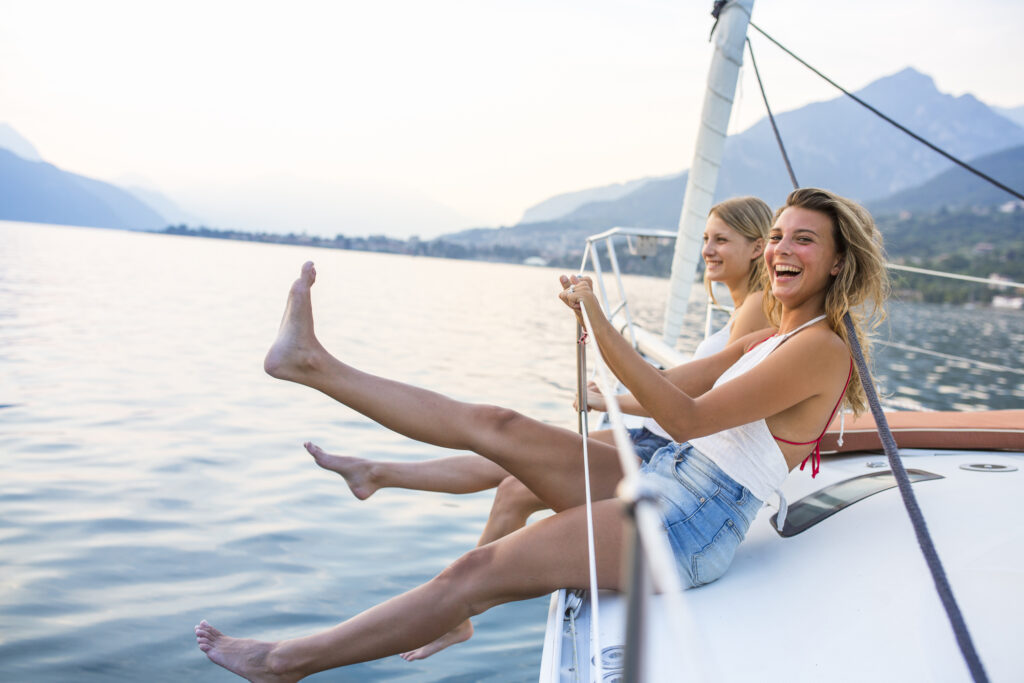 FAQs
What type of yacht is best for families with children?
A family-friendly yacht should have enough space to accommodate everyone comfortably and provide suitable amenities such as a kitchenette, bathroom facilities, and entertainment options. A catamaran or a motor yacht may be ideal for families with young children due to their stability and ease of navigation.
How much does it cost to rent a yacht for a week-long sailing holiday in Turkey?
The cost of renting a yacht in Turkey varies depending on several factors such as the type of vessel, duration of rental, seasonality, and additional services requested. On average, expect to pay between €1,500 – €3,000 per week for 8 people.
Can I sail along the Turkish coast without previous sailing experience?
Yes! Many yacht charter companies offer skippered or crewed charters where an experienced captain will navigate the vessel while you enjoy your holiday. Alternatively, you can sign up for sailing lessons before embarking on your journey.
What are some must-visit destinations during a sailing holiday in Turkey?
Some of the most popular destinations for sailing holidays in Turkey include Bodrum, Marmaris, Fethiye, and Antalya. Each location offers unique attractions such as ancient ruins, picturesque beaches, and vibrant nightlife.
How do I ensure the safety of my group during a sailing holiday in Turkey?
Choose a reputable yacht charter company that prioritizes safety and provides comprehensive instructions before departure. Make sure everyone on board wears life jackets at all times and avoid sailing during adverse weather conditions.
Can I customize my itinerary during a sailing holiday in Turkey?
Yes! Many yacht charter companies offer customizable itineraries based on your preferences and interests. Work with your captain or travel expert to create a personalized route that suits your group's needs.
What is the best time of year to go on a sailing holiday in Turkey?
The peak season for sailing holidays in Turkey is from May to September when temperatures are warmest and sea conditions are calmest.