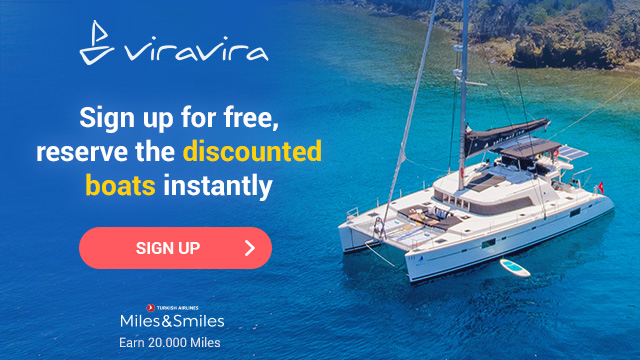 A small neighborhood and beach resort, Oludeniz is located in the Fethiye district of the Mugla province and is home to one of the most photographed beaches in Europe. The area has a rich historic and cultural heritage, stretching all the way back to Lycian and Medieval civilizations. Literally translated to "Dead Sea", it is officially known to the world as Turkey's Blue Lagoon for its stunningly tranquil turquoise waters. A true natural wonder, Oludeniz attracts troves of both foreign and domestic tourists each and every year, and it is an ideal spot to add to a sailing route.
To explore the region, charter a boat in Fethiye and make sure to add Oludeniz to your sailing route! You will be able to enjoy the best of the region by boat as well as by the myriad of activities of watersports and other activities available for tourists. Why not try water-skiing, jet-skiing, paragliding, diving or snorkeling to truly indulge in the breathtaking nature and scenery. You will be able to get plenty of information about each activity at the agencies on land, in the Belcekiz district, and you can also ask for advice from the captain and crew on board.
While in the region, we highly suggest that you also pay a visit to Butterfly Valley. This hidden paradise was named for the 80 different species of butterfly that are native to the region, flourishing here in mountainous and woody areas. The scenery is truly magnificent, and you won't want to miss this spot on your sailing holiday through Fethiye.
Popular Coves Close to Oludeniz
Blue Cave
A fascinating stop that you have to add to your sailing route, the famed Blue Cave is known for its deep but nearly translucent waters, allowing perfect visibility of the seabed. This is a good spot to make a day visit to and enjoy snorkeling and diving.
Butterfly Valley
An untouched paradise, Butterfly Valley is a huge draw for ecotourism and attracts visitors looking to totally immerse themselves in nature. The region takes its name for the 80 different butterfly species that originate here. The most commonly encountered variant here is the Jersey Tiger Butterfly and you will likely spot these black, white and red marked species during your stay. Butterfly Valley, which remains so untouched and protected as it is only accessible by sea, was chosen by WWF as one of "Europe's 100 Forest Hot Spots" due to its rich biological diversity. The site was also declared a natural site on February 8, 1995 and was from then on closed to any development or construction. Make sure to add this to your route, we guarantee you won't regret it!
St. Nicholas Island
St. Nicholas Island, also known as Gemile Island, is home to a large church that was first constructed and used between the 5th and 11th centuries. The church is a remarkable example of the rich cultural history of the region, as it dates back to the early Christian era and the Byzantine Empire period. The island boasts a wide array of different archeological ruins, as well as remnants of cisterns and another small church. The most notable remains of the island are the ruins of some parts of a tunnel that connects the two churches. Most of the remains on the coast are now underwater after flooding that occurred in 240-241 B.C. and can be explored by diving to a depth of 2 meters.
Aquarium Cove
The name of this spot gives away its best features! Stop by to revel in truly dazzling aquarium-like waters, and enjoy full visibility while you swim along with the colorful fishes. This is the perfect place for snorkeling or diving enthusiasts and is truly worth a visit. You will be stunned by the lush nature, the shades of turquoise and green, and the abundant underwater life.
One of the most popular and most touristic provinces in Mugla, Fethiye is frequented regularly by both local and foreign tourists. Rent a boat through viravira.co to head out on your own sailing holiday and enjoy the best that the region has to offer, from natural wonders to archeological ruins.
Choose the most suitable boat for you among 12.000 boats in 49 countries and 1040 destinations, plan your dream boat vacation now!

Click to rent a boat: viravira.co