Introduction
Fethiye is a coastal town located in southwestern Turkey and is a popular tourist destination known for its stunning natural beauty, historic landmarks, and lively nightlife. In recent years, yacht charters have become increasingly popular among tourists visiting Fethiye, offering a unique way to explore the beautiful coastline and nearby islands. In this article, we will explore the top reasons why chartering a yacht in Fethiye is a must-do experience for any traveler visiting this region of Turkey.
Renting a boat in Fethiye is a popular activity among tourists for good reason. It allows visitors to explore the stunning coastline and nearby islands, visit hidden beaches and bays and enjoy a unique perspective on this beautiful part of Turkey. Whether you are travelling with family or friends, here are 5 reasons to rent a boat in Fethiye;
1. Explore the Hidden Gems of Fethiye
Fethiye is a popular tourist destination in Turkey, but there are many hidden gems that are often overlooked by visitors. One of the best ways to discover these hidden treasures is by chartering a yacht. Yacht charters allow travelers to visit lesser-known destinations that are not accessible by land.
The Blue Lagoon is a prime example of a hidden gem in Fethiye. Located on the western side of the Gulf of Ölüdeniz, the Blue Lagoon is a natural pool surrounded by white sandy beaches and crystal clear turquoise waters. The lagoon is only accessible by boat, making it a secluded paradise that is perfect for swimming, sunbathing, and snorkeling.
Butterfly Valley is another hidden gem that can only be reached by sea. This beautiful canyon is home to a diverse range of flora and fauna, including over 100 species of butterflies. Visitors can swim in the clear waters of the river that runs through the valley and explore the many waterfalls and rock formations.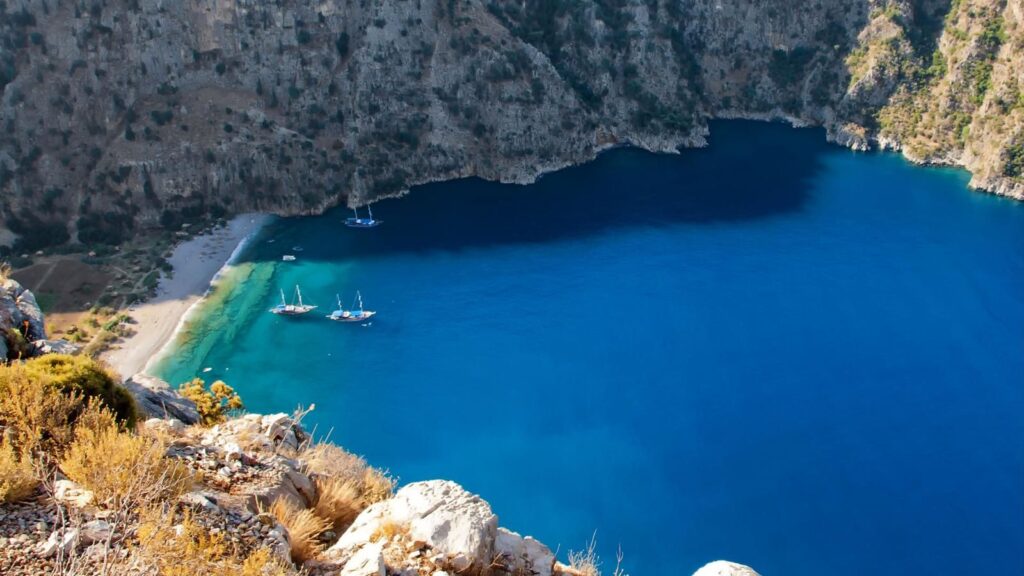 By avoiding crowded tourist areas, travelers can enjoy a more peaceful and authentic experience of Fethiye. Yacht charters allow visitors to escape the crowds and discover the region's hidden gems at their own pace. Additionally, yacht charters offer the flexibility to explore multiple locations in a single day, providing a unique and unforgettable way to experience Fethiye.
2. Experience Luxury and Comfort Onboard
Chartering a yacht in Fethiye not only provides an opportunity to explore the stunning coastline but also allows travelers to experience luxury and comfort like no other. Yachts are equipped with lavish amenities such as private cabins, sundecks, and gourmet meals. The cabins are spacious and elegantly furnished with comfortable beds, air conditioning, and private bathrooms.
One of the biggest advantages of chartering a yacht is having a private crew. The crew takes care of everything, from navigating the boat to preparing gourmet meals, and even organizing activities such as snorkeling and watersports. This allows guests to relax and enjoy their vacation without worrying about the details.
Personalized service is another advantage of a yacht charter. The crew can tailor the itinerary to suit the guests' preferences, whether it's visiting secluded beaches or dining at a gourmet restaurant. They can also provide insider knowledge about the area, suggesting the best places to swim, snorkel, or simply relax and enjoy the scenery.
The sundeck is one of the most popular spots on the yacht. It provides panoramic views of the surrounding seas and is perfect for sunbathing, relaxing, and enjoying a drink or two. The sundeck is also a great place for stargazing at night.
Fethiye's coastline is a natural wonder, with crystal-clear waters, rugged cliffs, and secluded beaches that are perfect for swimming, snorkeling, and sunbathing. A yacht charter is the perfect way to discover the hidden gems of Fethiye's coastline, as it allows travelers to access secluded beaches and coves that are only accessible by sea.
Oludeniz is one of the most popular destinations in Fethiye, and for good reason. The beach is situated in a sheltered lagoon and is known for its turquoise waters and stunning natural beauty. The beach is perfect for swimming, sunbathing, and parasailing, and there are plenty of restaurants and cafes nearby.
Another popular destination is Gocek, a picturesque town situated on a stunning bay surrounded by mountains. Gocek is a popular destination for yacht charters, with its many marinas and well-equipped facilities. The town has a laid-back vibe, with plenty of cafes, restaurants, and shops to explore.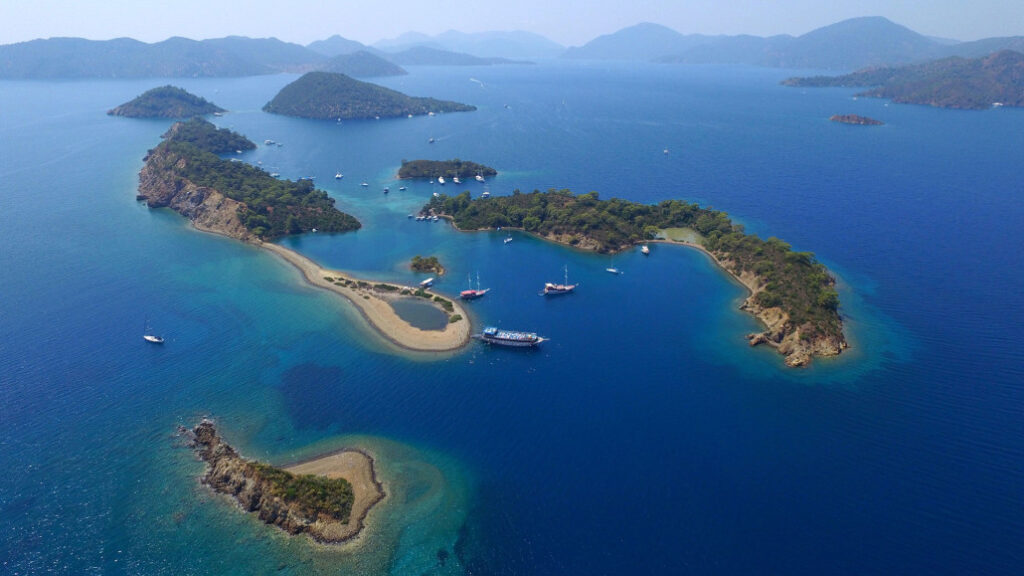 A yacht charter also provides the opportunity to discover hidden gems such as the Butterfly Valley, a secluded beach that is only accessible by sea. The beach is surrounded by steep cliffs and is home to over 100 species of butterflies.
4. Enjoy Water Sports and Activities
A yacht charter in Fethiye provides an opportunity to enjoy a variety of water sports and activities. Snorkeling, kayaking, and fishing are just a few of the activities that can be enjoyed on a yacht charter. Here's a closer look at some of the most popular water sports and activities in Fethiye.
Snorkeling is a great way to explore the stunning underwater world of Fethiye's coastline. The crystal-clear waters provide excellent visibility, and there are plenty of fish and marine life to observe. Kayaking is another popular activity, allowing travelers to explore secluded coves and beaches that are inaccessible by foot. Fishing is also a popular pastime, and there are plenty of opportunities to catch a variety of fish, including tuna, sea bass, and bluefish.
Travelers can easily rent equipment for these activities, including snorkels, masks, kayaks, and fishing gear. The crew of the yacht can also provide guidance and assistance, ensuring that guests have a safe and enjoyable experience. Safety measures such as life jackets and safety briefings are standard on all yacht charters.
In addition to these activities, there are plenty of other water sports and activities to enjoy, such as stand-up paddleboarding, windsurfing, and jet skiing. Many of these activities can be enjoyed at popular destinations such as Oludeniz, where there are plenty of rental shops and facilities.
5. Immerse Yourself in Turkish Culture
A yacht charter in Fethiye offers a unique opportunity to immerse oneself in Turkish culture. From exploring ancient ruins to experiencing traditional Turkish baths, there are plenty of cultural activities and attractions to enjoy. Here's a closer look at some of the top ways to experience Turkish culture on a yacht charter in Fethiye.
One of the best ways to experience Turkish culture is to visit traditional Turkish baths, also known as hammams. These baths have been a part of Turkish culture for centuries and offer a relaxing and rejuvenating experience. Visitors can enjoy a traditional bath, massage, and scrub, and learn more about the history and culture of hammams in Turkey.
Exploring ancient ruins is another popular way to experience Turkish culture. Fethiye is home to several well-preserved ruins, including the ancient city of Tlos and the Lycian rock tombs. These sites offer a glimpse into the region's rich history and culture, and can be visited with the guidance of a local crew.
Other cultural activities and attractions in Fethiye include visiting local markets, trying traditional Turkish cuisine, and attending local festivals and events. With a local crew on board, travelers can gain insider knowledge and guidance on the best places to visit and experiences to have.
Conclusion
The article highlights the top reasons to charter a yacht in Fethiye, Turkey. It emphasizes the personalized and luxurious travel experience offered by yacht charters, with access to hidden gems and secluded destinations, luxurious amenities, and the natural beauty of Fethiye's coastline. Additionally, travelers can enjoy a variety of water sports and activities and experience Turkish culture in a unique way, with the guidance of a local crew. The article encourages readers to consider a yacht charter for their next trip to Fethiye.
Frequently Asked Questions
What are some other hidden gems in Fethiye that are accessible by yacht?
Fethiye has a number of hidden gems that are accessible by yacht, beyond the well-known destinations like the Blue Lagoon and Butterfly Valley. Some of these hidden gems include Gemiler Island, which boasts ancient ruins and a secluded beach; Tersane Island, which is home to a historic shipyard and crystal-clear waters perfect for swimming and snorkeling; and Bedri Rahmi Bay, named after a Turkish artist who left his mark on the rocks in the bay, which is now a popular spot for kayaking and paddleboarding. These destinations offer a unique and personalized travel experience that can only be accessed by boat, making a yacht charter in Fethiye a truly memorable vacation.
How much does it cost to charter a yacht in Fethiye?
The cost of chartering a yacht in Fethiye can vary depending on factors such as the size of the yacht, the duration of the charter, and the time of year. However, there are options for affordable yacht charters, making it a cheap way to experience a luxurious vacation in Fethiye. It's important to do your research and compare prices from different yacht charter companies to find the best deal for your budget. With the many hidden gems and unique experiences accessible by yacht in Fethiye, a yacht charter can offer a cost-effective way to enjoy a luxurious and memorable vacation.
What activities can you do on the Fethiye coastline when chartering a yacht?
There are a variety of activities that travelers can enjoy on the Fethiye coastline when chartering a yacht. Some popular options include snorkeling, diving, kayaking, fishing, and paddleboarding. Travelers can also relax on secluded beaches and coves, explore stunning cliffs, and take in the natural beauty of the coastline. With a private crew on board to assist and guide, travelers can easily access these activities and make the most of their yacht charter experience.
What are the other cultural experiences you can have while chartering a yacht in Fethiye?
While chartering a yacht in Fethiye, there are plenty of opportunities to immerse yourself in Turkish culture. You can visit local markets and bazaars to experience traditional Turkish shopping, and indulge in delicious Turkish cuisine prepared by your private chef onboard. You can also visit local villages and towns to learn about the local way of life and explore ancient ruins, such as the Lycian tombs in Dalyan. And of course, no trip to Turkey would be complete without a visit to a traditional Turkish bath, or hamam, where you can relax and rejuvenate with a traditional Turkish spa treatment.
Is bareboat yacht charter easy in Fethiye?
Yes, bareboat yacht charter is easy in Fethiye. Fethiye is a popular destination for yacht chartering in Turkey, with many companies offering bareboat charters. The region has calm waters, beautiful bays, and islands, making it an ideal location for a sailing holiday.