Turkey, a captivating land where East meets West, offers an enchanting fusion of rich history, diverse culture, and stunning landscapes. Among these countless attractions, its coastlines stand out, particularly the serene turquoise waters of the Aegean and Mediterranean seas. Here, gulet charters have emerged as one of the most favored ways to explore Turkey's magnificent coastal destinations.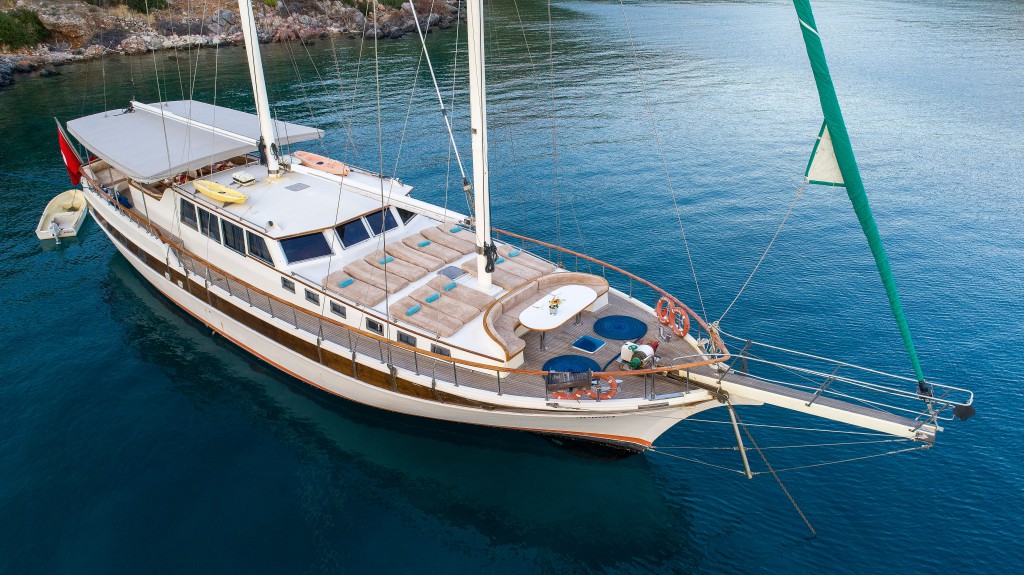 A gulet charter in Turkey provides an exclusive gateway to uncovering the country's hidden gems and unspoiled beauty, traversing tranquil bays, ancient ruins, and charming coastal towns. It's a voyage that combines luxury and tradition, onboard beautifully crafted wooden vessels that have been a part of Turkish maritime culture for centuries. Today, they are equipped with modern amenities, promising a comfortable and lavish experience as you sail across the captivating Turkish Riviera.
Over the years, Turkey has positioned itself as a leading gulet charter destination, drawing sea lovers from all over the globe. The appeal lies not only in the serene waters and fascinating sights but also in the warm Turkish hospitality, enticing cuisine, and the thrill of personalizing your sailing journey. Whether you're an adventurer at heart, a peace-seeker, or a luxury lover, a Turkey gulet charter presents an unforgettable maritime holiday like no other. Welcome to the ultimate guide to navigating this remarkable experience.
Gulet charters offer a unique, customizable, and luxurious way to explore the beautiful coastlines and rich culture of Turkey. These traditional Turkish sailing boats come in various types to suit different needs and budgets and provide a full-service experience with crews that take care of navigation, meals, and more.
Top destinations for gulet charters in Turkey include Bodrum, Marmaris, Fethiye, Göcek, and Antalya. Each location offers distinct attractions, from ancient archaeological sites and bustling markets to secluded beaches and idyllic islands.
The planning and customization of your gulet charter, including the itinerary, can significantly enhance your experience. Remember to consider factors like the best time to go (between May and October), the cost factors, and what to expect onboard to make the most of your gulet charter in Turkey.

KEY TAKEAWAYS
What is a Gulet Charter?
A gulet is a traditional Turkish sailing vessel, originally used by fishermen and sponge divers along the southern coasts of Turkey. These wooden boats, characterized by their broad beam, rounded aft, and two or three masts, have been a symbol of the region's maritime heritage for many decades. Modern gulets, while maintaining their distinct aesthetic appeal, are now equipped with state-of-the-art facilities, ensuring a seamless blend of authenticity and comfort.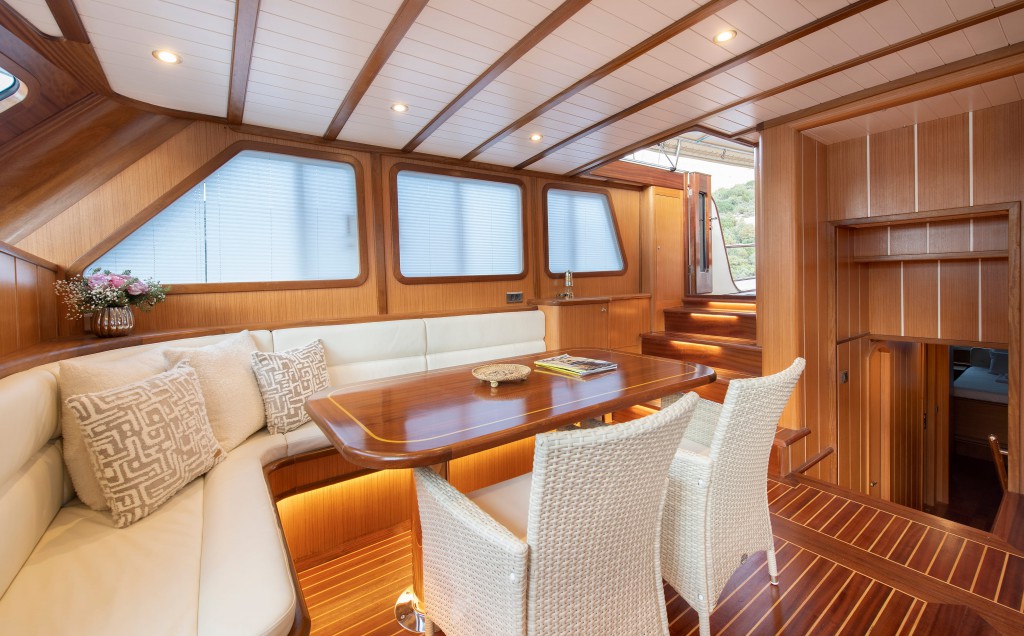 A gulet charter essentially involves renting one of these magnificent vessels for a defined period, providing the opportunity to plan an exclusive sea journey according to one's preferences. It's not merely about going from point A to point B, but rather an immersive holiday experience that brings together the best of sea travel, sightseeing, outdoor activities, and luxury.
Yacht charters can be 'bareboat', where you rent the yacht itself and take care of all the navigation, or 'crewed', where the gulet comes with a professional team responsible for managing all sailing and service-related aspects. The latter is more prevalent in Turkey, ensuring a hassle-free vacation as the crew takes care of navigation, meal preparation, cleaning, and sometimes even guiding on land excursions.
The allure of a gulet charter in Turkey is the tailored flexibility it provides. You can select the type of gulet based on your comfort preferences, the number of passengers, and your budget. Similarly, the itinerary can be personalized to include your choice of destinations along the Turkish coast. Typical gulet yacht charters may include stops at pristine beaches, historical sites, local markets, and picturesque villages, all while enjoying the luxury and comfort onboard.
Gulet charters Turkey thus offers an ideal balance of exploration and relaxation. It provides an intimate experience with the sea and surrounding landscapes, away from the typical tourist crowds. It's a distinctive voyage that leaves you with precious memories, rich cultural insights, and a sense of profound connection with Turkey's enchanting coastal world.
The Appeal of a Turkish Gulet Charter
The appeal of a Turkish gulet charter lies in its unique blend of relaxation, exploration, and rich cultural immersion, all set against the backdrop of the breathtaking Turkish coastline. This luxurious maritime experience is marked by several distinctive elements that make it one of the most sought-after holiday choices.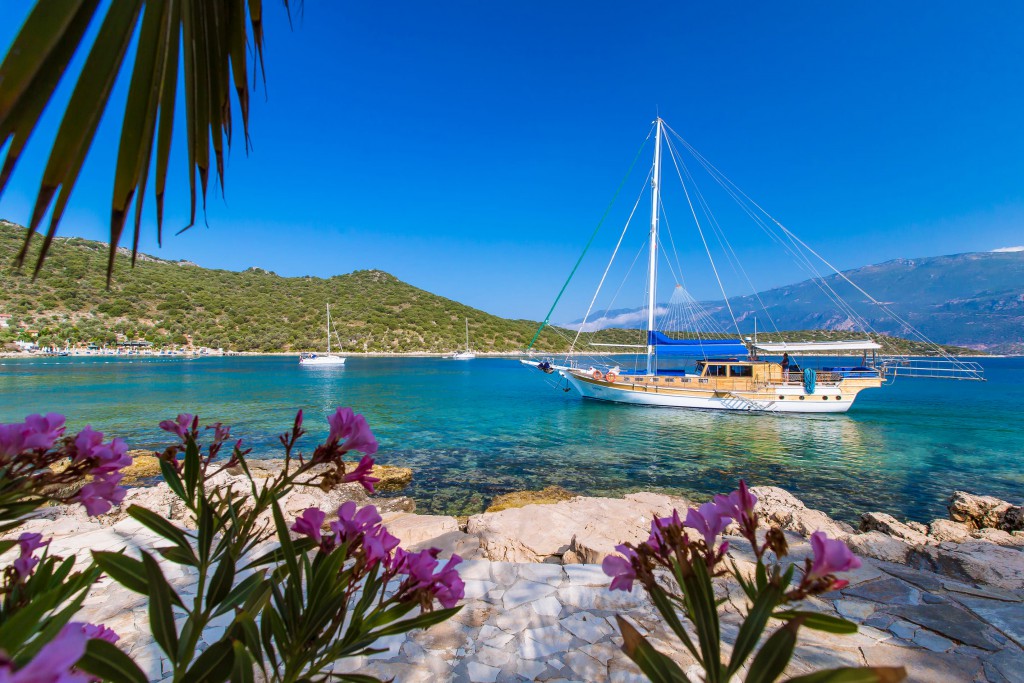 Unparalleled Comfort and Luxury: Modern gulets are synonymous with luxury. They are meticulously designed to offer spacious cabins, often en-suite, comfortable lounge areas, sun decks, and dining spaces. Amenities may include air conditioning, Wi-Fi, high-quality audio-visual equipment, and water sports gear, all designed to provide a comfortable and entertaining sea journey.
Customized Itineraries: One of the significant draws of a Turkey gulet charter is the flexibility it offers. Unlike typical cruise line packages with set itineraries, gulet charters allow you to personalize your voyage. You can select your destinations, stay as long as you want at a location, and plan your activities according to your preferences.
Breathtaking Sceneries and Exploration: Turkey's Aegean and Mediterranean coastlines are a treasure trove of beautiful bays, coves, beaches, and historic towns. Gulet charters in Turkey provide an exceptional opportunity to explore this stunning landscape. From the sun-kissed beaches of Bodrum to the ancient ruins of Ephesus, every stop holds an adventure.
Authentic Turkish Hospitality and Cuisine: A gulet charter in Turkey is not just about the journey but also the impeccable service and hospitality onboard. Crew members go above and beyond to ensure guests' comfort. The highlight of this service is the delectable Turkish cuisine prepared on board by skilled chefs. From fresh seafood to local delicacies, every meal becomes a gastronomic delight.
Cultural Immersion: A gulet cruise is a gateway to the rich cultural and historical heritage of Turkey. Visits to ancient archaeological sites, bustling local markets, and quiet fishing villages provide insight into Turkey's history and contemporary life.
Connection with Nature: A gulet cruise also presents an opportunity to connect with nature. Whether it's swimming in the clear turquoise waters, hiking in the lush landscapes, star-gazing from the deck, or simply watching the sunset over the Aegean, the experience is incredibly rejuvenating.
Exclusivity: Unlike large cruise ships, gulets offer a more intimate and private experience. Whether you're with family or friends, the exclusivity of a gulet charter provides the perfect setting for quality time together.
In essence, the appeal of a Turkish gulet charter lies in its ability to offer an unforgettable blend of luxury, adventure, cultural immersion, and personalized experiences, wrapped in the warmth of Turkish hospitality. It's more than just a vacation—it's a journey of discovery and delight.
Types of Gulet Charters in Turkey
The charm of a Turkish gulet charter lies in its versatility, catering to a broad range of preferences and vacation styles. From the luxury-seeking traveler to the history aficionado, there's a gulet charter for everyone. Here, we break down the different types of gulet charters in Turkey.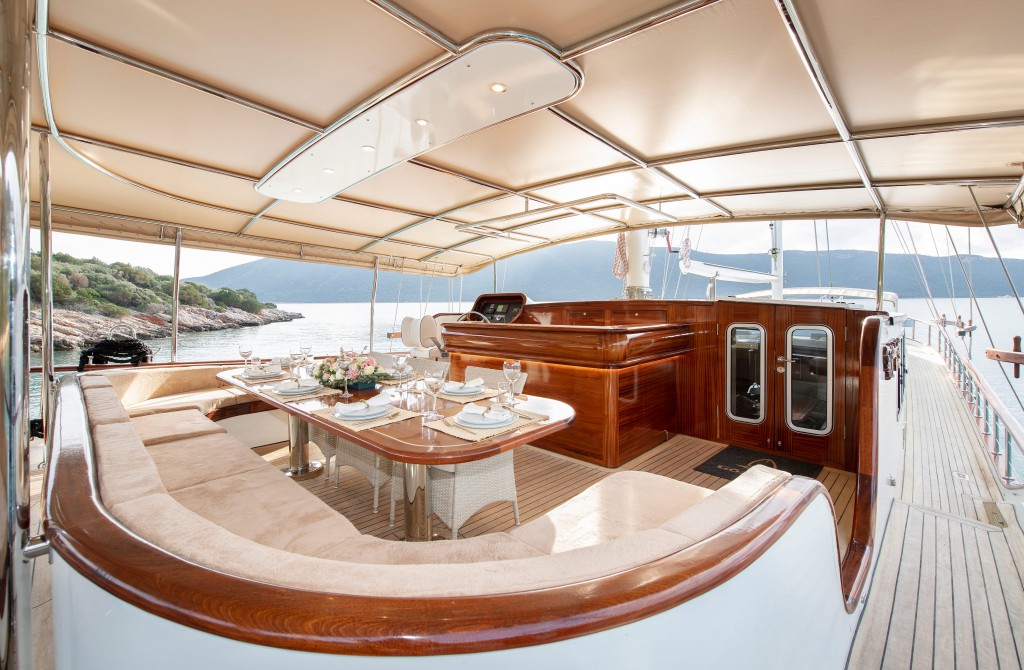 Luxury Gulet Charters: These charters offer top-tier service, amenities, and comfort, making them an excellent choice for travelers seeking a high-end vacation experience. Luxury gulet charters feature spacious cabins with en-suite bathrooms, well-designed lounge, and dining areas, and a range of modern amenities such as Wi-Fi, air conditioning, and high-quality entertainment systems. They also offer a dedicated crew that includes a captain, a chef, and stewards to ensure a hassle-free and delightful journey.
Standard Gulet Charters: Perfect for those seeking a comfortable yet budget-friendly sea vacation, standard gulet charters provide all the essential features and services for a memorable journey. These gulets come with comfortable cabins, standard amenities, and a dedicated crew. While not as opulent as their luxury counterparts, they offer excellent value for money.
Cabin Charters: Ideal for solo travelers or couples who do not wish to charter an entire gulet, cabin charters allow you to book just one cabin on a shared gulet. This charter offers a chance to meet and interact with other travelers while enjoying the gulet experience. It typically includes a pre-set itinerary, providing a balanced mix of relaxation and exploration.
Private Gulet Charters: Perfect for families or groups, private gulet charters offer exclusivity and personalized service. You get to charter the entire gulet, plan your itinerary, decide the meal menu, and control every aspect of your cruise. This charter provides an intimate setting for celebrations, get-togethers, or simply quality time with loved ones.
Blue Cruises or Blue Voyages: These are thematic gulet cruises focusing on exploring the Turkish Riviera, also known as the Blue Cruise route. The itinerary often includes stops at picturesque bays, historic towns, and archaeological sites along the Aegean and Mediterranean coasts. It's an excellent choice for those who wish to combine relaxation with cultural exploration.
Activity-Based Gulet Charters: These are specialized charters designed around specific activities or interests. This could include diving charters, which stop at prime diving sites; fishing charters, where guests can enjoy deep-sea fishing; and wellness charters, which incorporate yoga sessions, spa treatments, and healthy meals into the itinerary. These charters are an excellent way to pursue hobbies or interests while enjoying the gulet experience.
Each of these gulet charters offers its unique flavor of the Turkish sea vacation. Whether it's the unrivaled luxury of the high-end gulet charters, the cost-effectiveness of the standard gulet charters, the social interaction in cabin charters, the exclusivity of private charters, the cultural immersion in blue cruises, or the focused experience of activity-based charters, there is a gulet charter to cater to every vacation style and preference. It's this versatility that makes gulet charters such a popular choice among travelers exploring the Turkish coastline.
Top Destinations for Gulet Charters in Turkey
Turkey's coastline is a playground of historical ruins, spectacular beaches, and bustling towns. A gulet charter is an excellent way to discover these treasures at your own pace. Here are some of the top destinations with turquoise coast to explore on a traditional yacht (a.k.a Gulet Cruise)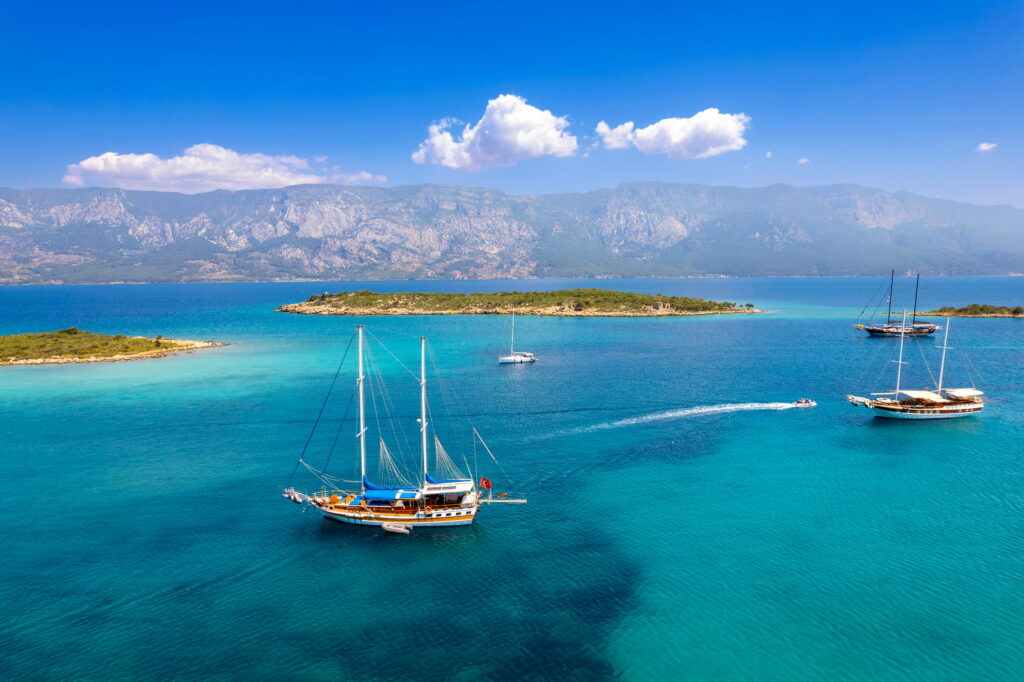 Bodrum: Often referred to as the 'Cradle of the Blue Cruise,' Bodrum is a perfect starting point for your gulet adventure. The town itself boasts a stunning castle, a myriad of shopping opportunities, and a vibrant nightlife. The surrounding turquoise waters are peppered with secluded bays and coves, making it ideal for swimming, snorkeling, and simply relaxing on deck.
Marmaris: This vibrant resort town offers a blend of natural beauty and lively entertainment. Its long beach and picturesque marina make it an attractive stopover. Marmaris also serves as a gateway to explore nearby islands and bays, and it's famed for its pine-forested hills that offer hiking opportunities for the more adventurous.
Fethiye: Fethiye is renowned for its stunning natural harbor, ancient rock tombs, and the ghost town of Kayakoy. It's also a stepping stone to some of Turkey's most beautiful beaches, such as Oludeniz and Butterfly Valley. In addition, Fethiye is the starting point for many gulet cruises that head to the unspoiled Gocek Islands.
Gocek: An enchanting town nestled in a quiet bay, Gocek is surrounded by six marinas and numerous islands and coves, earning it the nickname 'Marina Town.' It's also a natural harbor protected from the winds, making it a favorite destination for sailors and yachtsmen. Gocek is also part of the Lycian civilization, and its surroundings offer several ancient ruins to explore.
Antalya: Famed for its historic old town, known as Kaleiçi, its Roman-era harbor, and its beautiful beaches. It's also home to several ancient cities like Phaselis and Olympos. A gulet cruise in Antalya can take you to explore the ancient ruins, the secluded beaches of Kekova, and the natural beauty of the Manavgat waterfalls.
Kas: A charming fishing village turned popular tourist town, Kas offers narrow streets filled with boutique shops, a small pebble beach, and a lively nightlife. It's also a renowned 21 diving spot with several underwater sites, including a WWII C-47 DAKOTA airplane, a rocky reef with a top at 13m, and an underwater sculpture park.
Kekova: This region is famous for its sunken city, a series of underwater ruins from the ancient town of Simena. Kekova also offers beautiful bays, small islands, and crystal-clear waters ideal for swimming and snorkeling.
Datca: This peninsula is one of Turkey's best-kept secrets, boasting stunning beaches, ancient ruins, and an authentic laid-back atmosphere. A stopover in Datca can include a visit to the ancient city of Knidos and a dip in the azure waters of Palamutbuku.
These destinations, each with its unique charm and attractions, offer a diverse range of experiences that make a gulet charter in Turkey a journey of discovery and delight. Whether you're seeking historical insights, natural beauty, water sports activities, or simply a relaxing escape, these destinations offer something for everyone.
How to Charter a Gulet in Turkey
Chartering a gulet in Turkey may seem like a daunting task, especially if it's your first time. However, with the right approach and careful planning, it can be a straightforward process. Here are the steps you need to take.
1. Determine Your Budget:
Your budget will significantly influence the type of gulet you can charter and the locations you can visit. Gulet charters in Turkey come in a range of prices, depending on the vessel's size, amenities, age, and crew services. You'll also need to consider costs like food, fuel, and marina fees. It's recommended to have a clear understanding of your budget before you start looking for options.
2. Decide on the Type of Charter:
A crewed charter includes a captain and often a crew who handles sailing, cooking, and other services. For those without sailing experience or those looking for a relaxed holiday, a crewed charter is a better option.
3. Choose Your Destinations:
Decide on the places you want to visit during your gulet charter. The most popular itineraries include the Aegean coast, which takes in spots like Bodrum, Marmaris, and Fethiye, and the Mediterranean coast, with destinations such as Antalya, Kas, and Kekova. Your choice will depend on your interests, whether they are history, nature, water sports, or culture.
4. Select the Right Gulet:
Gulets come in various sizes and styles, from classic wooden boats to luxury yachts with high-end amenities. Consider factors like the number of cabins, onboard facilities, and the gulet's age and condition. Ensure there is sufficient space and privacy for everyone in your group.
5. Book Through a Reputable Company:
To ensure a hassle-free experience, book your gulet charter through a reputable company. They can guide you through the process, handle the paperwork, and provide valuable advice. Always check reviews and references before making a booking. You can see the details on the listing page of a gulet at viravira.co.
6. Plan Your Itinerary:
Although the captain will ultimately control the actual sailing itinerary based on weather conditions and safety, it's good to have a plan. Discuss your preferences with the captain – whether you want to spend more time sailing, relaxing in secluded bays, or exploring on land.
7. Review the Charter Contract:
Your charter contract should detail every aspect of your booking, including the charter duration, the price, the included and extra services, and the cancellation policy. Make sure you read and understand everything before signing. viravira.co provides dynamically generated a contract on the payment page providing all the necessary details about the gulet charter.
8. Pack Accordingly:
Remember that space on a gulet can be limited, so pack light. Essentials include swimwear, comfortable clothing, sun protection, and a hat. Most gulets provide towels and toiletries.
9. Arrive Prepared:
Get to your departure point with plenty of time to spare. The crew will guide you through a safety briefing and introduce you to the facilities onboard before setting sail.
Chartering a gulet in Turkey is an experience like no other. It offers a unique opportunity to explore the country's stunning coastline at your own pace and in complete comfort. By following these steps, you'll be well on your way to planning an unforgettable maritime adventure.
Planning Your Itinerary
When chartering a gulet in Turkey, crafting an engaging and fulfilling itinerary can enhance your experience. The possibilities for your journey are plentiful, given Turkey's stunning coastline filled with historical sites, charming villages, secluded bays, and vibrant nightlife. Here's a step-by-step guide to planning your itinerary.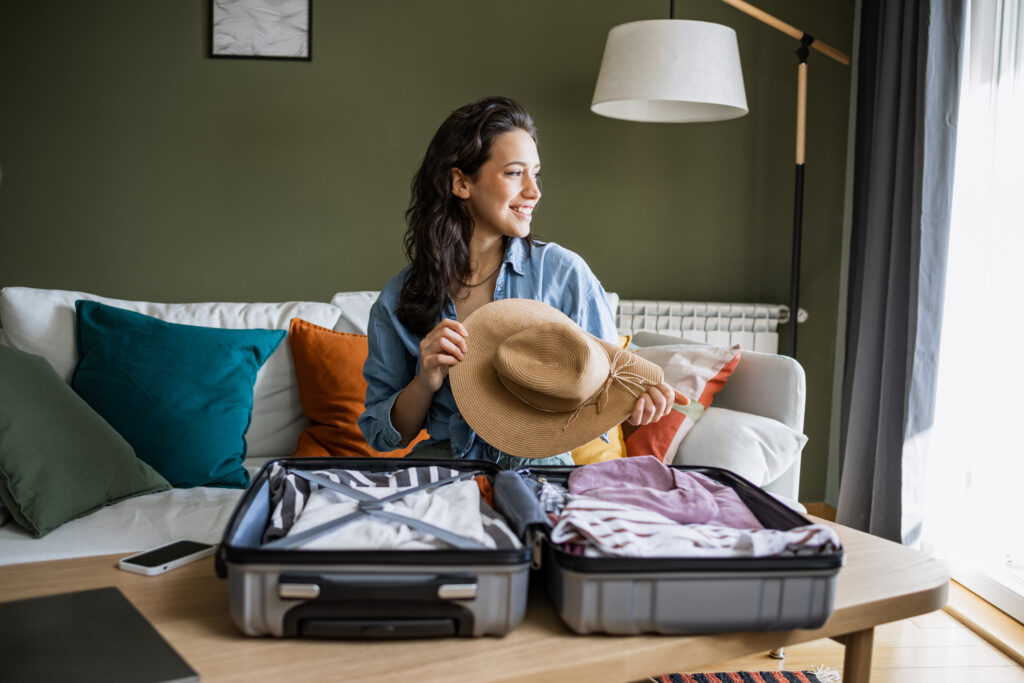 1. Determine the Duration of Your Charter:
The length of your charter will significantly influence your itinerary. A week-long charter allows you to explore key coastal towns and enjoy various activities. However, if time permits, a two-week charter will offer a more comprehensive exploration of the Turkish coastline.
2. Choose Your Start and End Points:
Common starting points for gulet charters in Turkey include the Aegean coastal towns of Bodrum, Marmaris, Fethiye, and Gocek or locations like Kalkan or Kas. Depending on the charter, you can have a 'one-way' charter or a 'round-trip' that begins and ends at the same location. Both options have their advantages, depending on your travel plans and preferences.
3. Identify Key Sites and Activities:
Turkey's coastline offers an incredible array of sites and activities. Historical enthusiasts can visit ancient Lycian and Roman ruins in places like Xanthos, Letoon, or Myra. Nature lovers will appreciate the picturesque Butterfly Valley and Oludeniz Blue Lagoon in Fethiye or the Sunken City of Kekova. For those interested in nightlife and shopping, Bodrum and Marmaris provide bustling bazaars, restaurants, and bars. Identify your preferred activities and ensure they are included in your itinerary.
4. Consider Travel Times:
While planning your itinerary, it's important to factor in travel times between locations. Gulets travel at a leisurely pace, and part of the charm of a gulet charter is the relaxed, unhurried pace. However, you don't want to spend your entire holiday traveling between destinations. Ensure your selected sites are within comfortable sailing distance of each other.
5. Allow for Flexibility:
While it's good to have a plan, it's also important to allow for flexibility. Weather conditions, sea states, and other unforeseen circumstances may require changes to your itinerary. Be prepared to adjust your plans if needed.
6. Consult with Your Captain or Charter Company:
Your captain or charter company will have extensive knowledge of the area. They can provide invaluable input into your itinerary, suggesting lesser-known locations and the best times to visit certain sites. They can also advise on local customs, rules, and regulations that you need to be aware of during your charter.
7. Balance Sailing Time with Leisure Time:
While it's thrilling to sail along the beautiful Turkish coastline, ensure you have ample time to relax and enjoy the locations you visit. Balance your itinerary with sailing time, exploration time, and leisure time. Factor in some days when you simply enjoy the boat and the stunning surroundings.
Planning your gulet charter itinerary in Turkey can be as exciting as the trip itself. Remember, the beauty of a charter holiday is that you get to set the pace and decide where you want to go. With careful planning and a spirit of adventure, you're set to have an unforgettable journey.
What to Expect Onboard
Your gulet charter in Turkey will offer a blend of modern luxury and traditional charm that ensures a unique and memorable experience. Here's what to anticipate during your time onboard:
1. Accommodations:
Gulets are designed with comfort in mind. Cabins are typically well-appointed, featuring en-suite bathrooms, ample storage space, and air conditioning. The number and layout of cabins vary with the size and design of the gulet, with options ranging from cozy doubles to spacious master suites.
2. Common Areas:
The deck is the heart of a gulet, designed for relaxation and enjoyment. Most gulets feature a foredeck with sunbeds and a spacious aft deck with cushioned seating and a dining area. Inside, you will typically find a salon with a dining area, bar, and lounge seating. The salon often also has entertainment systems like a TV and music system.
3. Crew:
Your gulet will be operated by a professional crew, which typically includes a captain, a chef, and one or more deckhands. Their role is to ensure your safety, navigate the waters, prepare meals, and keep the gulet clean and tidy. The crew members are usually quite knowledgeable about the local area and can offer insights about the various destinations on your itinerary.
4. Cuisine:
One of the highlights of a gulet charter in Turkey is the delicious cuisine. The onboard chef will prepare a variety of dishes featuring fresh, local ingredients. Expect to enjoy a range of Turkish and Mediterranean dishes, from flavorful mezzes to fresh seafood and sweet pastries.
5. Activities:
Gulets often come equipped with watersports equipment like snorkels, kayaks, and fishing gear, providing plenty of entertainment options. When anchored in a bay, you can enjoy swimming, snorkeling, or simply relaxing on the sun deck.
Remember, each gulet charter can be different, offering a unique blend of amenities and services. The key is to communicate your expectations and preferences to the listing owner to ensure your onboard experience matches your ideal holiday.
Conclusion
Choosing a gulet charter in Turkey is an extraordinary way to experience the country's rich history, beautiful coastline, and vibrant culture. It offers a unique blend of relaxation, adventure, and luxury, making it an unforgettable vacation option for travelers of all kinds.
From understanding the types of gulet charters available to planning your itinerary and knowing what to expect onboard, this comprehensive guide should help you navigate the process smoothly. The rich and diverse offerings of the Turkish coastline await you, from the tranquil bays of Bodrum to the archaeological wonders of Antalya.
When done right, a gulet charter trip can provide an unforgettable blend of relaxation, adventure, gastronomic delights, and cultural exploration. So, whether you're a seasoned sailor or a nautical novice, a gulet charter in Turkey is a travel experience that should be on your bucket list. As you embark on this journey, embrace the hospitality of the Turkish people, the delights of its cuisine, and the richness of its history and culture.
After all, sailing in Turkey isn't just about the destination—it's about the journey, the discovery, and the memories you'll create along the way. So, are you ready to set sail?
FAQs
What is a gulet?
A gulet is a traditional wooden sailing vessel originating from the southwestern coast of Turkey. It is designed with a broad beam and a rounded aft, making it spacious and comfortable for cruising. Modern gulets are typically equipped with luxury amenities, making them perfect for holiday cruising.
What is the best time to charter a gulet in Turkey?
The best time to charter a gulet in Turkey is between May and October, with peak season occurring between July and August. During these months, the weather is warm and there's less chance of rain, which makes it ideal for sailing and enjoying water activities.
How much does it cost to charter a gulet in Turkey?
The cost of chartering a gulet in Turkey can vary widely based on factors such as the size and luxury level of the gulet, the duration of the charter, the itinerary, and the season. Prices can range from a few thousand Euros a week to over ten thousand Euros for more luxurious options.
What destinations can I visit on a gulet charter in Turkey?
There are numerous destinations you can visit on a gulet charter in Turkey. Some of the popular ones include Bodrum, Marmaris, Fethiye, Göcek, and Antalya, each with unique attractions ranging from ancient ruins to vibrant markets, secluded beaches, and more.
What services are included in a gulet charter?
Services included in a gulet charter typically include the crew (captain, chef, and steward), meals, fuel for a specified cruising distance, and use of onboard equipment such as snorkeling gear, fishing equipment, and sometimes even water sports equipment. Extras like alcoholic beverages, shopping for food ingredients, and optional land excursions are usually not included.
Is it safe to charter a gulet in Turkey?
Yes, it is safe to charter a gulet in Turkey. The crew are experienced professionals who prioritize the safety of the guests. Moreover, the gulets are equipped with safety equipment such as life vests, fire extinguishers, and emergency lifeboats.
Can I customize my gulet charter itinerary in Turkey?
Yes, you can often customize your gulet charter itinerary in Turkey. This flexibility allows you to explore the sites you're most interested in, spend more time where you wish, and plan your journey according to your preferences. However, it's crucial to discuss your desires and expectations with your charter company to ensure they can accommodate your requests.