Introduction
Gulets are traditional wooden sailing vessels that originated in Turkey's southwestern coast, particularly in the regions of Bodrum and Marmaris. These vessels are typically made of pine wood and are known for their distinctive shape, with a wide beam and a rounded stern. In the past, gulets were used for fishing and transportation, but nowadays they are mostly used for tourism, particularly for luxury gulet charters.
In recent years, gulet charters have gained growing popularity in Turkey as a unique and luxurious way to explore the country's beautiful coastline and pristine waters. With their spacious decks, comfortable cabins, and modern amenities, luxury gulets provide a memorable and exclusive cruising experience for travelers seeking a blend of adventure and relaxation. Many skippered gulet charters in Turkey offer all-inclusive packages that include accommodation, meals, and a crew to take care of all the details, allowing guests to simply unwind and enjoy the stunning scenery, water activities, and cultural experiences along the Turkish coast.
1- Bodrum
Bodrum is a vibrant coastal town located in southwestern Turkey, known for its rich history, picturesque scenery, and beautiful beaches. One of the main attractions in Bodrum is the Bodrum Castle, also known as the Castle of St. Peter, which houses the Museum of Underwater Archaeology. Visitors can explore the castle's medieval architecture and marvel at the fascinating artifacts recovered from ancient shipwrecks in the museum. Bodrum is also famous for its stunning beaches, where visitors can relax and soak up the sun. Additionally, Bodrum serves as a gateway to nearby islands and coves, making it a perfect destination for sailing and exploring the turquoise waters of the Aegean Sea.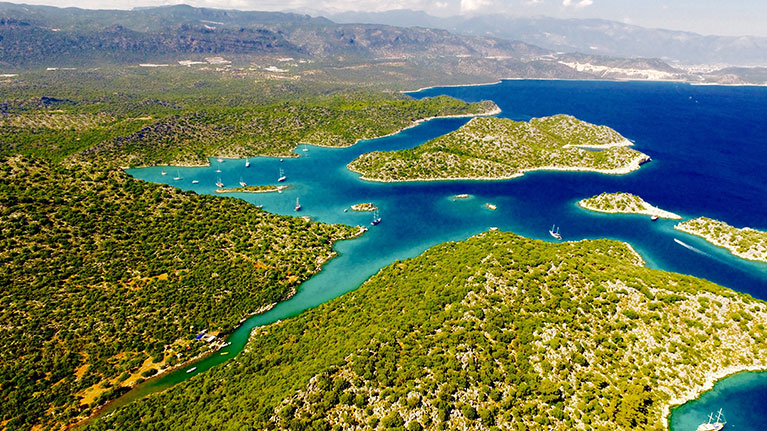 2 – Gocek
Gocek is a picturesque sailing paradise located on the southwestern coast of Turkey, renowned for its stunning landscapes and pristine waters. One of the main attractions of Gocek is its secluded bays with crystal-clear turquoise waters, perfect for swimming, snorkeling, and diving. The area is dotted with numerous islands and coves, making it an ideal destination for sailing enthusiasts to explore the stunning coastline and enjoy the tranquility of the sea.
Apart from its natural beauty, Gocek also offers charming marinas where visitors can moor their boats and enjoy the vibrant atmosphere. The local markets in Gocek are worth exploring, offering a variety of goods such as local crafts, spices, and fresh produce. Additionally, Gocek boasts a wide array of gourmet dining options, ranging from traditional Turkish cuisine to international flavors, allowing visitors to indulge in culinary delights during their stay.
Overall, Gocek is a haven for sailing enthusiasts, nature lovers, and those seeking a peaceful and scenic getaway amidst the stunning beauty of the Turkish coast.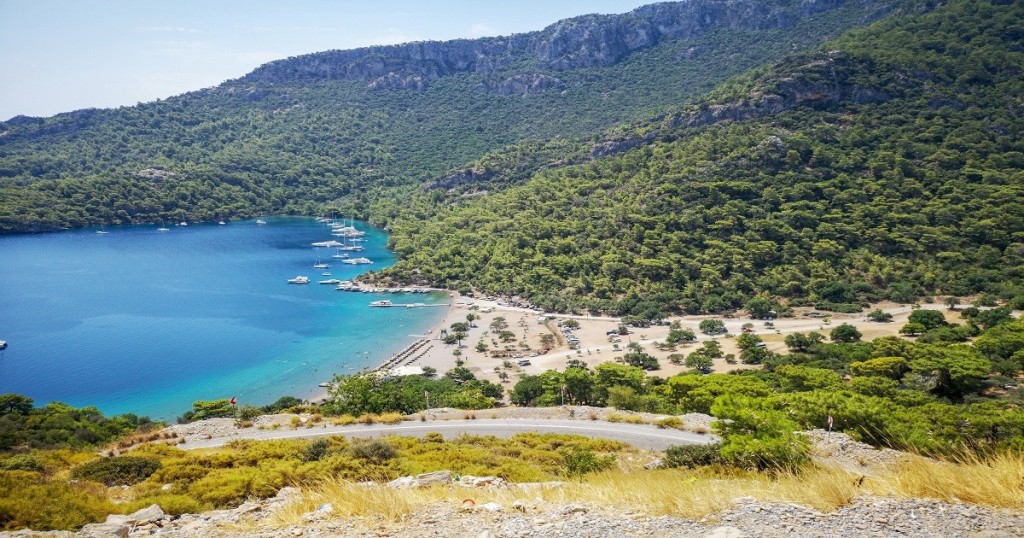 3 – Marmaris
Marmaris is a bustling port town located on the southwestern coast of Turkey, known for its vibrant atmosphere, historical sites, and beautiful coastline. One of the main attractions in Marmaris is Marmaris Castle, also known as Marmaris Museum, which dates back to the 16th century and offers panoramic views of the town and the sea. The charming Old Town of Marmaris is a maze of narrow streets lined with shops, cafes, and restaurants, offering a glimpse into the town's rich history and local culture.
Cruising along Marmaris' stunning coastline is a popular activity for visitors, with its azure waters, picturesque bays, and lush green hills. Many tourists opt for boat tours or yacht charters to explore the breathtaking scenery and hidden gems along the coast, such as Cleopatra Island, Dalyan Delta, and Turunc Village.
Marmaris is also known for its vibrant nightlife and water sports activities. The town boasts a wide range of bars, clubs, and entertainment venues, offering options for evening entertainment. Water sports enthusiasts can indulge in activities such as snorkeling, scuba diving, jet skiing, and parasailing, making Marmaris a hub for adventure seekers and thrill-seekers.
Overall, Marmaris offers a perfect blend of historical charm, natural beauty, and lively entertainment, making it a popular destination for tourists seeking a dynamic coastal experience in Turkey.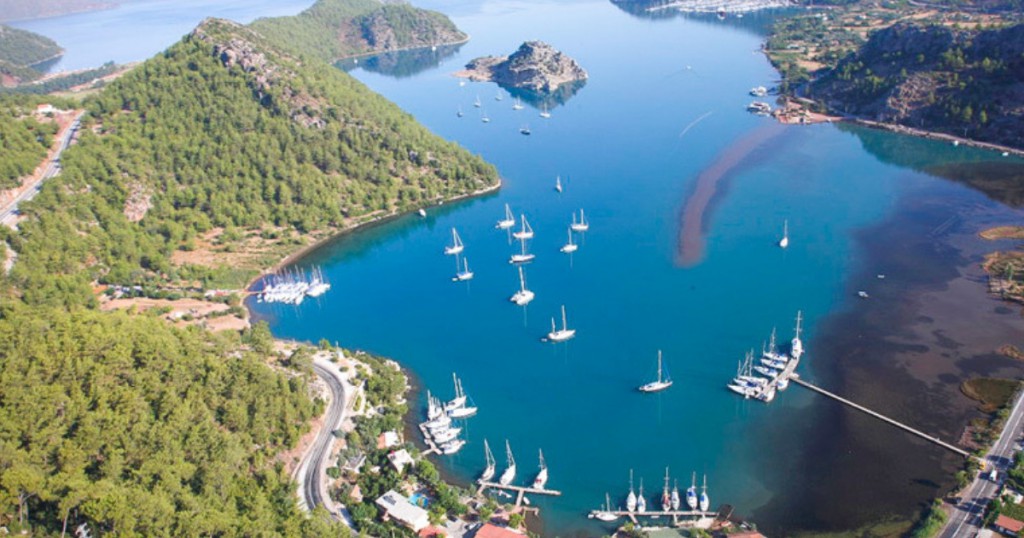 4 – Fethiye
Fethiye is a coastal gem located on the southwestern coast of Turkey, known for its stunning landscapes, historical sites, and outdoor adventures. One of the main attractions in Fethiye is the ancient city of Telmessos, which dates back to the 5th century BC and offers fascinating ruins to explore, including an amphitheater, rock tombs, and Lycian sarcophagi.
Fethiye is also famous for its natural wonders, including the world-renowned Blue Lagoon. With its turquoise waters and white sandy beaches, the Blue Lagoon is a paradise for swimmers and snorkelers. Nearby, Butterfly Valley is a picturesque canyon that is home to a diverse array of butterflies, making it a unique destination for nature enthusiasts.
For adventure seekers, Saklikent Gorge is a must-visit destination in Fethiye. This stunning canyon offers thrilling opportunities for trekking, hiking, and canyoning, allowing visitors to explore the breathtaking scenery and natural beauty of the area.
Overall, Fethiye is a perfect blend of history, nature, and adventure, making it a popular destination for travelers seeking a diverse and captivating coastal experience in Turkey.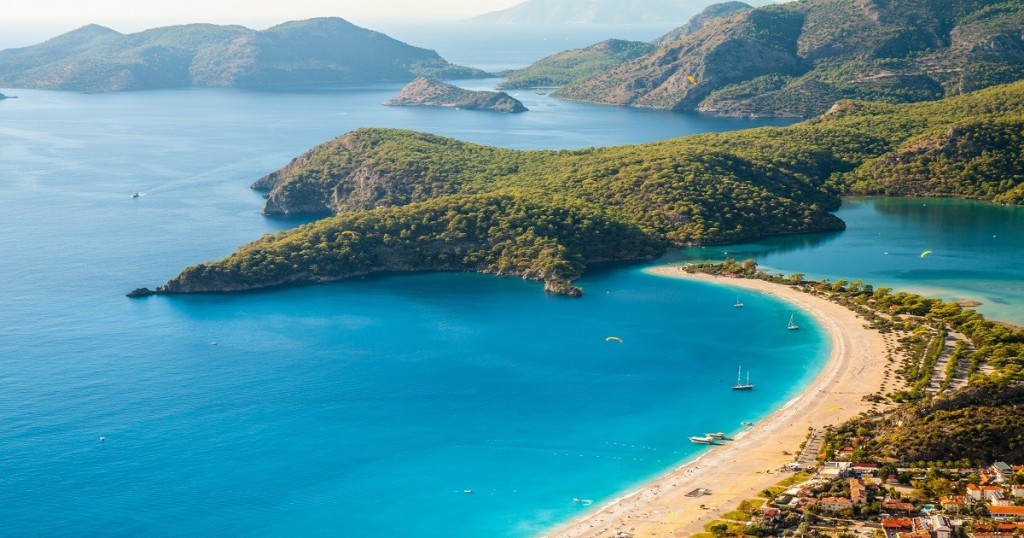 5 – Kaş
Kas is a hidden gem located on the Turkish coast, known for its stunning natural beauty, charming town, and ancient ruins. The town of Kas offers a laid-back atmosphere with its narrow streets, white-washed houses, and colorful bougainvillea, providing a perfect setting for leisurely strolling and exploring the local culture.
Kas is also renowned for its crystal-clear waters, making it a haven for snorkelers and divers. The underwater world of Kas is teeming with marine life, including colorful corals, exotic fish, and ancient shipwrecks, offering an unforgettable experience for underwater enthusiasts.
In addition to its natural beauty, Kas is also steeped in history, with ancient ruins scattered throughout the town and its surroundings. The Lycian sarcophagi, ancient tombs, and amphitheater are some of the must-visit historical sites in Kas, providing glimpses into the region's rich past.
A short boat trip from Kas takes you to the nearby Greek island of Meis, also known as Kastellorizo, with its charming harbor, colorful houses, and friendly locals. Exploring Meis offers a unique cultural experience, as you can witness the fusion of Greek and Turkish influences on this small island.
Overall, Kas is a hidden gem that offers a perfect blend of history, natural beauty, and cultural experiences, making it a captivating destination for travelers seeking a unique and off-the-beaten-path coastal experience in Turkey.
Learn more by reading our top 5 things to do on your skippered gulet charter.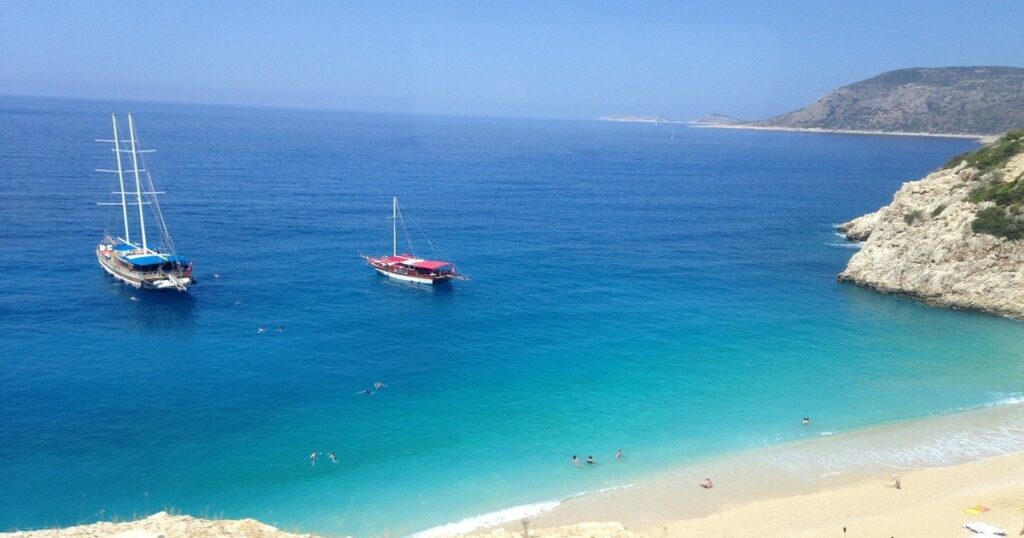 FAQs
What amenities can I expect on a luxury gulet?
Luxury gulets in Turkey typically offer a wide range of amenities to provide a comfortable and enjoyable experience. Some common amenities you can expect on a luxury gulet include spacious cabins with en-suite bathrooms, air conditioning, indoor and outdoor dining areas, a fully equipped kitchen, a bar, sun loungers, a swimming platform, water sports equipment such as kayaks, snorkeling gear, and sometimes even a Jacuzzi or a sauna. The specific amenities may vary depending on the size, age, and design of the gulet, as well as the charter company.
Do I need sailing experience to go on a gulet charter?
No, sailing experience is not necessarily required to go on a gulet charter in Turkey. Most luxury gulets in Turkey come with a professional crew that includes a captain, chef, and deckhands who are responsible for navigating the gulet and providing services during the charter. However, if you have sailing experience and wish to participate in sailing activities, you may have the opportunity to do so with the guidance of the crew. It's always best to check with the charter company beforehand to clarify any sailing experience requirements, if any, for the specific gulet charter you are interested in.