Istanbul, where the East meets the West, where Asia connects with Europe, is a city rich in history and culture. A vibrant metropolis filled with stunning architectural feats, a mouthwatering gastronomy, and a lively atmosphere. But there's another side to this city, one that's equally enchanting but often less explored — the blue expanse of the Sea of Marmara and the Bosphorus strait.
Over the years, yacht chartering and boat rental in Istanbul have gained considerable popularity among locals and tourists alike. Its strategic location, connecting the Black Sea with the Sea of Marmara, and eventually flowing into the Mediterranean, makes it a unique spot for sailing enthusiasts. Whether exploring the city's historical landmarks from a different perspective, celebrating a special event, or seeking a unique way to relax, the reasons for chartering a yacht or renting a boat in Istanbul are plentiful.
The Bosphorus, adorned by opulent Ottoman palaces, ancient fortresses, and luxurious waterside residences, offers a stunning vista that promises to transform a simple cruise into a journey back in time. With the picturesque Princes' Islands nearby, visitors can escape the hustle and bustle of the city and enjoy a serene day out in the sea.
For those unfamiliar with the concept, yacht chartering refers to the practice of renting a yacht for a specific period. This can range from a few hours to several days, depending on the client's preferences. It's a wonderful opportunity to experience the luxury and comfort of a private yacht without the responsibilities of ownership.
On the other hand, boat rentals usually involve smaller, motorized boats or sailboats, perfect for shorter, leisurely trips along the coast. Whether you're an experienced sailor or a novice, boat rentals can offer an exciting and accessible way to experience Istanbul's maritime charm.
There are numerous companies throughout Istanbul offering these services, each with a variety of packages to suit different needs and budgets. From lavish superyachts to sailboats, there's a wide array of options available for every type of seafarer.
As we delve deeper into the world of yacht chartering and boat rental in Istanbul, we'll explore the different types of vessels available, popular sailing routes, costs, legalities, and other key considerations to help you plan the perfect nautical adventure in this mesmerizing city.
Indeed, yacht chartering and boat rental in Istanbul go beyond a simple leisure activity. It's a unique blend of luxury, adventure, relaxation, and an exquisite way to witness the city's cultural heritage unfold along its azure waters.
Istanbul offers a unique yachting and boating experience with its rich history, diverse cultural attractions, and stunning waterscapes. Whether you choose a motor yacht for a private party or a sailboat for a sailing adventure, ensure to plan your itinerary well to enjoy all the highlights the city has to offer.
Cost is an important factor to consider when renting a yacht or boat in Istanbul, with prices depending on the vessel type, rental duration, and season. Always confirm what's included in the rental cost to avoid unexpected expenses and ensure that your budget matches your expectations.
Safety and sustainable boating practices are crucial when chartering a yacht or renting a boat in Istanbul. Always follow the provided safety instructions, respect the marine environment, and consider the impact of your activities on local wildlife and ecosystems.

KEY TAKEAWAYS
Istanbul's sprawling waterways offer a treasure trove of captivating sights and experiences for boating and yachting enthusiasts. Here are some of the key areas that you should definitely consider exploring on your next nautical adventure in Istanbul.
The Bosphorus
The Bosphorus, or the Istanbul Strait, is undeniably the heart and soul of Istanbul. Stretching approximately 32 kilometers, it is not only one of the world's busiest maritime passages but also one of the most scenic. Its shores are graced with architectural marvels from different eras — from the Byzantine-era Rumeli Fortress to the opulent Dolmabahçe Palace of the Ottoman period.
The Bosphorus splits Istanbul into two continents, Europe and Asia, making it the only strait in the world where you can sail between two continents in a matter of minutes. You'll also get to see the iconic Bosphorus Bridge and the Fatih Sultan Mehmet Bridge, connecting Europe and Asia and illuminating the night sky with their grandeur.
The Princes' Islands
A tranquil contrast to the bustling city, the Princes' Islands are a group of nine car-free islands in the Sea of Marmara. Known for their charming Victorian cottages, lush pine forests, and beautiful sandy beaches, these islands are an ideal destination for a day trip.
The four largest islands — Büyükada, Heybeliada, Burgazada, and Kınalıada — are the most visited, each offering unique attractions. From the historic Greek Orthodox monastery in Büyükada to the Naval Cadet School in Heybeliada, there's a wealth of history and culture to explore.
Sea of Marmara
The Sea of Marmara, connected to the Black Sea and the Aegean Sea through the Bosphorus and the Dardanelles straits respectively, is a unique sailing destination. It's known for its rich biodiversity, including dolphins and a wide variety of fish species. A sailing trip in the Sea of Marmara often includes stopovers at several charming coastal towns and fishing villages.
The Black Sea
North of Istanbul, the Black Sea offers a different vibe for sailors. The rugged coastline, dotted with secluded bays and beaches, quaint fishing villages, and pristine natural parks, is a breath of fresh air from the city's hustle and bustle.
A notable destination is Şile, a small town famous for its beautiful beaches, historic lighthouse, and the Şile Cloth Festival held every summer. Another popular spot is Ağva, nestled between the Goksu and Yesilcay rivers, known for its unspoiled natural beauty and tranquility.
Each of these key areas offers unique attractions and experiences. Whether you're keen on experiencing Istanbul's rich history and culture, exploring its diverse marine life, or simply enjoying a relaxing day out in the sea, you're sure to find a destination that suits your preferences.
So, as you plan your yachting or boating trip, consider including these spots in your itinerary. But remember, no matter where you choose to sail, the journey itself — cruising through Istanbul's stunning waterways, feeling the sea breeze, and witnessing the city from a different perspective — will be just as rewarding as the destination.
Choosing Your Ride: Types of Boats and Yachts Available for Rent in Istanbul
Finding the suitable boat hire option to suit your needs is one of the most crucial aspects of planning your nautical adventure in Istanbul. The city's yacht charter and boat rental services offer a range of options, designed to cater to various preferences, requirements, and occasions.
Motor Yachts
Motor yachts are a popular choice for those seeking comfort, speed, and luxury. They come in different sizes, from compact models suitable for small groups to larger, more opulent versions that can accommodate parties of 20 or more up to 100.
Equipped with high-speed engines, these yachts are perfect for cruising the Bosphorus and exploring the wider areas of the Sea of Marmara and the Black Sea within a shorter timeframe. Their spacious interiors often feature a range of amenities like comfortable seating areas, dining facilities, and sometimes even bedrooms and bathrooms, making them ideal for various events like bachelor parties, birthdays, business meetings, or weddings.
Motor yachts offer a balance of outdoor and indoor space. The deck areas provide breathtaking panoramic views of the city's skyline and waterfront landmarks. At the same time, the enclosed spaces offer shelter and comfort, enabling you to enjoy your voyage regardless of the weather conditions.
Sailboats
For sailing enthusiasts and those keen on a more hands-on sailing experience, sailboats are a perfect choice. These vessels harness the wind for propulsion, offering a quieter, more serene, and eco-friendly way to explore Istanbul's waterways.
Sailboats are mostly used for sailing classes in Istanbul, but they are also available for rental for those who prefer a more adventurous and engaging experience. These boats can accommodate smaller groups and are best suited for day trips.
While operating a sailboat requires some skill and experience, many charter companies in Istanbul offer the services of a skilled skipper or provide brief training sessions for novices. This ensures everyone can enjoy the thrill of sailing, regardless of their skill level.
Luxury Yachts
For those seeking the ultimate in luxury and comfort, Istanbul's charter services offer an array of high-end yachts. These vessels are the epitome of opulence, with amenities like jacuzzis, state-of-the-art entertainment systems, gourmet catering services, and luxurious staterooms.
Luxury yachts are particularly popular for special occasions and events. Whether it's a wedding, a corporate event, or simply a lavish day out on the water, these yachts provide a truly unforgettable experience.
Choosing the right vessel largely depends on your needs and preferences. If speed and luxury are your priorities, a motor yacht would be the ideal choice. For those who prefer a more laid-back and engaging experience, a sailboat would be more suitable. And if you're seeking an unparalleled luxury experience, a high-end yacht would be your best bet.
Regardless of the vessel you choose, it's always important to ensure that it's well-maintained and equipped with all the necessary safety equipment. After all, your safety and comfort should always be the top priority as you embark on your unforgettable journey through Istanbul's captivating waters.
Your Voyage Blueprint: Planning and Itineraries
Setting sail on the waters of Istanbul promises an unforgettable experience. However, to make the most of your adventure, careful planning, and well-designed itineraries are essential. Here are some considerations and popular routes to help you navigate your voyage through Istanbul's fascinating waters.
Best Time to Sail
To begin, it's important to choose the right time for your voyage. Istanbul experiences a temperate oceanic climate. The most ideal time to sail is between late spring and early autumn, specifically May through October. During these months, the weather is generally warm and pleasant, with average temperatures ranging between 15°C to 25°C. The sea is calm, and the wind conditions are ideal for sailing.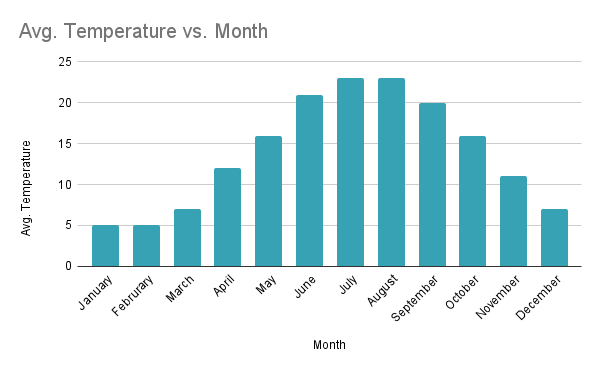 Source: All about Turkey
Popular Routes and Itineraries
Creating a sailing itinerary involves choosing key points of interest you wish to explore. Here are some popular routes that have delighted countless seafarers in Istanbul.
Classic Bosphorus Cruise: This is the most popular route, starting from the southern end of the Bosphorus Strait near the Sea of Marmara, and going all the way up to the northern end near the Black Sea. Key sights include the historic Rumeli Fortress, the ornate Dolmabahçe and Çırağan Palaces, and the majestic Bosphorus Bridge. This route also offers a glimpse of Istanbul's unique skyline, with the towering minarets of the Blue Mosque and Hagia Sophia, and the Topkapi Palace. A round trip on this route typically takes about 2 to 4 hours, depending on the vessel's speed.
Princes' Islands Excursion: For a more leisurely journey, consider a route around the Princes' Islands. These islands are a tranquil retreat from the bustling city, with charming Victorian houses, lush green landscapes, and horse-drawn carriages. You can moor your boat and explore the islands, try local cuisines, or relax on the beach. A trip to the Princes' Islands usually takes a whole day.
Black Sea Adventure: If you have more time, consider venturing out into the Black Sea. This route will take you past the charming towns of Sile and Agva, known for their beautiful sandy beaches and pristine natural beauty. This is a long journey, ideal for a multi-day trip.
Local Attractions and Landmarks
Planning your itinerary also involves considering the various attractions and landmarks you'll pass along the way. For instance, the Bosphorus Strait is lined with historic fortresses such as the Anadoluhisarı and Rumelihisarı. Additionally, Istanbul's seascape is dotted with beautiful waterfront mansions, known as yalıs, which offer a glimpse into the city's opulent past.
For those interested in architecture, sail past the Dolmabahçe Palace and the Ortaköy Mosque will leave you in awe of their intricate designs. Also, don't miss the chance to sail under the iconic Bosphorus Bridge, which lights up beautifully at night, creating a stunning reflection on the water.
Culinary Stops
Another highlight of sailing in Istanbul is the opportunity to indulge in the city's culinary delights. Several restaurants and cafes are located along the Bosphorus, where you can moor your boat and enjoy a meal with a spectacular view. Some must-try dishes include freshly caught fish, succulent kebabs, and traditional Turkish delight.
Sailing in Istanbul is not just about exploring the city's beautiful waters. It's also about immersing yourself in the city's rich history, vibrant culture, and delightful gastronomy. So, as you plan your itinerary, ensure it offers a blend of all these elements to guarantee an unforgettable voyage.
Cost Analysis: Understanding Pricing and Inclusions
Chartering a yacht or renting a boat in Istanbul can be a unique and luxurious experience, but understanding the cost and what's included in the price is crucial. Here, we break down the main factors influencing pricing and the typical inclusions you can expect when renting a boat or yacht in Istanbul.
Type and Size of Vessel
The type and size of the vessel play a major role in determining the cost. Motor yachts, given their speed and luxury features, are typically more expensive to rent than sailboats. The size of the vessel also influences the cost — larger yachts with more amenities and capacity for more guests are naturally pricier.
Duration of Rental
The length of the charter is another major factor affecting the price. Most companies offer flexible options ranging from hourly rentals to daily or even weekly rentals. The longer you rent the boat or yacht, the higher the overall cost will be. However, many companies offer discounts for longer rental periods.
Season
The time of year can also impact the cost. Peak season, usually from late spring to early autumn (May to October), can see higher prices due to increased demand. Off-season rentals, particularly in winter, maybe more affordable, though weather conditions might not be as conducive for sailing.
Inclusions
The cost of chartering a yacht or renting a boat often includes the vessel itself, fuel, and the services of a professional crew, including a captain and in some cases, a chef or a guide. It's crucial to clarify what's included in the rental cost to avoid unexpected expenses. Some companies might offer additional services or amenities, such as meals, drinks, or water sports equipment, for an extra fee.
Here's a rough breakdown of costs you might expect (as of 2023):
Motor Yacht: A private motor yacht charter for a few hours could range from 2,500 to 15,000 Turkish Lira, depending on the size and luxury level of the yacht. For day-long or overnight charters, the cost could go up to 25,000 Turkish Lira or more.
Sailboat: A sailboat rental for a few hours typically starts from around 3.750 Turkish Lira, increasing depending on the boat's size and the rental duration.
Remember, these are just estimates, and daily yacht charter prices can vary based on several factors. It's always best to reach out to several charter companies, get detailed quotes, and compare offerings before making a decision.
Also, remember to consider the cancellation policy of each company. Some may offer a full refund if you cancel by a certain date, while others may only provide a partial refund or a credit for future use.
Ultimately, your budget and preferences will guide your decision. Whether you opt for a motor yacht for a luxurious private party or a sailboat for a hands-on sailing experience, Istanbul's waters promise a memorable adventure that justifies the investment.
Making the Most of Your Yacht Charter and Boat Rental Experience in Istanbul
Chartering a yacht or renting a boat in Istanbul can unlock a unique perspective of the city that few other experiences can match. As you sail through the serene waters of the Bosphorus, the Sea of Marmara, or the Black Sea, you'll encounter breathtaking views of historical landmarks, modern architecture, and natural beauty, all from the comfort of your vessel.
To make the most of this experience, careful planning is essential. Choose the right boat that suits your needs, whether it's a luxurious motor yacht for a special celebration, a sailboat for an adventurous outing, or a high-end yacht for the ultimate in opulence. Consider the timing of your trip to take advantage of the best weather conditions, and create an itinerary that highlights the destinations and attractions you're most interested in.
Consider the cost and what's included in your charter or rental package. Ensure you understand the pricing structure and what's included, so there are no surprises. Remember, investing in a boating experience is not just about hiring a vessel; it's about creating unforgettable memories.
The charm of Istanbul is not just confined to its bustling streets and grand landmarks. A great deal of its allure lies in its enchanting waters, waiting to be explored. So, as you embark on your boating adventure, remember to relax, enjoy the journey, and let the beauty of Istanbul unfold before your eyes.
FAQs
What are the best times of year to charter a yacht in Istanbul?
The ideal time to charter a yacht in Istanbul is between late spring and early autumn, specifically from May through October. During this period, the weather is generally warm and pleasant, the sea is calm, and the wind conditions are favorable for sailing.
What types of yachts are available for charter in Istanbul?
In Istanbul, you can find various types of yachts for charter, including sailboats, motor yachts, and luxury yachts. Motor yachts are popular for their speed and luxury, while luxury yachts offer an unparalleled opulent experience with high-end amenities.
Can I rent a boat in Istanbul without a boating license?
Yes, it's possible to rent a boat in Istanbul without a boating license. Most boat rental companies provide the services of a professional skipper to navigate the yacht. However, it's always advisable to check with the viravira.co listing page for the details.
What are the costs associated with yacht chartering and boat rental in Istanbul?
The costs associated with yacht chartering and boat rental in Istanbul depend on various factors like the type and size of the vessel, the duration of rental, and the season. The cost usually includes the vessel, fuel, and services of a professional crew. Additional services or amenities might be available for an extra fee.
What attractions can I see when chartering a yacht or renting a boat in Istanbul?
When chartering a yacht or renting a boat in Istanbul, you can see attractions such as the historic Rumeli Fortress, the Dolmabahçe and Çırağan Palaces, the Bosphorus Bridge, and the Princes' Islands, among others.
What are the potential routes and itineraries for yacht chartering in Istanbul?
Potential routes and itineraries for yacht chartering in Istanbul include the classic Bosphorus Cruise, an excursion around the Princes' Islands, or an adventure into the Black Sea, passing by the towns of Sile and Agva.
What services are typically included in a yacht charter or boat rental package in Istanbul?
Typically, a yacht charter or boat rental package in Istanbul includes the boat, fuel, and services of a professional crew. Additional services like meals, drinks, or water sports equipment might be available for an extra fee.