Introduction
A harmony of blue and green with stunning turquoise waters and lush forests, Gocek is one of the top locations for a sailing holiday. This truly unique and beautiful corner of the earth is home to countless tranquil coves that are only accessible by sea. Below we have listed some of our favorites that you absolutely must stop by on your Gocek sailing holiday.
The Gocek sailing route is renowned for its stunning coves and bays, which offer crystal-clear waters, unspoiled nature, and a chance to escape from the crowds and enjoy the beauty of the Mediterranean coast. Here are five must-see coves on the Gocek sailing route:
Sarsala Cove: Located on the western side of the Gocek Bay, Sarsala Cove is a secluded spot surrounded by pine forests and rugged cliffs. The cove offers a serene and peaceful environment, and visitors can enjoy swimming, sunbathing, or relaxing in the shade of the trees.
Ayten Cove: Ayten Cove is another secluded spot located on the eastern side of the Gocek Bay. This cove is accessible only by boat, and its unspoiled natural beauty makes it a perfect spot for swimming, snorkeling, or simply enjoying the peaceful surroundings.
Domuz Island: Domuz Island is a small island located near the entrance of the Gocek Bay. This island is a popular spot for day trips, offering clear waters, sandy beaches, and stunning views of the surrounding coastline. Visitors can also explore the island's ancient ruins, which date back to the Lycian period.
Kille Cove: Kille Cove is a picturesque spot located on the southern side of the Gocek Bay. This cove boasts crystal-clear waters, colorful fish, and stunning views of the surrounding mountains. Visitors can swim, snorkel, or sunbathe on the sandy beach, or explore the nearby walking trails.
Hammam Cove: Hammam Cove is located on the northern side of the Gocek Bay, and it is named after the ancient Roman baths that can be found in the area. The cove offers a sheltered spot surrounded by pine forests, and visitors can swim in the clear waters or explore the nearby hiking trails.
Overall, these five must-see coves on the Gocek sailing route offer a perfect blend of natural beauty, serenity, and adventure, making them a favorite destination for yachting enthusiasts from around the world.
1. Sarsala Cove
One of the first places you should visit on a route in Gocek is without a doubt Sarsala Cove. When you anchor in this beautiful spot you won't be able to resist taking an immediate dip in the glittering waters. The sea here is dazzlingly clear and turquoise! You can explore the region further by following the paths in the rocky areas around Sarsala Beach. Take note that the beach has an entrance fee that you will need to pay in cash. Here you will also find a historical Customs Warehouse surrounded by pines and other coniferous trees. Enjoy the calm beach and also the range of water sports activities.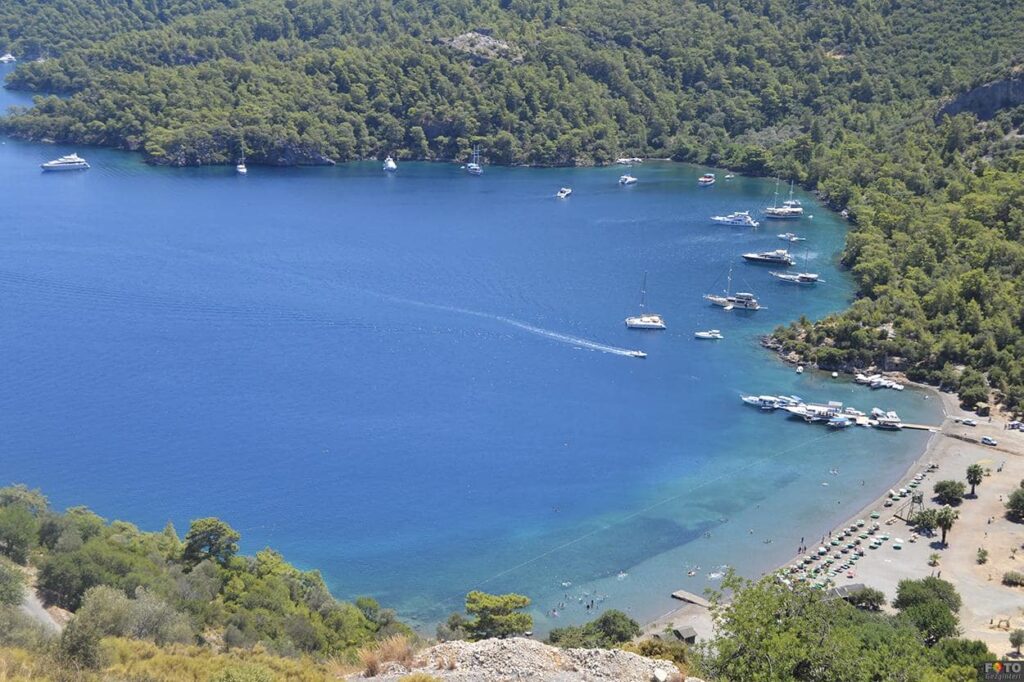 2. Ayten Cove
Another natural wonder you need to add to your route during your Gocek sailing holiday is Ayten Cove. This is truly an untouched beauty, with nature that has been preserved perfectly thanks to a lack of any facilities. Here you can really indulge in the sights and sounds of nature. Remember to take some photos of this lush and heavily forested paradise!
3. Domuz Island
Taking its name from the wild boars that reside in the hills of this island, Domuz (Pig) Island is also home to many historical ruins. In fact, yachts will only be able to approach this island from a small mooring area north of this cove due to a variety of historical ruins that lie in the shallow waters. There are many different coves to explore and make sure to snorkel in these waters to explore the underwater life. Don't skip this stop on your Gocek sailing holiday!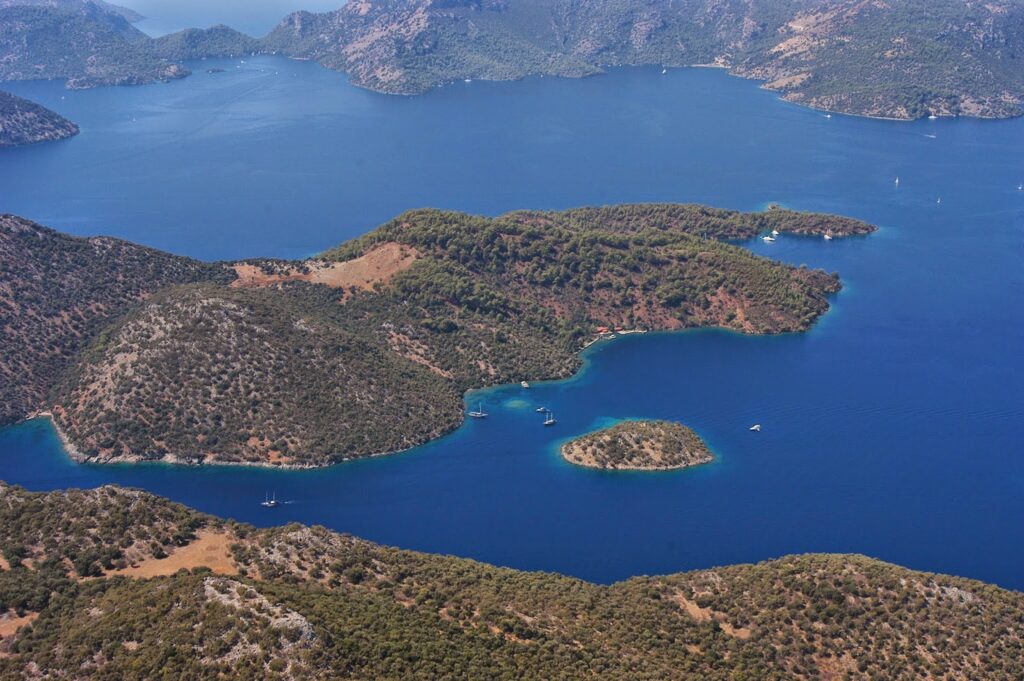 4. Kille Cove
Another must-visit cove along the way is Kille Cove. The landscape here is magnificent, with lush pine forest spread over the hills. The best area for yachts to anchor is in the southern end of the cove, and close by there are also the historical ruins of an old church that can be visited. On shore, there is also a resort that serves fresh bread to boats and has a restaurant as well. You can meet all specific needs at this facility, and can even find water sports on shore.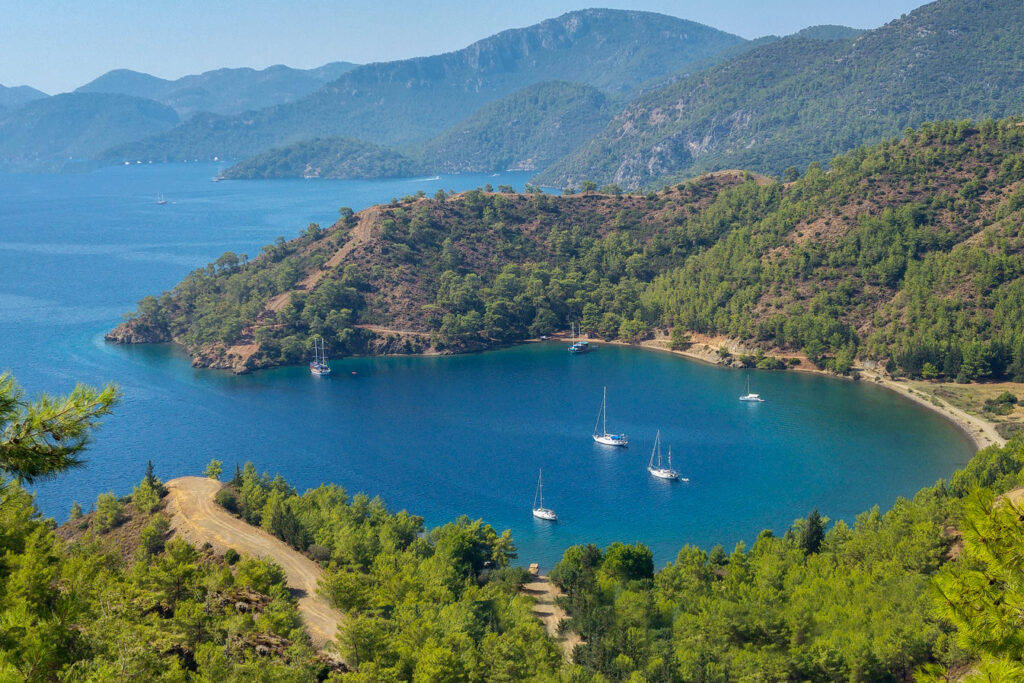 5. Hammam Cove
And finally, last but definitely not least on our list, is the wonderful Hammam Cove. This cove is visited by travelers from far and wide and loved for its glorious nature and crystal clear waters. We highly recommend that you anchor here and stay overnight. Also known as Monastery or Cleopatra Cove, this fascinating spot is home to an ancient Byzantine-era sunken bath. Make sure you don't miss this stop along your route!
If you are planning to charter a yacht for a route through Gocek this summer, we highly recommend you visit these five spots and enjoy an unforgettable holiday experience through picturesque landscapes and dazzling seas.
To plan your sailing holiday, browse our yacht charter options on viravira.co or contact us at +90 850 433 90 70.