Introduction

Sailing along the Bodrum – Gocek – Bodrum route is an unforgettable experience that showcases the beauty of the Turkish coastline. This popular sailing route offers a mix of picturesque bays, stunning beaches, and historic sites, providing the perfect combination of relaxation and exploration. Starting in Bodrum, visitors can explore the city's rich history and charming waterfront before setting sail towards the pristine waters of Gocek. Along the way, there are numerous secluded bays and beaches to anchor and relax, as well as charming coastal towns to explore. This itinerary is perfect for those looking to discover the best of Turkey's stunning Turquoise Coast by yacht.
Bodrum
The first stop of the sailing holiday that departs from Bodrum will be Knidos. A must-see on yacht vacations, Knidos is located on the tip of the Datca peninsula and is home to a myriad of stunning ancient ruins.
Knidos – Palamutbuku
Knidos is located on the tip of the Datca peninsula and is home to a myriad of stunning ancient ruins. This is a unique chance to explore the remains of an ancient city that was occupied and ruled by many different civilizations throughout history. Like an open-air museum, the ruins spanning various different historical periods can be explored on foot while taking in stunning views of the surroundings. Next up on this sailing route is Palamutbuku. Boasting shallow waters, fresh sea-air and lush green nature, this is an ideal and rejuvenating holiday spot. Enjoy long leisurely swims before heading off to Kargi Bay.
Kargi Bay – Datca
Once you reach Kargi Bay, you can have a refreshing swim in its crystal blue waters or take walks to discover the beautiful surrounding cove. Your next stop is the popular seaside town of Datca. A small harbor town located close to the ancient city of Knidos, Datca is one of the most-loved stops on sailing holiday routes. On a short walk through town visitors can wander around and admire the charming historical stone houses. This area is also a hotspot for diving and windsurfing. From Datca the route will continue to Dirsek Bay.
Dirsek Bay – Bozukkale
You can take a break for lunch and enjoy a swim in the crystal-clear waters of Dirsek Bay. Your next stop is Bozukkale – named for the historical fortress found in the port. Located near Rhodes and situated in an advantageous geographical spot, this area has been witness to much history, and visitors may find ancient remains from Loryma or Aplotheka. Then you will head towards Turunc.
Turunc – Kumlubuk – Marmaris
Known for its blue-flag certified waters, Turunc is the perfect spot to enjoy swimming. Then you will move towards Kumlubuk. You can enjoy the sunshine and swim all day in this quiet and calm bay which is perfect for those looking for a more low-key spot to anchor. Take naps or read for hours and if you wish, enjoy diving in its clear waters. Next, you will head towards the coastal town of Marmaris.
Dalyan – Ekincik
A wonderful beach stretching for kilometers, an exceptionally beautiful delta and an ancient city… What's not to love? Dalyan is a popular stop on sailing holidays.  The area is an important nature conservation area, especially for endangered loggerhead turtles (also known as Caretta Caretta) that lay their eggs in the sand here. You can then visit Ekincik during your sailing holiday with your private charter yachts, a breathtaking bay with completely unspoiled nature and beautiful waters. Nearby, find a pebbled beach that stretches about 2 kilometers, ideal for a pleasant stroll and refreshing dip. Next on the sailing route is Gocek.
Gocek Bays – Gocek
Located in a large, well-protected gulf with many islands and bays, Gocek is known for its stunning, untouched nature, and is one of the most important areas for yacht cruises and the classical sailing holidays. This route will pass by the Red Island, Delikli Islands, Olive Island and the Pig's Island, which are lined up in the west and northwest direction of the Gulf of Fethiye. The voyage will then continue by the famous Cleopatra's Bath, Bedri Rahmi Bay, Gobun Bay and the Knight Island, the last stop on the island of Fethiye. Next on the route is Yassica.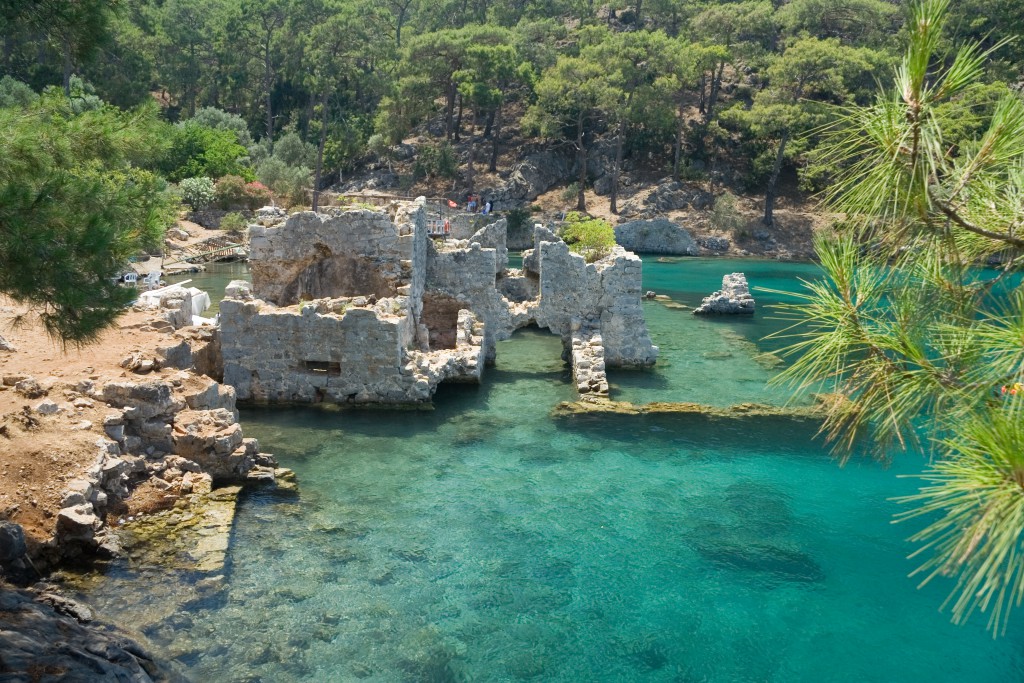 Yassica – Hammam Bay
Yassica is a group of five small beautiful islands located in the Fethiye Gulf. The islands are clustered close together, with the two closest just 12 meters apart, making the area a paradise for sea-lovers and swimmers. Visitors will be able to view the ruins of an ancient Byzantine monastery. From Yassica, this sailing route will continue on to Hammam Bay, a popular spot for yacht vacations as well as daily boat tours. After a short stop here for refreshing dips, the cruise will take off towards Tersane Bay.
Tersane Bay – Aga Harbor
Once home to a Greek village, Tersane Island was deserted back in 1923 during the population exchange between Greece and Turkey. Also known as Dockyard Island, it got its name during World War I, when the Ottoman Navy began to use it as a shipyard to construct battleships. Now, the island is home to a scattering of homes of various civilizations that have over time fallen to ruin. Visitors may wander around the scenic island, explore the ruins of abandoned homes, and snorkel in dazzlingly clear waters in search of the ruins of the ancient harbor. Since locals now herd goats here, visitors are likely to spot the animals climbing the trees and rocks ashore, as well as hear them clearly over the water! The next stop on the route is Aga Port. After a short swimming break here, the route will continue towards Kadirga.
Kadirga – Serce Harbor – Bozburun
Secluded, remote and stunning, Kadirga Bay is sheltered against the wind and boasts immaculate nature and dazzlingly clear waters. Enjoy leisurely swims here before taking off towards Serce Harbour. A popular and highly frequented spot, Serce has an amazingly sheltered harbor and pristine clear waters. From here the route will continue on to Bozburun, a charming and picturesque port town that is famous for its shipbuilding industry and lovely fish restaurants.
Selimiye Bay – Orhaniye
The Bay of Orhaniye, also known as Kecibuku, is located on the Gulf of Hisaronu. Surrounded by stunning green mountains, the bay is superbly protected, giving it tranquil and still waters that make it perfect for water sports. The most famous part of this bay is no doubt its red sandy road which gives the feeling of walking on the sea. This road was created by a little river that carries sand and grit from the mountains towards the sea. The next destination is Selimiye, which is well known for its local fish restaurants. Following a delicious meal in Selimiye, the route will continue to Bencik Bay.
Bencik – Ciftlik
Bencik is an idyllic protected bay with a narrow and long entrance, and many further bays on its east and west, making it the ideal place to stop overnight. Surrounded by pine trees on all sides, this bay provides a real escape to nature, and visitors can enjoy downtime on deck with a favorite book, dips in clear turquoise waters as well as watersports. Ciftlik Bay is a tranquil haven famous for its long sandy beach and blue-green waters. From here the sailing route will continue to Inceburun.
Inceburun
Inceburun, with its deep blue waters, is the perfect spot to anchor and cool off in the scorching summer heat. After a refreshing dip here, the sailing route will continue towards Knidos.
Knidos – Bodrum
A must-see on sailing holidays, Knidos is located on the tip of the Datca peninsula and is home to a myriad of stunning ancient ruins. You have the second chance to explore the remains of this ancient city that was occupied and ruled by many different civilizations throughout history. Next, the yacht vacation will come to an end in Bodrum.