Introduction
Fethiye, located on the southwestern coast of Turkey, is a popular tourist destination known for its stunning coastline and crystal-clear waters. With a plethora of beautiful coves and beaches to choose from, it can be overwhelming for visitors to decide which ones to visit during their stay.
Fortunately, we have compiled a list of the most beautiful coves and beaches in Fethiye to help you plan your itinerary. From secluded hidden gems to lively beaches with plenty of amenities, there is something for everyone.
Whether you're looking to sunbathe, swim, snorkel, or simply relax with a good book, these beaches and coves will not disappoint. So pack your sunscreen and towel, and get ready to explore the natural beauty of Fethiye's coastline.
Fethiye is a very popular destination for both domestic and international tourists with its unique and breathtaking nature that never ceases to amaze visitors. This wonderful spot is home to a remarkably clear turquoise sea and hosts a multitude of visitors each year due to its popular known coves. What's more, Fethiye also boasts many untouched and hidden coves which are only reachable by boat. Below, we listed all these stunning coves that you need to add to your route during your sailing holiday.
Gemile Cove (Gemile Island)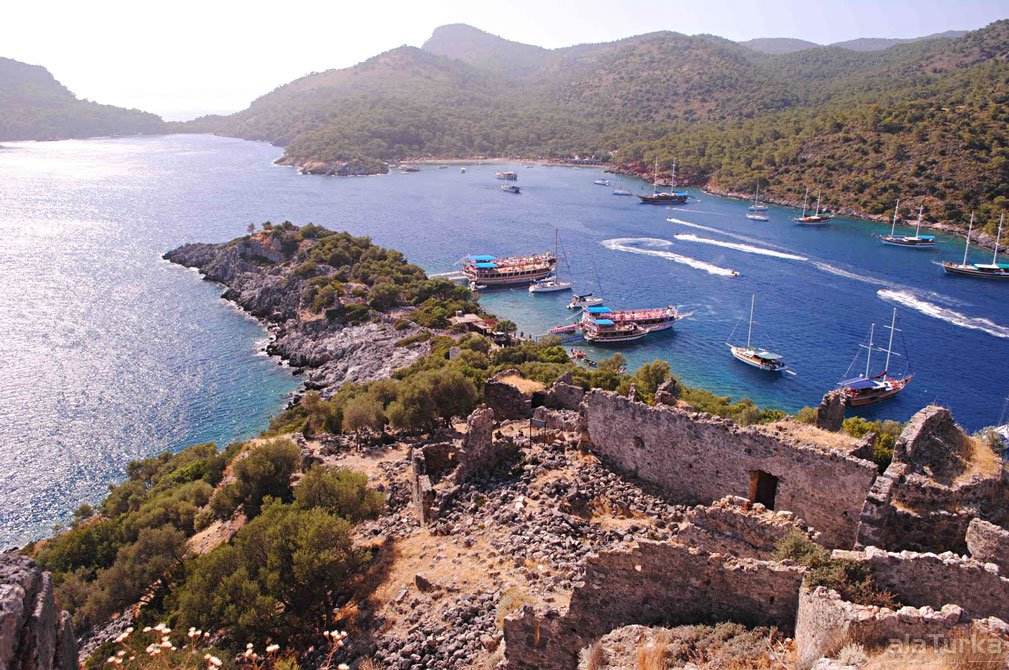 The stunning scenery of the Gemile Cove covered with olive and pine trees, is not only a draw for boats but also many other vacationers during the summer season who pass through the Fethiye – Hisaronu – Kayakoy route. There is no land route to this cove, which has resulted in a wonderfully protected pristine environment. Gemile Island is a 1st Degree Natural Protected Area, and due to the earthquakes which occurred during the years 240-241 B.C., the area is home to many artifacts that rest under the water. These artifacts can be found approximately 2 meters deep under the sea, and visitors may scuba dive or go snorkeling in order to view the magical historical remains.
Kabak Cove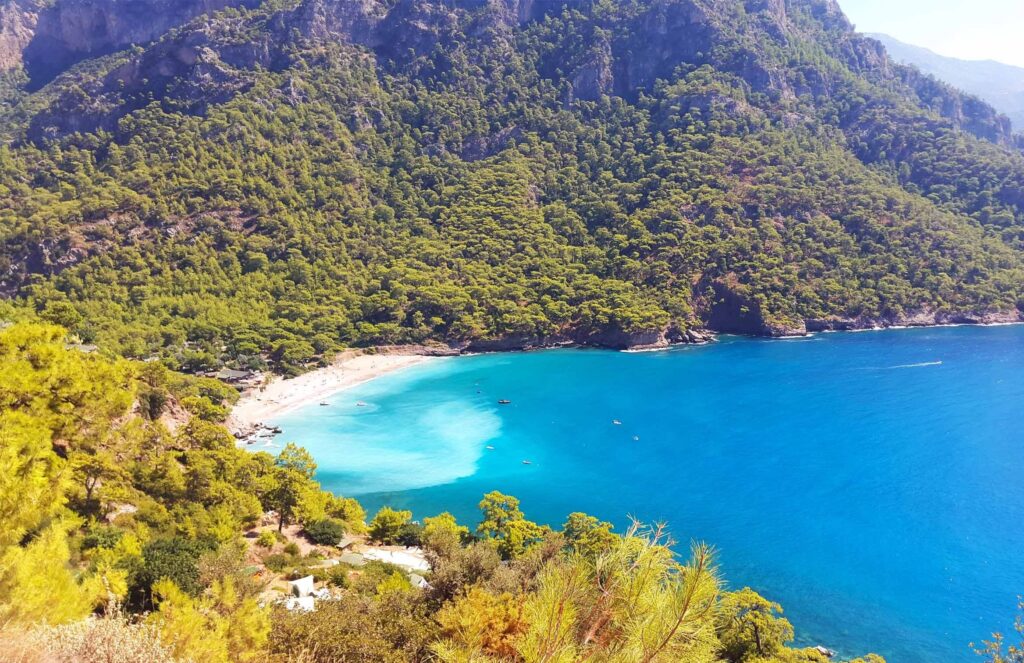 Kabak Cove, which is located right next to Butterfly Valley, is classed as an unspoiled spot due to it being a difficult place to reach from both sea and by land. This splendid cove is surrounded by high cliffs, rivers and the sea. Kabak Cove boasts immaculate waters and a lush surrounding environment. You can find plenty of activities to do when visiting the cove such as walking on the Lycian Road with the company of indigenous trees to the Aladere Waterfalls, visiting the famous Blue Cave, and swimming or relaxing while watching the sunset on the beach.
Kidrak Cove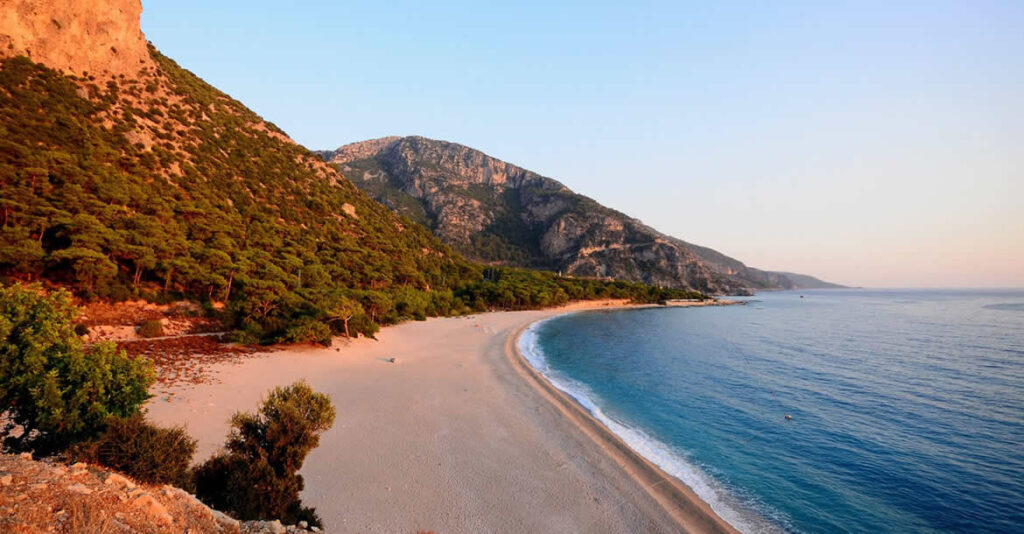 Kidrak Cove is located about 4 kilometers away from Oludeniz. It is an ideal cove for those looking for some peace and quiet, as the spot is much calmer in relation to the other coves and beaches of Fethiye. Here, visitors can truly indulge in nature, enjoy the pristinely blue sea, and unwind under the shade of lush trees.
Butterfly Valley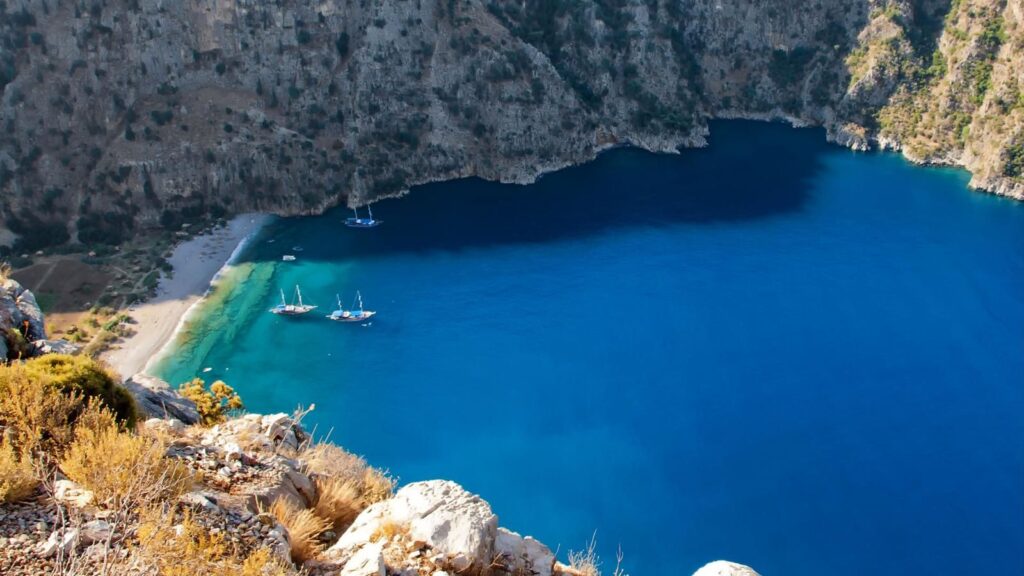 Butterfly Valley is a globally known location that has been declared a 1st Degree Natural World Heritage Site. The natural beauty of the valley is known far and wide among domestic and foreign tourists. Considering the valley's world heritage status, planning permission for this cove is not permitted. Butterfly Valley is home to 80 different kinds of butterflies and is perfect for people who desire to have a quiet holiday to just be around nature. With its magnificent view and clear sea, Butterfly Valley offers a magnificent time for visitors.
Katranci Cove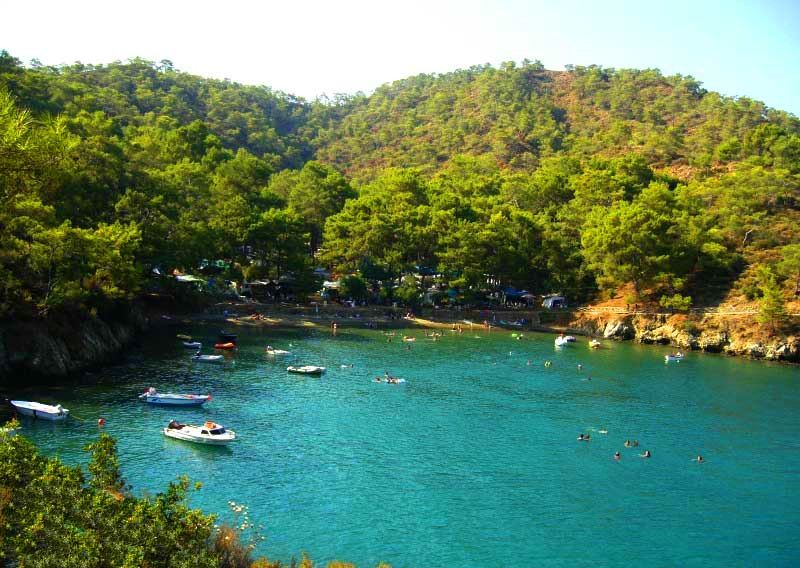 With its pine and eucalyptus trees that line the coast, Katranci Cove is one of the most barren and quiet coves in Fethiye. The cove is located 17 km away from Fethiye and boasts a very mild climate with very low humidity. Katranci is home to two separate coves, the first of which is totally empty after a certain hour. The second cove is open for campers and caravans.
To set out on a sailing holiday in Fethiye with your beloved ones and to choose among gulet, motor yacht, sailboat and catamaran rental options, you may visit viravira.co or contact our experienced holiday experts on +90 850 433 9 070.