Introduction
The Fethiye-Gocek-Fethiye sailing route in Turkey is a popular itinerary that offers a perfect blend of natural beauty, rich history, and exciting adventures. The route covers some of the most picturesque and fascinating destinations in the region, such as Ölüdeniz, Cleopatra's Bath, Yassiada Island, Tersane Island, and Bedri Rahmi Bay.


Ölüdeniz is a stunning lagoon located on the south-west coast of Turkey, renowned for its crystal-clear waters and beautiful sandy beaches. Cleopatra's Bath, also known as Hamam Bay, is a secluded cove with warm and shallow water, perfect for swimming and snorkeling. Yassiada Island is a small, uninhabited island with ancient ruins and crystal-clear water. Tersane Island is another popular stop on the route, known for its tranquil coves and stunning views. Bedri Rahmi Bay, named after the famous Turkish artist, is a beautiful bay surrounded by pine trees and crystal-clear water.
The Fethiye-Gocek-Fethiye sailing route is ideal for those looking for an unforgettable yachting experience. The route offers a unique blend of turquoise waters, stunning landscapes, and historical sites. Whether you are a first-time sailor or an experienced yachtsman, this itinerary is sure to provide an unforgettable adventure.
Ölüdeniz – Gemiler Island
The first stop of a sailing route that departs from Fethiye will be Oludeniz. Here, you may swim in the tranquil waters and enjoy a delicious breakfast to a backdrop of stunning views of nature. Towering above this beautiful bay is Babadagi, known in English as Father Mountain, and this is reputedly the best spot in Europe for paragliding. Soar high over the mountainside and enjoy breathtaking views of the Oludeniz lagoon. The next stop will be Gemiler Island, a highlight of the local coast with a fascinating history. Here you'll have a chance to explore the ancient ruins of a Byzantine settlement and return to the boat to relax and take a dip. The sailing route will then continue on to Hammam Bay.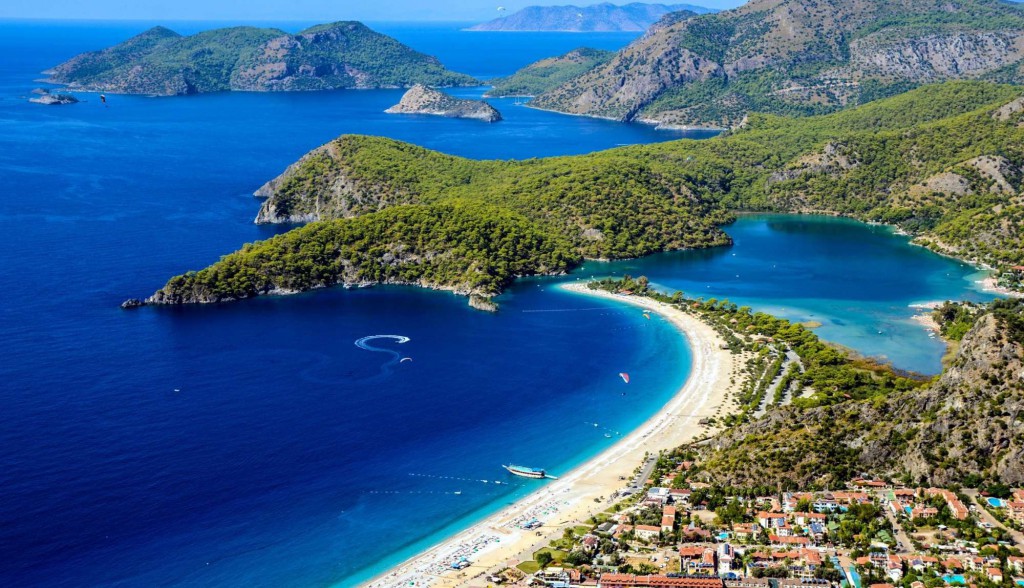 Cleopatra's Bath
One of the ultimate favorite stops of yacht vacation routes in the area, Cleopatra's Bath is the stuff of dreams, with crystal clear waters and golden sandy beaches in a lush green setting, and what's more, the location comes with a mesmerizing story. Legend has it that Marc Anthony built a Roman Bath here for his queen Cleopatra as a wedding gift. According to the tale, the golden sands were imported from Egypt and the spot was chosen for the natural thermal springs. Cleopatra is said to have visited on her honeymoon with Marc Anthony, in around 40 B.C. The sea here is supposedly rich in minerals that benefit the skin, and visitors may bathe in the remarkable waters just as Cleopatra might have, over 2000 years ago. After anchoring nearby, visitors may explore the island and the ancient ruins, as well as the sunken ruins of the hammam. Next, the yacht will depart to Yassica Islands.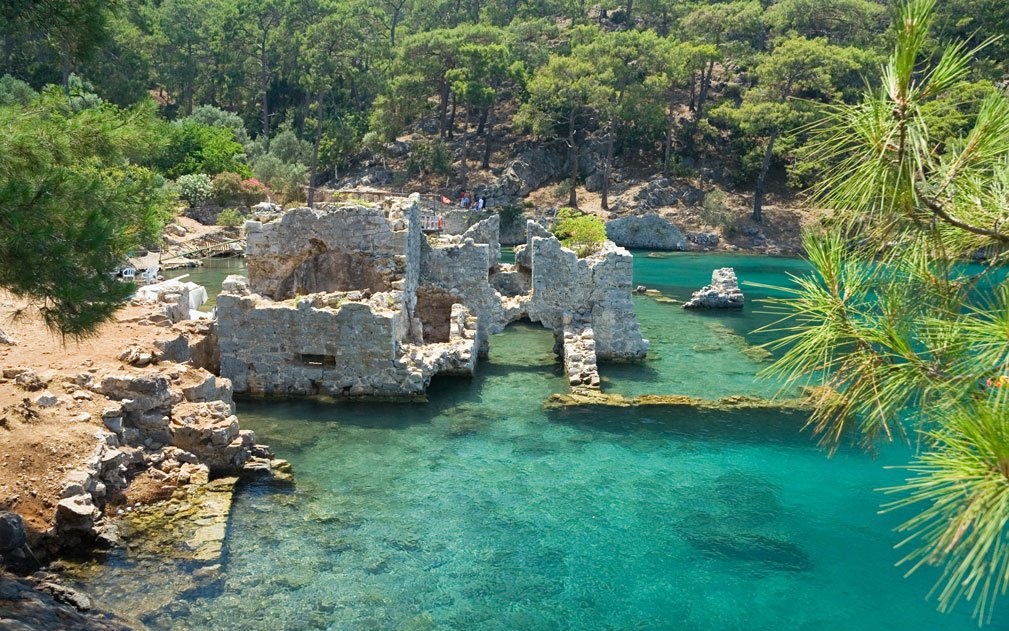 Yassica Islands
Frequented by blue voyagers and daily excursion boats, Yassica Islands are a group of mesmerizing islets that are separated from one another by narrow passages – making them the perfect destination for keen swimmers! You can have a go at various water sports activities, take walks in the surrounding pine forests and enjoy the magnificent sea and nature. If you wish, you can spend the night in Yassica Islands. Then you set sail for Tersane Bay.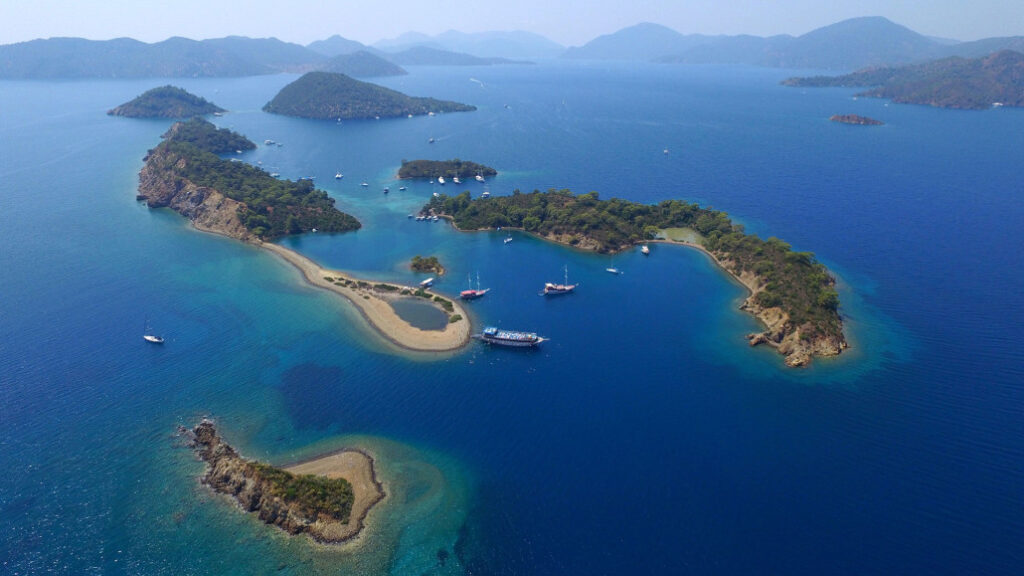 Tersane Island
Once a Greek village, this picturesque island was deserted back in 1923 during the population exchange between Greece and Turkey. Also known as Dockyard Island, it got its name during World War I when the Ottoman Navy began to use it as a shipyard to construct battleships. Now, the island is home to scattering of homes of various civilizations that have over time fallen to ruin. Visitors may wander around the scenic island, explore the ruins of abandoned homes, and snorkel in dazzlingly clear waters in search of the ruins of the ancient harbor. The waters are crystal clear and shallow, perfect for families! After Tersane Island, this sailing route will head off towards Bedri Rahmi Bay.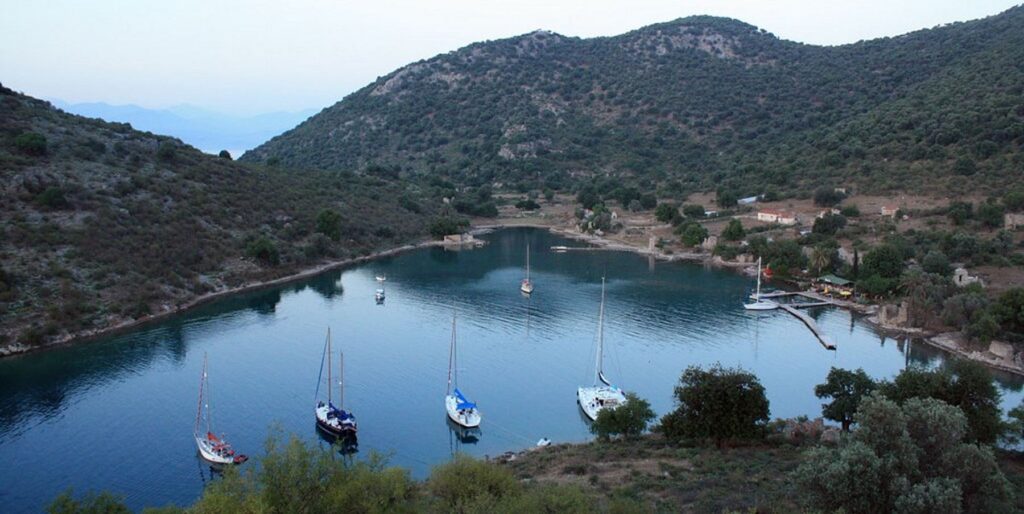 Bedri Rahmi Bay
Bedri Rahmi Bay, a secluded, protected and silent bay that was named after a great Turkish writer and painter – Bedri Rahmi Eyuboglu. It is said that the painter and his friends were the first blue voyagers to discover this remarkable spot on the Lycian coast and on one of his cruises here in the 1970's, Bedri Rahmi left his mark with the painting of a fish on one of the large boulders onshore. This spot is perfect for swims in the calmest of waters and explorations of Lycian rock tombs hidden among the olive trees. Then you set sail for Fethiye to end your yacht vacation.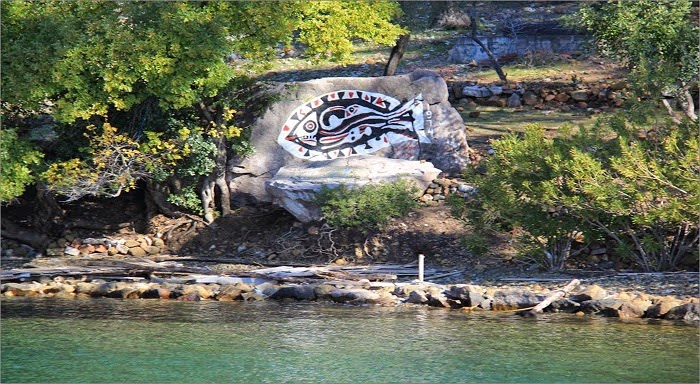 Fethiye
The final stop of your sailing route is Fethiye. With its postcard-worthy backdrop of golden sands, forested mountains, and miles of the azure sea, it's no surprise that Fethiye is among the most-visited cruise ports on Turkey's Turquoise Coast. The town itself is equally attractive, with leafy seafront promenades, lively bazaars, and ancient ruins. Take time to visit the bazaar which is located only ten minutes away from the marina, see the Lycian tombs carved into rocks on which the city stands and visit the ancient theater.