Chartering a yacht is a luxurious and exciting way to explore the world's most beautiful waters. While dining out at local restaurants is certainly an option, cooking onboard your yacht offers many benefits, including cost savings and the ability to tailor meals to your preferences. In this article, we will explore everything you need to know about cooking onboard your charter yacht, from choosing the right yacht to meal planning, cooking tips, and troubleshooting common issues. So, let's set sail and discover the joys of culinary adventure on the open seas!
During the classic sailing holiday, you will spend most of your time at sea with short pitstops ashore to explore quaint little towns and villages, golden sandy beaches, cultural sites and archeological ruins. Thus, one of the most important things to plan for is meals on board. Dining on a yacht is one of the most enjoyable parts of the trip, from nutritious breakfasts against stunning views, energizing lunches after long days in the sun and delicious dinners with the freshest seafood and local dishes. Before you set sail, it is essential to plan adequately for a week of meals onboard.
Meals on board are no doubt one of the best parts of a sailing holiday and are crucial for revitalizing and stocking up on energy after long and active days in the sun and the sea. If you charter a yacht in the summertime when planning your food supply list you should opt for plenty of fresh and local ingredients, vegetables, fruits and seafood! The first step is preparing the provision list.
Who will be responsible for cooking? Guests or crew?
First and foremost, you should decide who will be responsible for cooking. This can be taken care of on the part of the captain and the crew, but you can also decide to be responsible for meals yourself. On gulet or motoryacht charter options, generally the staff prepares and serves meals for the travelers, while on sailboats and catamaran charter options travelers take care of food themselves.
Meal planning and menus are another important points to take into consideration. If you do a crewed yacht charter, the crew can do all of the cooking and also set the menu for you. You can pay a certain fee per person to have this all taken care of and you will simply lay back, relax, and enjoy your trip with no thought for planning. If you'd prefer to be more involved, you can decide on what you want to eat along with the group you are traveling with and prepare a shopping list accordingly. It is advisable to consult with the crew on the necessary quantities of each item.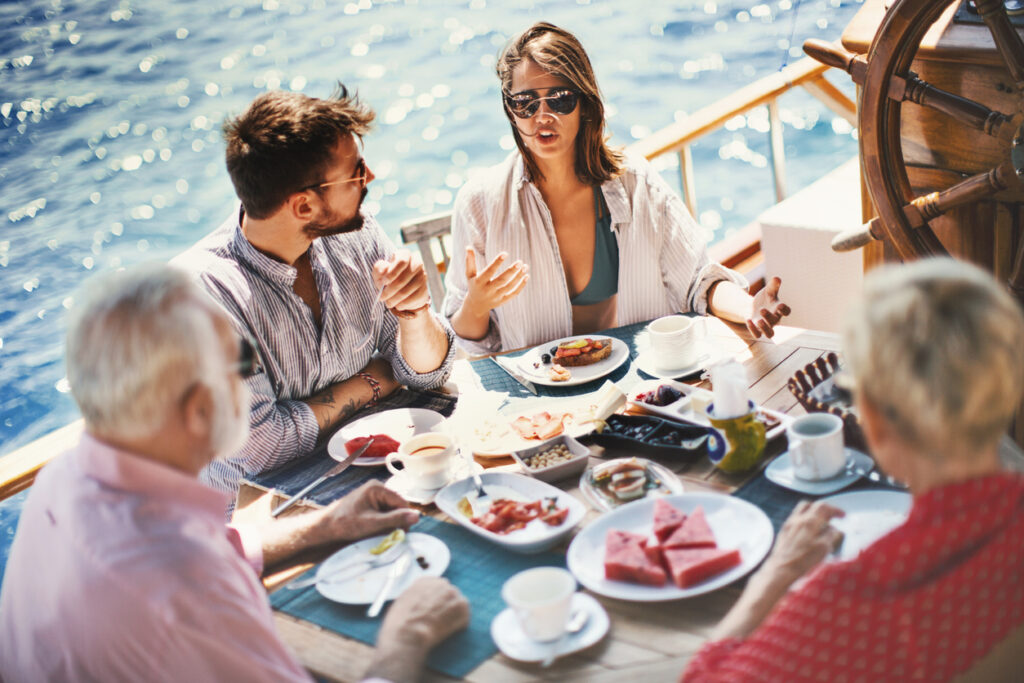 Prepare your provision list
Thoughtful planning before the shopping is done is essential, as much of your sailing holiday will be spent at sea, far from shore where important supplies can be found. If it's your first time on a yacht vacation it would be wise to consult the captain and crew on what needs to be bought ahead of time. If you're an experienced sailor and blue voyager however, go ahead and plan your list with your group!
You may choose to do the shopping yourself, or request that the crew do it for you.
Lastly, you will need to discuss who will be responsible for the provisions. You can do the shopping before you arrive or you can also ask the captain and crew to do this before and have everything prepared for you to set sail immediately. Once your list is ready, the crew onboard will be happy to do the necessary shopping for your sailing holiday. To save on precious time, we recommend you prepare your list early and ask the crew to get everything ready by the time you arrive. This way you can pay at arrival, set sail right away and begin your holiday immediately!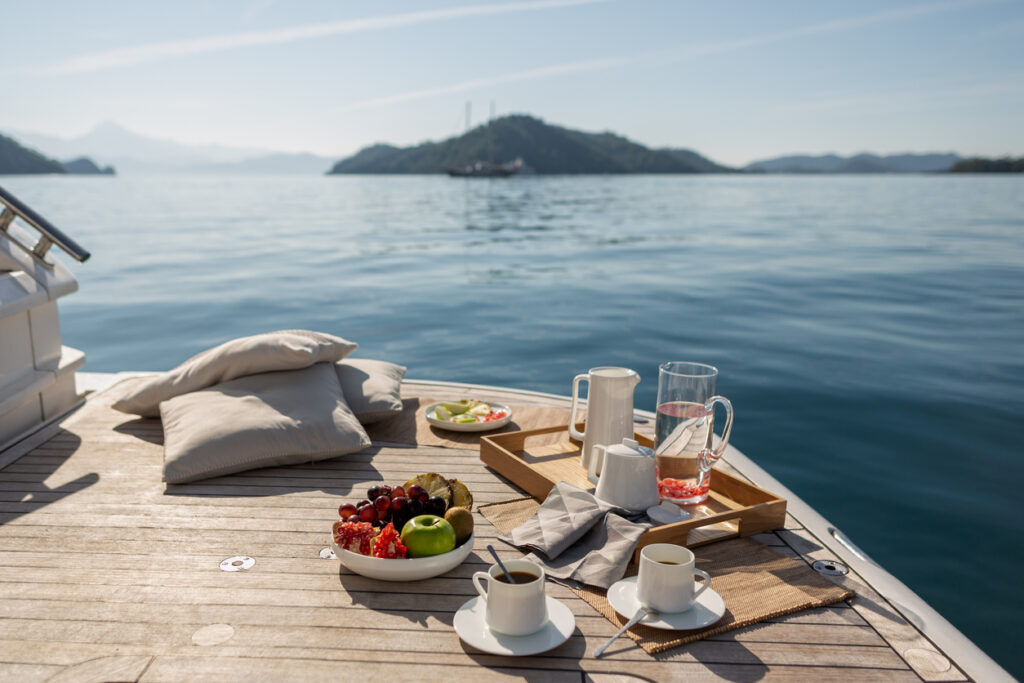 For ultimate relaxation, leave the menu and all food preparation up to the crew with crewed yacht charter. Each meal, from impressive breakfast spreads to filling lunches, fresh and tasty snacks and delicious dinners will be prepared and set out for you by the staff. This is generally preferred on gulet and motoryacht charter options while on catamaran and sailboat charter options, guests often take care of the cooking themselves. If you rent a sailboat or catamaran, doing most of the sailing yourself but still want some assistance with food, you may pay an additional fee for a host. This fee would range somewhere between 150 to 200 Euros a day.
FAQs
What should I consider when choosing a yacht for cooking?
When selecting a yacht for cooking, consider the size of the galley, the appliances available, and the storage space for food and utensils. Also, consider the number of guests you plan to have onboard and their dining preferences.
How do I know what provisions to buy?
To determine what provisions to buy, plan out your meals and make a list of necessary ingredients. Consider the dietary preferences of your guests, the duration of your trip, and the storage space available onboard.
What should I do if I have dietary restrictions?
If you or your guests have dietary restrictions, plan your meals accordingly and be sure to communicate any allergies or intolerances to your provisioning service. You can also bring along specialty items from home to ensure that your dietary needs are met.
How can I make the most of my limited kitchen space?
To maximize your kitchen space, invest in compact, multi-functional kitchen appliances, and utilize stackable storage containers. Simplify your meal prep by planning meals with fewer ingredients and using one-pot recipes.
How do I keep my galley clean and organized?
Maintain a clean galley by wiping down surfaces after each use, organizing your supplies and utensils, and avoiding clutter. Use biodegradable cleaning products to minimize the environmental impact and keep a regular cleaning schedule to prevent dirt and grime buildup.