Introduction
The Gocek Kas Kalkan Gocek sailing route is a popular itinerary for yachting enthusiasts seeking to explore the stunning Turkish coast. This route takes you on a journey through crystal clear waters, historic sites, and picturesque villages.
The trip typically starts from the beautiful town of Gocek, which is located just 25 km from Dalaman International Airport. From here, you can set sail towards the west and explore the many secluded bays and coves that line the coastline. Some of the most popular stops on this route include the Butterfly Valley, Oludeniz Beach, and the Blue Lagoon.

As you continue along the route, you'll come across the ancient city of Kekova, which is home to a sunken city that can be explored by diving or snorkeling. You can also visit the historic town of Kas, which is known for its charming cobblestone streets and Mediterranean-style architecture.
Further along the route, you'll find the town of Kalkan, which is nestled on a hillside overlooking the sea. This town is known for its quaint shops, lively cafes, and scenic views. It's also a popular spot for diving and snorkeling, thanks to the many nearby reefs and underwater caves.
Finally, the route takes you back to Gocek, where you can enjoy a final night on board your yacht before disembarking. Whether you're an experienced sailor or a first-time yachter, the Gocek Kas Kalkan Gocek sailing route offers an unforgettable experience that you'll cherish for years to come.
Oludeniz – Gemiler Island
Embarking from Gocek, the first stop of this sailing route will be Oludeniz. Here, you may swim in the tranquil waters and enjoy a delicious breakfast to a backdrop of stunning views of nature. Towering above this beautiful bay is Babadagi, known in English as Father Mountain, and this is reputedly the best spot in Europe for paragliding. Soar high over the mountainside and enjoy breathtaking views of the Oludeniz lagoon. The next stop will be Gemiler Island, a highlight of the local coast with a fascinating history. Here you'll have a chance to explore the ancient ruins of a Byzantine settlement and return to the yacht to relax and take a dip. Your sailing holiday route will then continue on to Kas, a Mediterranean port where you can head into town to dine and enjoy scenic views and local cuisine.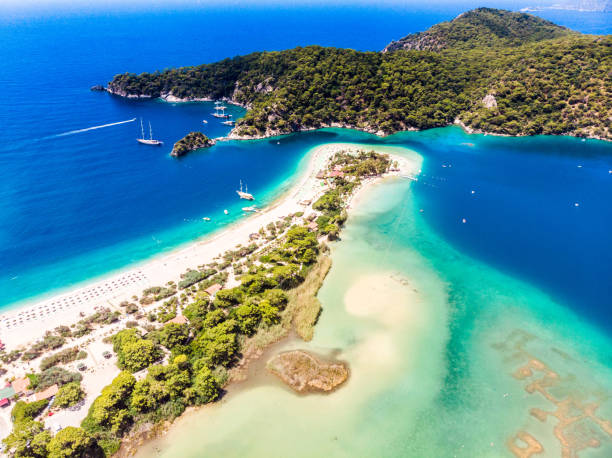 Kas
Before becoming popular among foreign and local tourists, Kas was a quaint fishing village surrounded by breath-taking scenery and nature. In Kas, you can swim in its beautiful waters, visit the Antiphellos ruins that date back to the Lycian period and try an activity that's popular with tourists in the region: paragliding. If you decide to stay the night, make sure to head into town and enjoy its vibrant nightlife. You will then head to Tersane Island.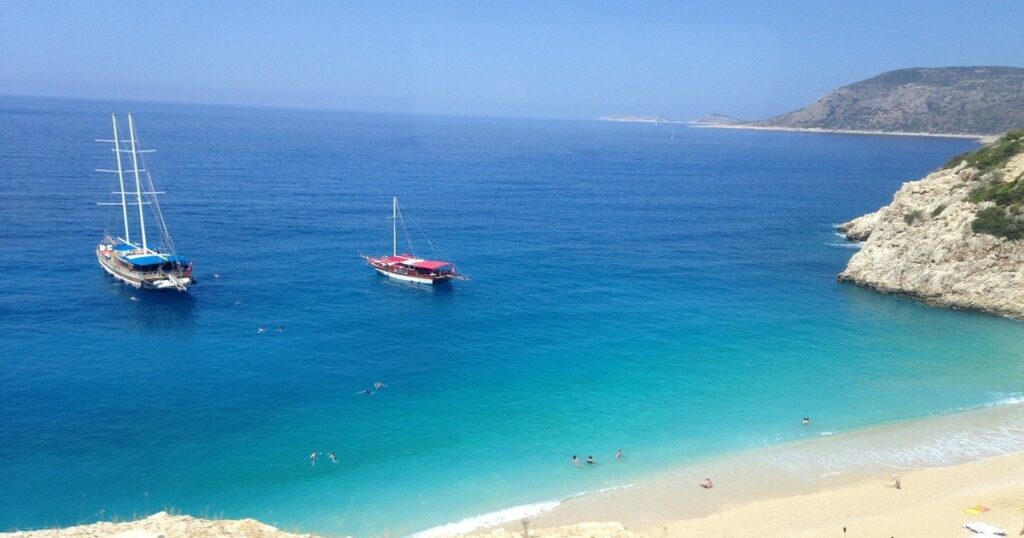 Tersane Island
From Kas, this route will next depart to Tersane Island, once a Greek village that was deserted back in 1923 during the population exchange. The village was once used by the Ottoman navy as a shipyard, thus giving its name. Today, you'll find the historic ruins of Ottoman, Byzantine, and Greek civilizations scattered across the island. Tersane Island is also surrounded by dazzlingly crystal-clear waters, perfect for a refreshing dip following explorations of the ancient ruins. After discovering this picturesque island, you'll take off next to Demre.
Demre – Kalekoy (Simena)
Named for the river Demre, this town was once known as Myra, an ancient Greek, then Roman Greek, Byzantine Greek and then Ottoman Greek town of Lycia. Here you can enjoy some of the best-preserved ruins in South Turkey, such as temples carved in the rock faces, the St. Nicholas Church, and the amphitheater. Next stop on the sailing route is Kalkan.
The charming old fishing town of Kalkan boasts picturesque views of whitewashed houses, vibrant bougainvillea and mountains of pine tree forests. Despite lots of housing in the area, much of the surrounding land remains undeveloped making this spot a truly relaxing escape. Plenty of foreign tourists live in the area, and it's also home to the ruins of three ancient Lycian cities; Xanthos, Letoon and Patara. Explore the spectacular remains of these once great historic cities, immerse yourself in the virgin natural beauty of the surroundings and top it all off with a refreshing dip in some of the cleanest waters in the country.
Turunc Pinari – Fethiye
Only accessible by sea, Turunc Pinari Bay is a popular spot for its deep and clear waters and beautiful citrus trees. You can anchor here for an afternoon to enjoy the sun and the sea before moving on to Fethiye. At the last stop of the route, explore the town in Fethiye before your trip comes to an end.