Introduction
Turkey is a popular destination for sailing enthusiasts due to its stunning coastline, crystal clear waters, and rich history that dates back centuries. Some of the most popular sailing routes in Turkey include the Aegean Coast, the Mediterranean Coast, and the Turkish Riviera. These routes offer a diverse range of experiences, from secluded bays and coves to bustling towns and cities.
The Aegean Coast is known for its calm waters and gentle winds, making it ideal for novice sailors. The Mediterranean Coast boasts stunning cliffs and beaches, as well as lively towns like Antalya and Marmaris. The Turkish Riviera, also known as the Turquoise Coast, offers a mix of scenic anchorages and historical sites, such as the ancient city of Knidos.
Turkey's popularity as a sailing destination can also be attributed to its well-equipped marinas, friendly locals, and delicious cuisine. Whether you are a seasoned sailor or a beginner, Turkey's sailing routes offer something for everyone.
Route planning is an essential part of sailing trips. For yacht vacations in the South, it is important to plan what route to follow before you set out. You will need to decide where you will travel to, and the points at which you will be able to stop and refuel as well as stock up on food. On a sailing holiday up and down the Turquoise Coast, there are countless mesmerizing spots rife with culture and history and the most stunning scenery to choose from.
When considering a sailing holiday in Turkey, the first stops that immediately come to mind are undoubtedly Bodrum, Marmaris, Fethiye, and Gocek. Bodrum sailing routes starting in and around Bodrum will take you on a journey through ancient history and beautiful landscapes. Marmaris sailing routes through Marmaris will indulge you in dramatic nature and landscapes that will provide the best escape from city life.
There is a myriad of different possible destinations and routes, and here we will share with you some of our favorite sailing routes in Turkey:
Marmaris-Hisaronu Korfezi-Marmaris
Bodrum-Ekincik-Dalyan-Bodrum
Bodrum-Marmaris-Bodrum
Bodrum-Kas (Kekova)-Bodrum
Marmaris-Kas (Kekova)-Marmaris
Antalya-Kas (Kekova)-Antalya
Fethiye-Kas (Kekova)-Fethiye
In addition to the above-mentioned routes, the Greek Islands are also one of the most popular sailing routes on the Aegean. For more information about the best times and locations, you may visit this blog post.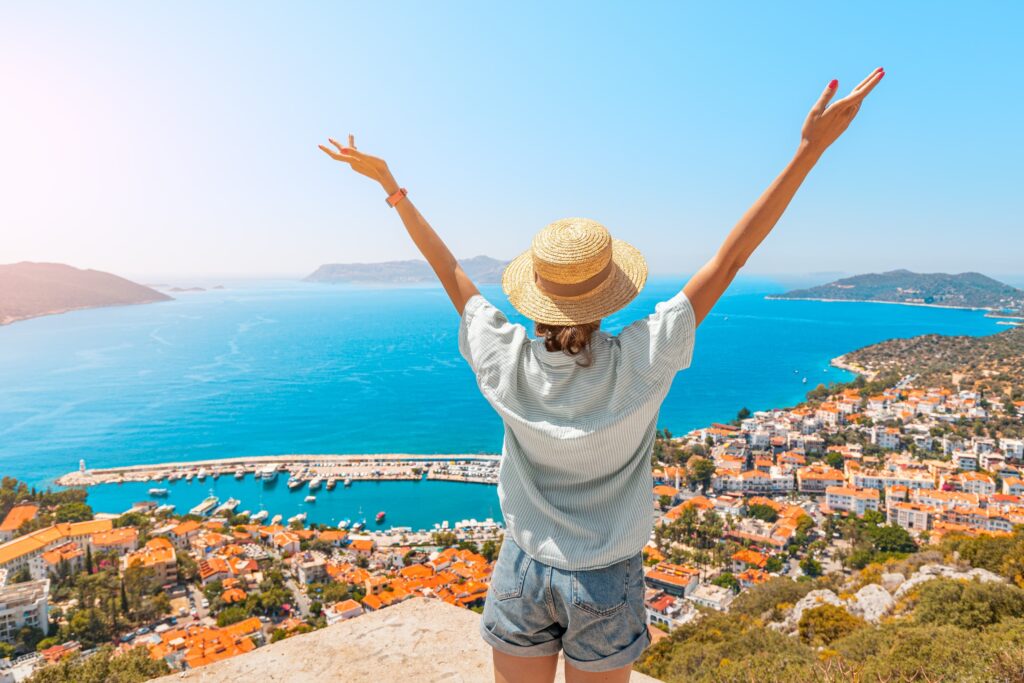 Sailing in Turkey: Practical Considerations
Renting a boat in Turkey for sailing is relatively easy, with many options available in coastal towns and cities. When renting a boat, ensure that you have the necessary qualifications and experience required for sailing in the area. It's also important to carefully inspect the boat before setting sail to ensure that it's in good working condition.
Provisioning for your sailing trip is crucial, and it's best to do so before departing. Many towns along the coast have supermarkets and markets where you can buy food and supplies. However, it's always a good idea to bring along non-perishable items like pasta, canned food, and snacks.
When sailing in Turkey, it's important to be aware of the weather conditions and the potential for strong winds, especially in the afternoon. It's also important to respect the local customs and traditions, including dress codes when visiting mosques or other religious sites.
Lastly, it's always a good idea to have a basic understanding of the Turkish language or have a phrasebook handy, as it can be useful when interacting with locals. With these practical considerations in mind, sailing in Turkey can be an unforgettable experience.
FAQs
What is the best time to sail in Turkey?
The best time to sail in Turkey is from April to October when the weather is warm and the seas are calm. During these months, you can expect sunny days with temperatures ranging from the mid-20s to the mid-30s Celsius.
Do I need a license to rent a boat in Turkey?
Yes, a license is required to rent a boat in Turkey. If you have a valid international sailing license or certification, it will be recognized in Turkey. However, if you don't have a license, you can hire a skipper to sail the boat for you.
Are there any restrictions on sailing along the Turkish coast?
While there are no major restrictions on sailing along the Turkish coast, there are some areas that are off-limits due to military activity. It's important to stay updated on any restrictions or closures before setting sail.
Is it safe to sail in Turkey?
Yes, sailing in Turkey is generally safe. However, it's important to be aware of the weather conditions, potential hazards such as rocks and shoals, and follow safe sailing practices. It's also recommended to have a VHF radio on board for emergencies.