Introduction
A yacht charter gulet, or simply a gulet, is a traditional Turkish wooden sailing vessel that has been used for centuries to transport goods along the coast of the Mediterranean and Aegean seas. These vessels have a distinctive design with a broad beam, rounded stern, and a flat bow. They are equipped with two or three masts and have large sails that make them perfect for cruising and exploring the beautiful coastlines of Turkey and neighboring countries.
The history of gulets dates back to the Ottoman era when they were mainly used for fishing and the transportation of goods. In the early 20th century, gulets started to become popular among tourists as a means of transportation and accommodation during their holidays along the coast of Turkey. Over the years, the design of gulets has evolved, and they are now equipped with modern amenities to provide a comfortable and luxurious experience for travelers.
Today, gulet yacht charters are increasingly popular among travelers who want to explore the stunning coastline of Turkey and its neighboring countries, such as Croatia, Greece, and Montenegro. Gulet charter holidays offer a unique opportunity to explore remote coves, bays, and islands while enjoying the comfort and luxury of a private yacht. With a range of gulet options available, from standard to luxury vessels, there is a gulet to suit every budget and preference.
A gulet is a type of traditional wooden sailing yacht native to Southwestern Turkey. If you have ever been to Bodrum, Marmaris, Fethiye, Gocek, or Antalya, chances are you have already seen or even been aboard one of these classic yachts. Gulets are renowned for their unusual look, and as leisure-oriented boats, they boast roomy living spaces and decks. Ideal for both relaxation and entertainment, there is a reason these yachts are so popular in the summer holidays.
What is the Etymology of the word Gulet?
The Turkish name Gulet comes from the Venetian word Gołéta, which in turn comes from the French word Gouëlette (meaning Schooner), and ultimately from the Breton word Gouelan (meaning Seagull).
How do you pronounce Turkish Gulet?
It pronounces as ɡülɛt or goo-lets. For more check out the pronunciation video.
What is the history of the Turkish Gulet?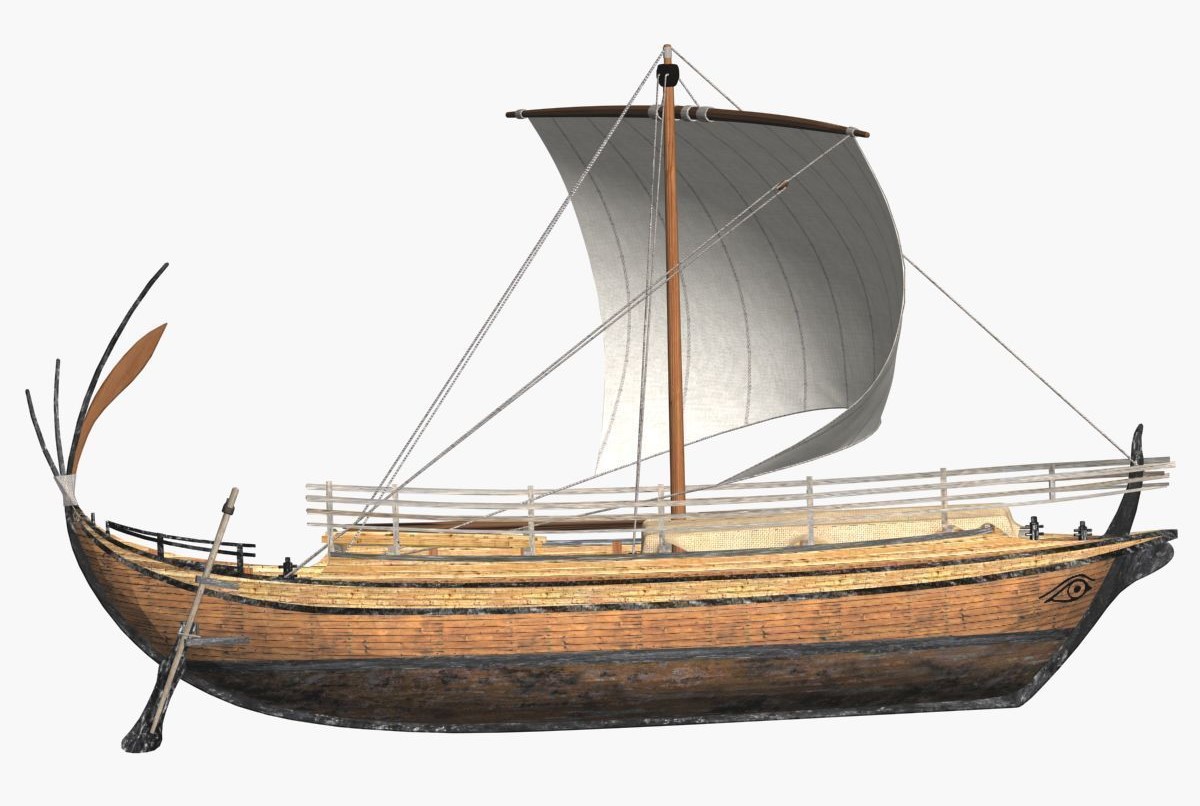 Boat construction in Southwestern Anatolia started even before antiquity. Lands surrounding the Aegean Sea were ideal for early human civilizations, and as a result, were the native habitat for boat construction in the ancient era.
The shipbuilding tradition of the region encompassed many civilizations and nations throughout history, including, but not limited to Carians, Minoans, Ionians, Lycians, Ancient Persians, Romans, Byzantines, Seljuks, Ottomans, and ultimately, the Republic of Turkey.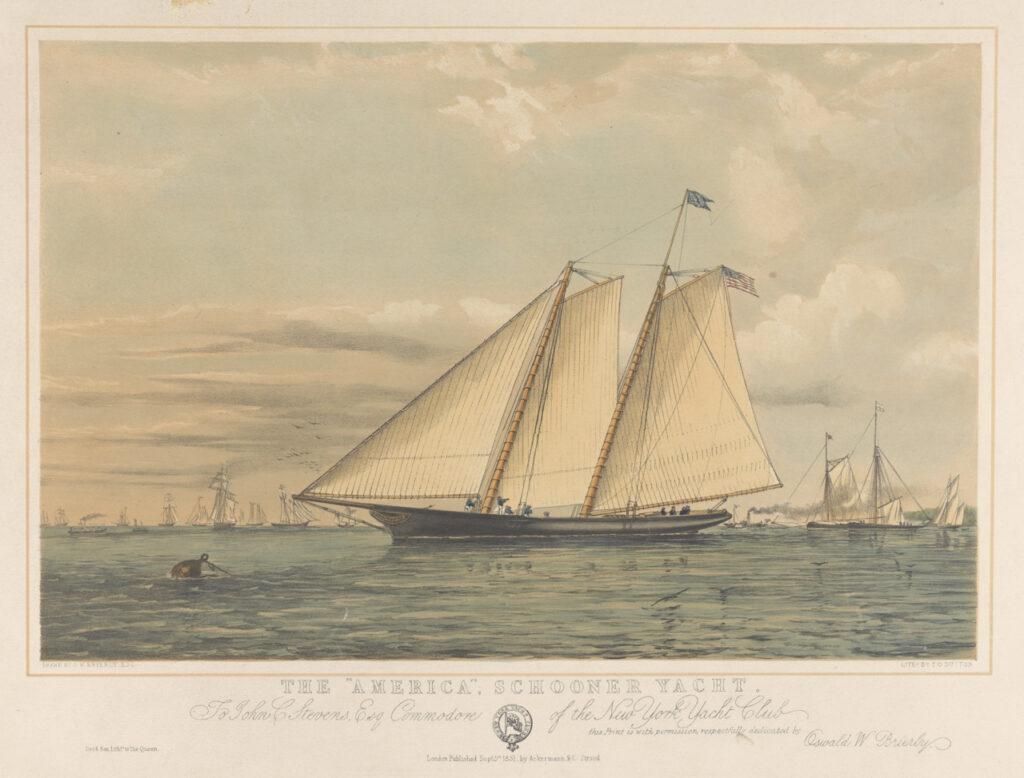 As the speedy and versatile Schooners started becoming more and more popular around the late 1800s, these types of vessels were also adopted by the Ottomans in Southwestern Anatolia. Locally they were renowned for versatility as freight, fishing, and sponge-diving boats. Over time they were modified to fit the local needs and called Gulet or Uskuna.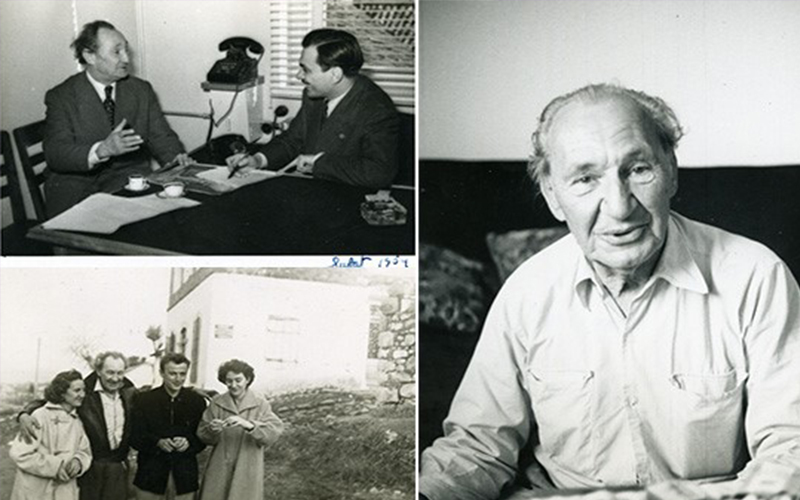 When the exiled Turkish writer Cevat Sakir Kabaagacli (also known as the Fisherman of Halicarnassus) and his friends started using gulets for yacht holidays, they started calling them "blue cruise". These blue cruises quickly became popular among the intelligentsia, and over time, throughout the world as well.
By the 1970s, gulets were mostly used as yachts, and over time their designs were modified to have even more space for leisure. As a result of the increasing demand for gulet cruises, shipyards and workshops responsible for building gulets in the region greatly increased, and by the 1980s blue cruises became significantly more affordable.
Using of Gulets Nowadays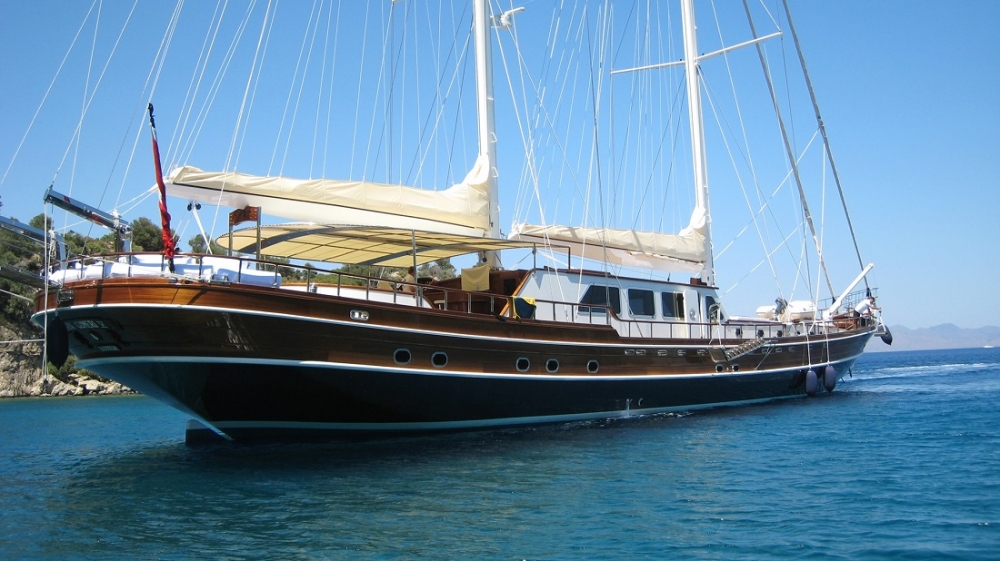 Contemporary gulets come equipped with modern engines and equipment to ensure comfortable and safe voyages and still retain their classic wooden design. The reputation of gulets, which is the ideal type of boat for summer holidays, has spread around the world since the 1970s. Today, they are not just popular in Turkey but in Greece, Croatia, Italy, and France as well. You can see these authentic yachts all over the eastern Mediterranean, whether you are in Split, Dubrovnik, Greek islands, or Bodrum.
What are the Gulet Types?
Karpuzkic
Karpuzkic gulets are the most common type. The most noticeable characteristic of Karpuzkic gulets is their rounded stern and overall oval design. These features of Karpuzkic gulets allow them to stay comfortable during bad weather.
Aynakic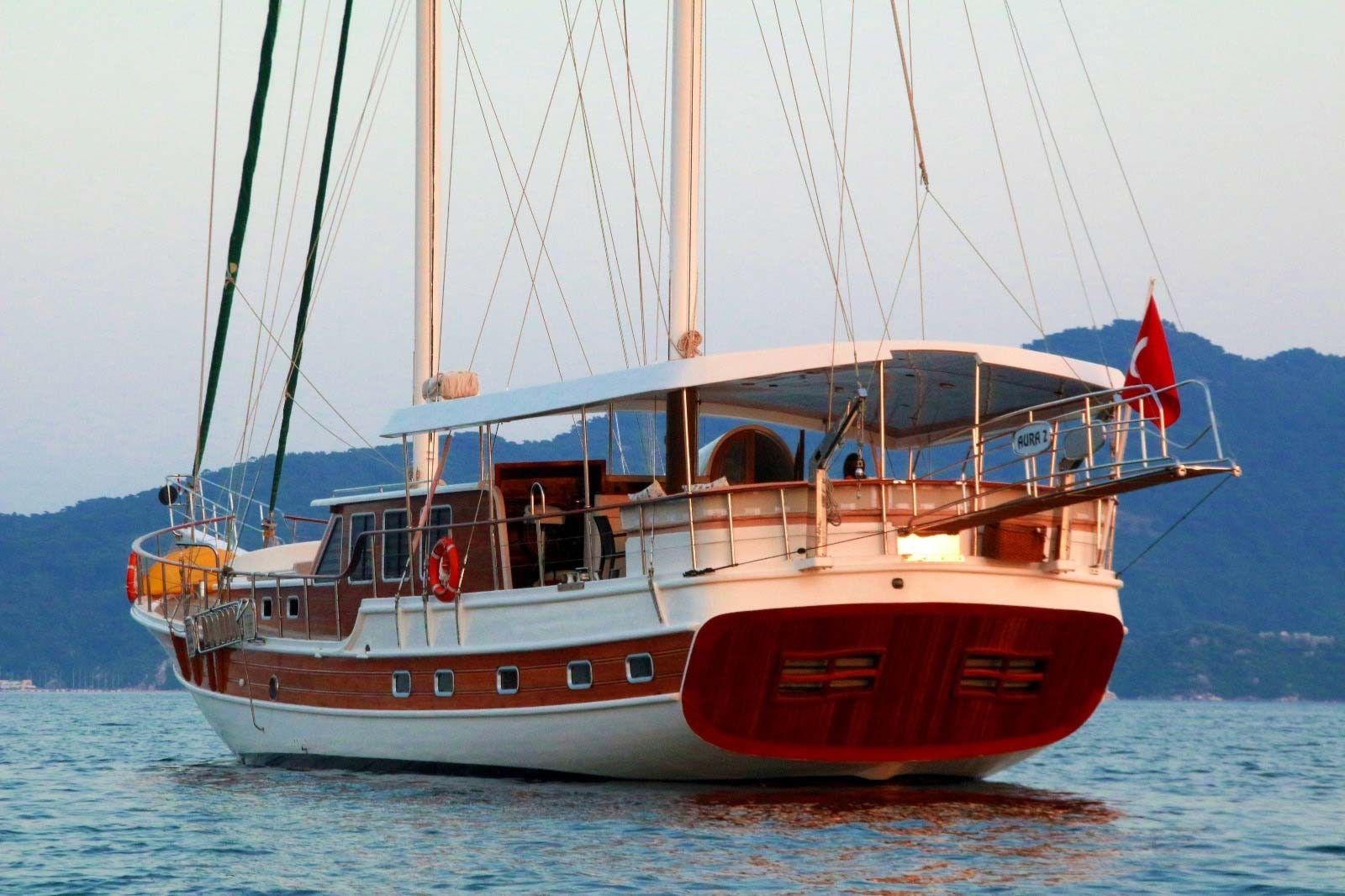 Aynakic gulets feature a design that prioritizes spacious cabin size above all else. Unlike karpuzkic, aynakic gulets have a flat stern and overall blocky design. While this causes the boat to be less seaworthy during storms and bad weather, this won't be an issue during the holiday season.
Tirhandil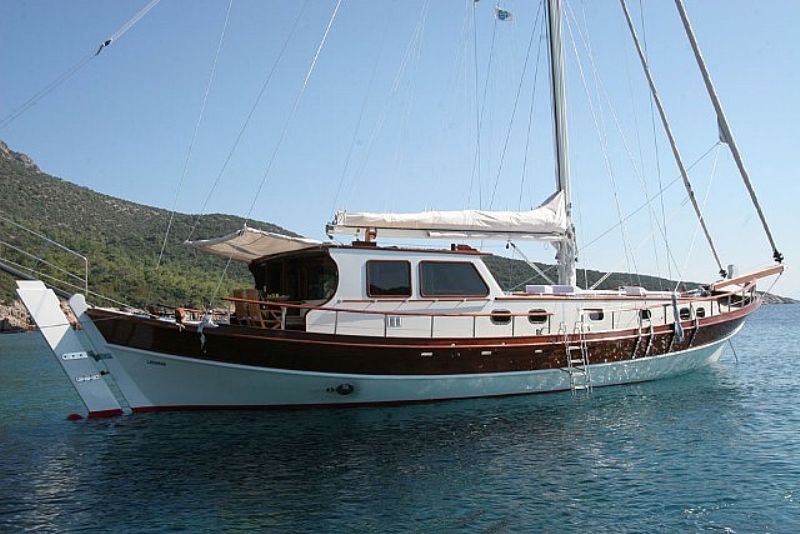 Tirhandil gulets have a form unique to the Aegean Sea. Unlike karpuzkic and aynakic gulets, tirhandils have a long and narrow stern. They represent the oldest form of gulets. Compared to other types of gulets, they're smaller and have modest-sized cabins, however, they're also more seaworthy.
How Many Meters are the Gulets?
Gulets can be two or three-masted, range in length from 12 meters (39 feet) to over 60 meters (196 feet), and tend to have generous cabin sizes. They are universally equipped with diesel engines and usually are not properly rigged for sailing.
Gulets are a type of sailing vessel that typically have two or three masts and come in a variety of sizes. The length of a gulet can range from 12 meters (39 feet) to over 60 meters (196 feet), making them a versatile option for travelers looking to explore the beautiful coastlines of the Mediterranean and Aegean seas.
While gulets are equipped with sails, they are not always rigged for sailing, as they are often powered by diesel engines. However, the sails do add to the overall aesthetic of the vessel and can be used in certain conditions.
One of the advantages of gulets is that they tend to have generous cabin sizes, which provides a comfortable and luxurious experience for travelers. The cabins are often equipped with modern amenities, such as air conditioning and en-suite bathrooms, and can accommodate couples, families, and larger groups.
Overall, gulets are a popular option for yacht charter holidays, as they offer a unique and unforgettable experience for those looking to explore the stunning coastlines of Turkey and neighboring countries.
What Material is the Gulet Made of?
Gulets (also known as motor sailors) are usually made of thick, strong, plank cuts. Most of these timber cuts come in the form of lumber or veneer board. In addition, the roofs of gulets are usually made of wood.
Gulets are typically made of thick, strong, plank cuts of timber. This timber is carefully selected for its strength and durability, as gulets are designed to withstand the rough seas and unpredictable weather conditions of the Mediterranean and Aegean seas. The timber used for gulets can come in the form of lumber or veneer board, depending on the design and style of the vessel.
In addition to the timber construction, the roofs of gulets are also typically made of wood. This provides a cohesive aesthetic for the vessel, as well as added protection from the elements. The wood used for the roofs is usually treated to resist water damage and other forms of wear and tear.
While timber is the most common material used for gulet construction, there are some modern gulets that are made from other materials, such as fiberglass or aluminum. These materials offer certain advantages over timber, such as being lighter and more durable. However, traditional wooden gulets remain popular among travelers due to their classic design and unique character.
Overall, the construction material of a gulet is an important factor to consider when choosing a yacht charter holiday. The durability and strength of the vessel are essential for a safe and comfortable journey, while the aesthetic and design add to the overall experience.
What is a Gulet Vacation?
Gulet vacation is a type of vacation at sea. Gulets are usually used as a holiday option called a blue cruise, and these cruises are organized on the Aegean and Mediterranean coasts of Turkey. Gulet holidays organized among a group of friends or families offer their guests the opportunity to swim and sunbathe in the sea during the day.
Gulet holidays can also be offered to their guests in the form of holiday packages that include meals and drinks. These holiday packages are usually offered along with accommodation, meals and drinks on the gulet during the holiday and ensure that guests are busy just relaxing and having fun during the holiday.
Popular Gulet Charter Destinations
Gulet charter is a popular form of vacationing that involves renting a traditional Turkish sailing vessel, known as a gulet, for a private cruise in the Mediterranean or Aegean seas. However, over time, the term has come to refer to similar vessels found in other destinations.
Here are some popular gulet charter destinations:
Turkey
Turkey is widely considered the birthplace of gulet charter, with the country's stunning coastline, crystal-clear waters, and charming fishing villages making it an ideal destination for a gulet cruise. Popular Turkish ports of call include Bodrum, Fethiye, and Marmaris.
Croatia
Croatia has become one of the most popular gulet charter destinations in recent years, thanks to its picturesque coastline, numerous islands, and warm Mediterranean climate. Popular Croatian ports of call include Dubrovnik, Split, and Hvar.
Greece
Greece is known for its rich history, stunning scenery, and delicious food, all of which can be enjoyed on a gulet charter. Popular Greek ports of call include Athens, Mykonos, and Santorini.
Montenegro
Montenegro's rugged coastline, secluded bays, and crystal-clear waters make it an up-and-coming destination for gulet charters. Popular Montenegrin ports of call include Kotor, Budva, and Bar.
In each of these destinations, gulet charters offer a unique way to explore the region's natural beauty, cultural attractions, and local cuisine while enjoying the comfort and luxury of a private yacht.
How to Take a Gulet Holiday?
First of all, you need to determine the place and date range you want to take a gulet vacation. Then, you can search for gulet charter options at viravira.co and find a suitable gulet for you. When organizing a gulet vacation, you can realize your dream vacation if you determine where you want to make a stop during your journey and what kind of activities you want to do.
How to Charter a Gulet?
Although gulets are preferred by large groups, they are also ideal for small groups who want to spend their holidays in a large area. To have an unforgettable gulet cruise with your beloved ones and to get to know more about gulet charter options, you may visit viravira.co or contact our experienced holiday experts at +90 850 433 9 070.
FAQs
What is the difference between a Gulet and a Yacht?
A gulet is a traditional Turkish wooden sailing vessel that has two or three masts with sails and is known for its spacious decks and comfortable interiors. Yachts, on the other hand, are larger vessels made of modern materials such as fiberglass or aluminum and are designed for luxury and comfort. They often have amenities such as swimming pools, jacuzzis, and multiple decks. While both offer a unique experience, the main differences are in their size, design, and intended use.
What are the advantages of chartering a Gulet over a Yacht?
Gulet charters offer a more authentic and traditional sailing experience compared to yachts. They can sail in shallower waters, which allows them to anchor closer to the shore, in secluded bays, and more intimate coves, providing a unique view of the coastline. Moreover, gulet charters are often a more affordable option than yacht charters.
What are the cancellation policies for Gulet charter companies?
Cancellation policies vary depending on the charter company and the specific terms of your agreement. It's essential to review the cancellation policy before booking your charter. Some companies may offer a full refund if you cancel within a certain timeframe, while others may only offer a partial refund or no refund at all. Make sure to ask about the cancellation policy and read the contract carefully.