Some people are inclined to do things differently than others. In Latin, this is called "Sui Generis", which means "in a class of its own". They seem anomalous but they are also admirable. A rare breed, they stand out with the way they live and the things that they do, and as such, people will speak of them.
One such name which caught our attention at viravira.co was Erdogan Sonmez, and so, we went to meet him at his home on Balikesir Burhaniye's Oren Shore to hear his story. A retired general surgeon with a career of over 40 years, Sonmez to this day cultivates an interest and passion for a myriad of different things. He spoke to us of dried flowers he picked himself from nature, of cold aromatic tea he made himself at home and showed us works of art made from moss, pearls and squid shells. He told of his past as a sailor during the Cyprus Operation and how he served his military service in the submarine fleet. Most of all, we spoke of his extraordinary boat which he built for himself for his days of retirement on the Aegean. Read the interview below!
Who Is Erdogan Sonmez, tell us about yourself!
"I had actually wanted to go to the United States for my studies, but a friend told me that our diplomas would only be eligible for being medical personnel over there, so to gain more experience I decided to stay in Turkey for a little longer. In 1959, after my graduation, I started to work as a state doctor in the Ivrindi district of Balikesir. I was also involved in many other projects such as building a mother and child care center as well as a family planning center. I acted in theatre, taught natural history, and was also competent in general handy work. At the time I even took upon teaching foreign languages due to the general lack of teachers. Due to my activities and work in so many different areas, people treated me with respect. The newly founded teachers cooperative wanted to make me a member, but we did not have the 3,000 TL that they asked for to join. By that time the revolution came, the government minted silver one lira coins, and we were melting them down in a pitcher to be made into a tray. My wife Sevim let us count, and they were exactly 3,000 TL. It was this way that we could buy the house we wanted in Oren, where we are living now. I was a young doctor at the time, I was around the age of 24-25, but my American dream was over. One day we received news from the government in office after the revolution, that they wanted me to become the district governor of Ivrindi. In the beginning, medical staff were sly old foxes, they tried to direct me, but I read and learnt how to handle this situation myself. At first, I was the apprentice. Then I became the foreman and then the master. There was not one village that I had not visited in the whole of Ivrindi. By then, I learnt what the Turkish Republic was to become."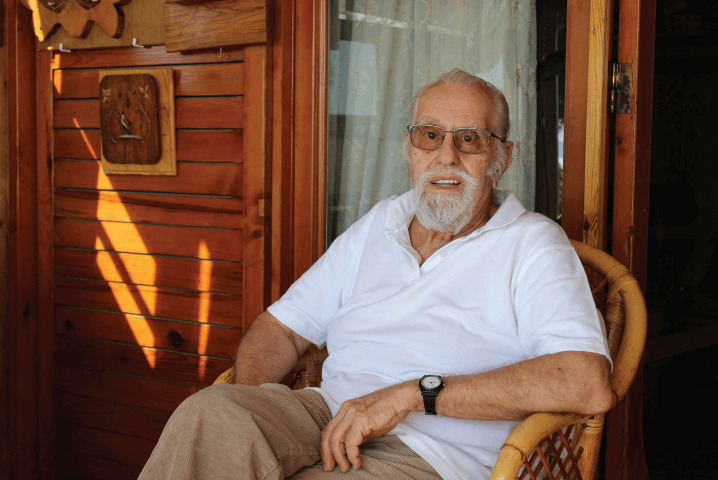 If you look from those days, comparing the old Turkey to today's Turkey, do you think the outcome was achieved?
"I do not think there is an achievement."
Amazing answer! So when did your famous boat enter your life?
"I built the boat right in front of my very own house in a span of about 7,5 years. I set the plan by taking the weather of Oren and the waves into consideration too. This made its friction surface higher but decreased the speed. But the most important thing was safety."

We thought you were a general surgeon…
"I used to be. I was a doctor for 40 years and 1 day, and even though I am not really a supervisor type, I was made chief physician and assigned to the Karabuk State Hospital. During my time in this position, I worked hard to correct the system. The hospital I was stationed at began to make profits every year. Later a large corruption scandal blew up at the Adana State Hospital, and they tried to assign me there to bring the hospital back to better days. Nevertheless, I refused the offer. But after a while, the same thing happened in Bursa, and eventually they offered me the position of Surgeon General Officer. In 1982, I underwent some serious health troubles and had to have an angio surgery five times. Just to get rid of the governorship, I asked to be released so I could retire. Two months following my retirement, I applied to be a general surgeon and they assigned me to the Edremit Hospital, so I moved on."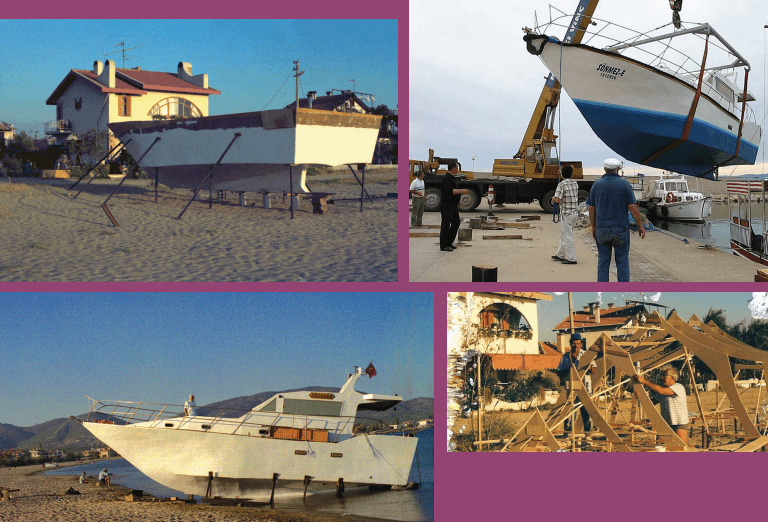 And when did you build your boat? Could you tell us a little more of its story?
"I built my first boat in 1961 and made it from a plane's fuel tank. I had heard that a plane had crashed in Balya, so I decided to go there and purchased the fuel tank for 5 Lira from the fiscal office. I built two wings and on the bottom, I built a centerboard. I put a 9 horsepower Wisconsin motor in and I painted it nicely. There was a pond close to Ivrindi, when I started my boat up the fishes became bewildered. My seamanship has been a result of these kinds of things. And my military service just mixed things up even further. When I began to serve in the army, I was drafted to the "Basaran Military Ship Command, Golcuk". Yet, I found the vessel in Iskenderun, instead of Golcuk. It was a submarine fleet. I worked in submarines for two years during my military service and I learnt a lot. Admiral Necdet Serim was a captain back then. One day he asked me to "Move the ship lieutenant", and I was able to take the Basaran vessel out of Silo Pier. We were generally stationed around Cyprus offshore. The sickbay had been closed, and they made me draw the scheme for the Cyprus Extraction Operation. The scheme was presented to Admiral Vemal Turan who was the 13th Chief of Defence of the Turkish Armed Forces. In the end, when the Basaran Ship went to Golcuk for maintenance and repair, I took a small boat from there to Oren. When my time to retire drew closer, I thought to myself, let me build a boat. Actually, it is funny to say. But I read, researched, and decided that a 10-meter boat would be suitable for me."
Did you ever consider buying a boat that was already built?
"I really never thought of it. Firstly, I did not have a big enough budget, and I planned to build slowly over time according to the funds I had available. First, I made a model and floated it in the hospital pool. I put one kilo of salt on it to be able to understand if it would float with a 1/50 ratio. It seemed alright, so I went to Istanbul and met with the boat manufacturer to find out if it was really possible to build. They thought it was quite strange, but still went ahead and made various recommendations to me. The Izmir manufacturers laughed, but they said it was not impossible. Eventually, I started to build a polyester boat with a foam sandwich composite. I created the template and nailed the chipboards, but then the boat grew longer than 10 meters to 12 meters."
How did it happen?
"I asked a master boat builder to help me. When he arrived he asked "where is the keel of the boat", and I replied that "there was no keel", truly shocking him. At last, I started to learn how to work with polyester from a master after I supplied the polyester and fiber myself. People passed along the beach in front of our house and they must have thought I was building a coffee house or something. When passersby started to ask questions and we told them we were building a boat, we got all sorts of comments, such as "a boat should not be built this way, this material is a carcinogen." They would further enquire to me with questions like "How many boats have you built?", of course, I would reply with "I have never built a boat, I am a history professor." I soon got so bored of the relentless questions that I put up a plaque saying "A boat is being built here". I built the boat all by myself. When it came out, the prow needed to be fixed after turning the boat upside down, so the boat length increased from 10 meters to 12."
What do you think is the best feature of your boat?
"I have drawn the plan considering the weather and wave conditions for the boat to fit right into the sea. This had increased the friction surface, however, it slowed the boat down. But the most important thing is safety. Slowly or not, it still sails. In my boat, you can sip your coffee in a wind force of 5 km/hr."
It is a very special boat. Does it attract people's attention?
"All this happened in the 90's. Every year I attended the Dusseldorf Boat Show, and I carried all the materials off the boat one by one. I was paying around 197 marks for the plane and 273 marks for the luggage. For instance, I bought hinges from Solingen, as they have the best ones there. One day I went to the factory and told them: "I am coming from Turkey, and I wish to buy hinges from you", to which they took me to the manager. I explained to the manager that I am a doctor who is building his own boat. The manager who had visited Turkey before knew about Canakakkale. He mentioned that they only sell hinges by the ton and took me to the hangar to let me pick whatever I wanted. I, of course, picked the ones that I liked and as they understood my craziness, they did not charge any money. Only the custom part was a bit difficult because the handbag was very heavy and had hinges in every compartment. Almost all materials of the boat were of the Winchester brand, and all bought on Saturdays."
Why Saturday's?
"As it is the sale day for the Dusseldorf Boat Show. It has a bigger parking lot than Burhaniye, so if you don't recognize where you parked your car after shopping you will be in trouble."
We suppose you were inspired by the latest boat models that you saw there?
"I did not even look. I didn't care about the other boats. I got the chrome checked by a friend who works for the Karabuk Iron and Steel factory to see if it was 316 because the book said so. I used chrome screws that were worth 800,000 TL back then. I also bought 800 kg of gelcoat paste in order to make it look decent, due to it being built out of plywood. I made 99 percent of the internal parts myself from the old boats in Aliaga and the upholstery was velvet and felt. By the end, the boat was 12 meters and 43 cm long and weighed around 16 tons."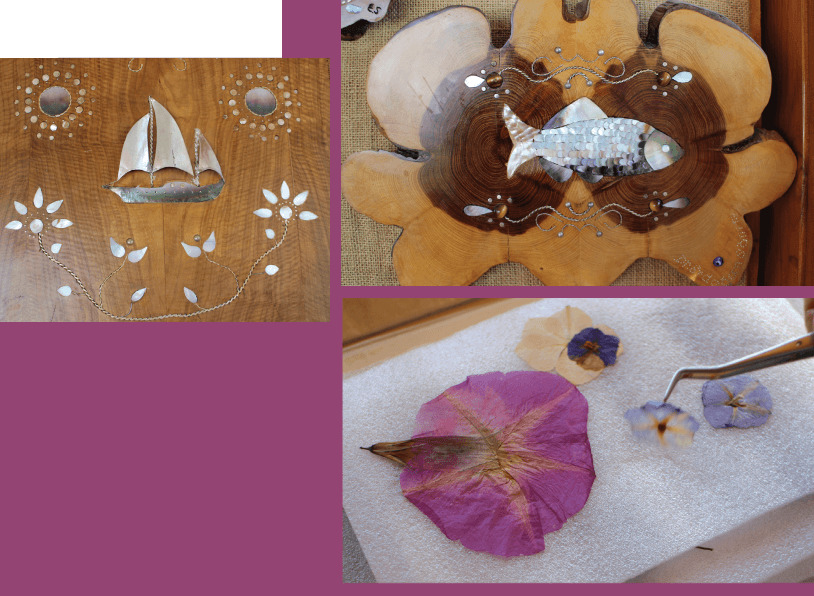 Neither your boat nor you fit the normal standards.
"My nature, approach and lifestyle seemed wrong, everything seemed wrong. But actually, my way was right. I do not lie, I drive safe, I watch what I eat and drink, show respect to my elders – even though not so many are left, I have a love for the younger generation, and I keep my word. Today all these are wrong. For example, I do not understand texting instead of talking in person. If we do not interact with the people we talk to, sadly, neither love nor respect will remain."
We are pleased to meet you. Thank you.